Dean Search
Dean Position Overview
The next Dean will bring energy and innovation to the College with a long-term commitment to advancing the priorities of College. Building on its strong foundation and working collaboratively with its dedicated faculty and staff, the Dean will provide transformative leadership that reflects the College's mission and spirit. As a close partner to the Provost and President, it is an exciting time to forge the path forward.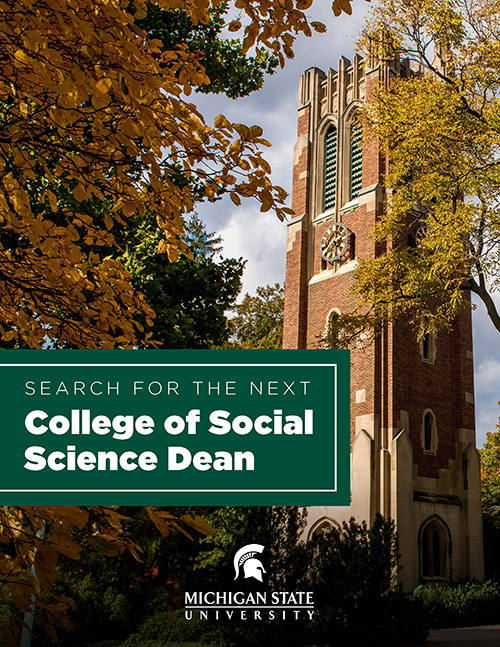 ---
Search Timeline
Week of December 20th - Position posted

End of January - Position closed

Early February - Candidate review

Late February - First round interviews

April - Final interviews

May - Selection
---
Search Updates
Dean's Search Update as of December 05, 2022 - on behalf of Interim Provost Jeitschko. Read more (PDF)

Dean's Search Update as of March 22, 2023 Read more (PDF)
---
Search Committee Chairs
Cameron Thies
Dean of James Madison College
Tim Vogelsang
Professor, Economics
---
---
Search Committee Members
Alan Arbogast
Professor, Geography
Emilie Smith
Professor, Human Development and Family Studies
Fei Sun
Professor, Social Work
Stephen Gasteyer
Associate Professor, Sociology
Heather Howard
Associate Professor, Anthropology
Karen Holt
Assistant Professor, Criminal Justice
Tina Riley
Associate Professor, Human Resources and Labor Relations
Erika Rosebrook
Political Science
McKayla Sluga
PhD student, History
Philip Bates
Human Development and Family Studies
Nicholas Drew
Psychology
Colleen Haley
Human Resources and Labor Relation Advisory Board
---
---
Questions?
Questions about the search can be directed to the committee co-chairs, Tim Vogelsang (tjv@msu.edu) and Cameron Thies (thiescam@msu.edu).