A virtual conversation with Governor Blanchard and Lynne Olson
Tue, April 13, 2021 12:00 PM - Tue, April 13, 2021 1:00 PM at Via Zoom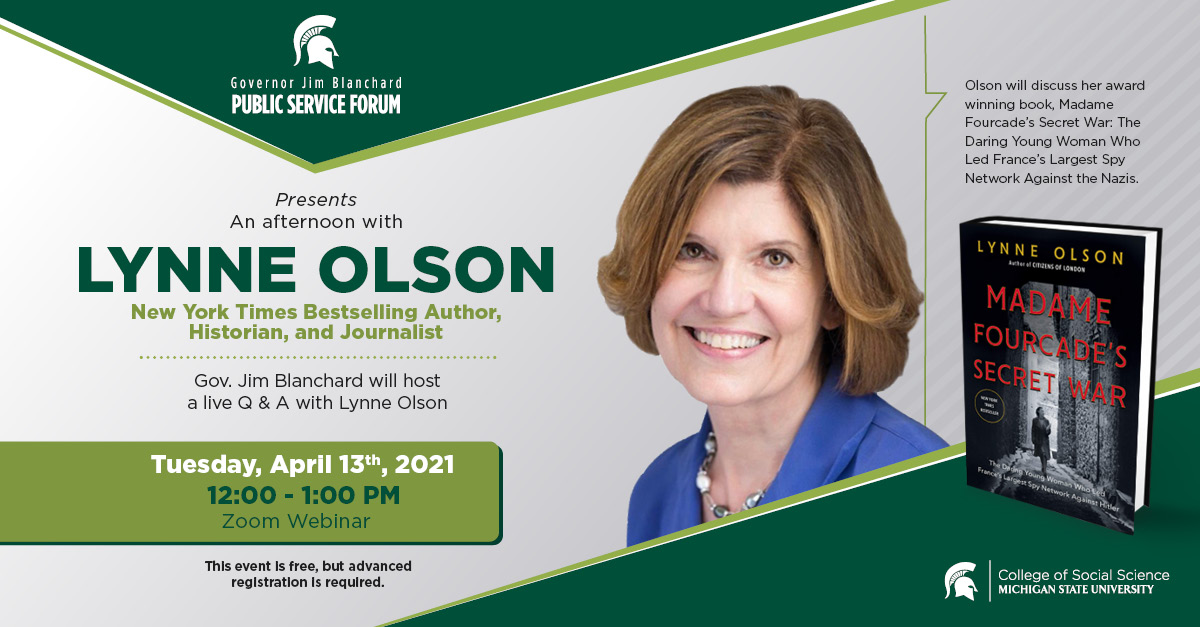 Join us for a 
virtual conversation with Governor Blanchard
New York Times Bestselling Author, Historian, and Journalist, Lynne Olson
Join us on April 13th at 12:00 p.m. ET for a virtual conversation with Governor Jim Blanchard and New York Times Bestselling Author, Historian, and Journalist, Lynne Olson.
About Lynne Olson
Lynne Olson is a New York Times bestselling author of eight books of history, most of which deal in some way with World War II and Britain's crucial role in that conflict. Former U.S. Secretary of State Madeleine Albright has called Olson "our era's foremost chronicler of World War II politics and diplomacy."
Her latest book, Madame Fourcade's Secret War: The Daring Young Woman Who Led France's Largest Spy Network Against the Nazis.
Two of Olson's previous books, Those Angry Days: Roosevelt, Lindbergh, and America's Fight Over World War II, 1939-1941, and Citizens of London: The Americans Who Stood with Britain in Its Darkest, Finest Hour, were New York Times bestsellers. Those Angry Days was named by the New York Times and Kirkus as one of the best books of 2013. Citizens of London was selected by the American Library Association as one of its top nonfiction books in 2010. It was also included on Amazon's list of best books of the year.