MSU Child Development Laboratories to add new Lansing area location after receiving $2 million in federal funding
January 18, 2023 - Katie Nicpon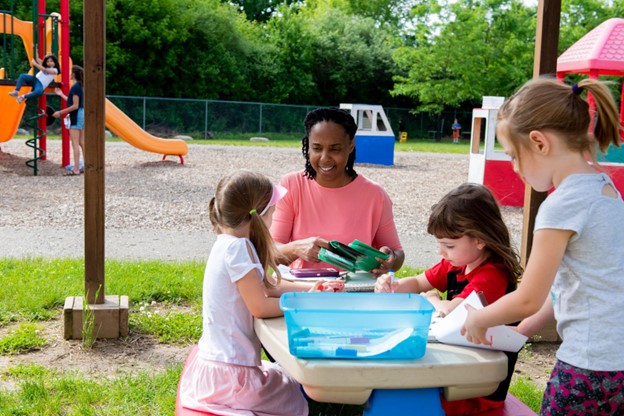 The MSU Child Development Laboratories (CDL) will receive over $2 million in federal funding to expand its reach to serve underrepresented populations in the Lansing community.
 The CDL was created with a three-pronged mission: research, teaching and outreach. A center that provides quality early childhood education, teacher training, and the opportunity to support research on child development, the CDL also helps families learn how to advocate for their children's needs. With two locations in East Lansing and in Haslett, Laurie Linscott, director of the CDL, is thrilled that the federal funding will allow expansion into Lansing.
 "We're excited to be able to collaborate with the Lansing community to offer early childhood education services and to provide opportunities for local youth interested in child development." Laurie Linscott said.
 At the end of 2022, President Joe Biden signed the omnibus bill into law that included $2,187,500 in the Fiscal Year 2023 budget earmarked to expand the CDL. The funding will support staffing costs and equipment and technology for classrooms. The funding rollout could take six to 12 months, but in the meantime, Linscott will focus on building Lansing community partnerships and locating a building for the expansion.
 The federal impact of the funding is the teacher training component of the CDL.
 "We look at teacher training, the impact models, and how we can support the field to nurture high quality teachers in urban areas and to provide training within a contextual framework," Linscott said. "It is imperative that we provide more opportunities for our pre-service teachers to work alongside diverse families and children, and expanding to Lansing will help us better prepare our students to work with families and children across many intersectional identities and abilities."
 All of the classrooms would have spaces reserved for children with Individual Family Service Plans or Individual Education Programs so that there are children with identified special needs in each classroom.
 "And then we would hire our own special ed teacher consultant, who would support teachers and university students in their work with children with special needs," Linscott said.
 In addition to early childhood education community services and teacher training opportunities, Linscott also envisions learning opportunities for Lansing high school youth who are interested in child development.  
 "My vision is that when a child comes in under Early Head Start, they will go through the CDL program, then into the Lansing school district, then if they decide at a high school level they're interested in early care and education, they're able to do their career tech opportunities with us," she said. "We then support them in counseling to get them to a community college or that they're taking the right courses to be able to come into MSU. And then they come back and stay in the community and work and do their student teaching. We really see this as an opportunity to impact the children, youth and families in a full-circle, systemic way."
 When deciding on a location for a new facility, Linscott worked with MSU Government Relations office to identify areas without enough early childcare facilities and services. A heat map of childcare services revealed the Capitol corridor, a part of Ingham Intermediate School District, that could be served by a new location.
 "We live in Lansing near to downtown, and this area has limited options for families," said Jordan Sutton, a Lansing community member who wrote a letter of support for the funding. "As a student at the MSU lab in East Lansing nearly forty years ago and as a mom who has had four daughters at the lab school, I know the unique ability for the lab environment to naturally become a foundation for the kind of relationships building and dialog with young children that Lansing needs."
 Applying for funding was a collaborative effort between MSU's CDL, Government Relations, the College of Social Science, and the Office of the Provost.
 "We especially want to thank Laurie Linscott, for all of the work that she did in spearheading this initiative and having the vision for this," Dr. Adrian Blow said, chair of the Department of Human Development and Family Studies, home department of the CDL. "We want to thank our MSU governmental affairs team and President Woodruff for her support and her desire to expand early childhood education that began when she was Provost and has continued into her presidency. We want to thank the offices of Senator Debbie Stabenow, Senator Gary Peters, and Representative Elissa Slotkin, who were instrumental in securing this funding."
 To learn more about the CDL, visit https://hdfs.msu.edu/cdl.