Young people needed in the coffee industry – new collaborative report co-authored by MSU economics professor shows
January 24, 2023 - Katie Nicpon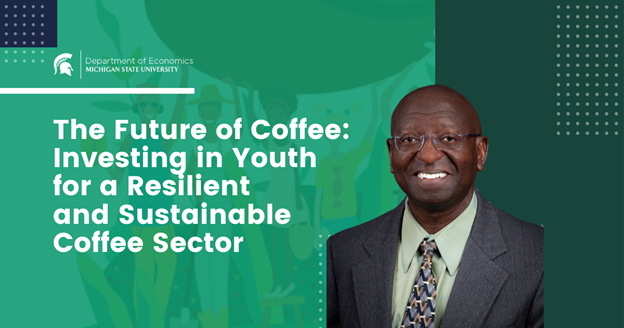 Youth are the most needed innovation the coffee industry needs, shows a new report co-authored by Dr. Leonidas Murembya, assistant professor in the MSU Department of Economics. Dr. Murembya, together with colleagues from the MSU departments of Agriculture, Food, and Resources Economics (AFRE) and International Studies and Programs, and Food Science and Human Nutrition (FSHN), produced the 2021 Coffee Development Report titled, "The Future of Coffee: Investing in Youth for a Resilient and Sustainable Coffee Sector," with funding from the International Coffee Organization and the German Federal Ministry for Economic Cooperation and Development.
 "The one key takeaway is that coffee needs youth and youth need coffee." Dr. Murembya said. "Our recommendations are that young people need skills, space, productive and financial resources to meaningfully contribute to a more resilient and sustainable coffee value chain."
The report is designed to inform all stakeholders in the coffee global value chain such as policy makers in coffee-producing countries, international development agencies, non-governmental organizations, development institutions and private companies. Dr. Murembya hopes that the information in the report will inspire all stakeholders to take an active role in investing and training the next generation of business workers and owners to avoid disruptions in production.
 "The coffee industry is experiencing an aging farmer population while its demand continues to rise due in part to increasing consumption in emerging economies and a stronger interest in specialty coffee and product innovations in developed countries, as well as increasing domestic consumption in coffee producing countries," he said.
 To compile the report, Dr. Murembya and his team reviewed existing literature from current youth-focused programs; performed an analysis of secondary data from the International Labor Organization, the UN Food and Agriculture Organization, the United Nations (UN) Population Division, the International Coffee Organization, the World Bank and others; and interviewed key informants using web-based surveys of relevant coffee value chain actors.
 "Many of the industry professionals interviewed for this report highlighted the catalytic role youth can play in infusing technology in the sector," he said. "They shared about the large innovative and entrepreneurial spirit present in young people and often described them as fast learners and technology savvy. Reports from youth consultations also indicated younger farmers tend to pick up recent technologies more easily and are often keen on increasing production through improved modern technologies."
 Dr. Murembya identified six key takeaways from the report to motivate coffee sector stakeholders to invest in youth. The first is that youths are the present and the future of coffee. The second is that young people can be valuable agents of change and catalysts for innovation and technology adoption that fosters sustainability and resilience in the coffee sector.
 "Third, youth engagement facilitates intergenerational transmission of knowledge and technology, which is foundational to sustaining the coffee sector," he explained.
 The fourth takeaway is that youth represent the next generation of coffee consumers, which means that they represent a significant future market that would sustain the coffee sector. The fifth was that engaging youths helps coffee producing countries to achieve several of the 17 UN Sustainable Development Goals.
 "Lastly, if opportunities for skill development and gainful employment expands, youth could be a significant source of social transformation and market for coffee," he said. "On the other hand, lack of opportunities could transform them into agents of migration and social unrest that could disrupt coffee production."
 The report also highlights why engaging in the coffee sector is an important opportunity for youth in return. Coffee is a commodity that is growing that offers a significant income and multiple employment opportunities in their communities.
 "A percentage change in coffee production is associated with 3% increase in rural employment rates, and 4% decrease in poverty headcount ratio at $1.90 per day," Dr. Murembya explained.
 Working on the report was a collaborative effort between multiple MSU departments. Dr. Felix Kwame Yeboah, director for Partnerships for Sustainable Community Development and the Tanzania Partnership Program, International Studies and Programs, and AFRE assistant professor was the primary investigator for the report. Dr. Murembya was a co-PI for the report alongside Dr.  Deepa Thiagarajan, a FSHN adjunct faculty member. Additionally, David DeYoung, AFRE research specialist, and Mariama Sow, a doctoral candidate in Economics worked on the report in addition to several undergraduate students.
 In addition to English, the report will also be available in French, Portuguese and Spanish.
 To read the full report, visit Coffee Development Report (CDR) 2021.