Social Science Scholars find success at Diversity Research Showcase
January 26, 2023 - Emily Jodway
Five students from the College of Social Science Scholars Program earned first and third-place prizes for their research presented at the annual Honors College Diversity Research Showcase on January 13.
The Diversity in Research Showcase brings together undergraduate students from across the university working on diversifying research through their important work on a wide variety of topics. Jerome Hamilton (political science-prelaw), Nel Robinson (African American & African studies and political science) and Sharmila Suresh (economics) took home the first place prize for their poster presentation, while Jonah Cumings (political science-prelaw) and Josie Danielkiewicz (political science-prelaw) earned third place on their oral presentation. Both groups were mentored by John Waller, a professor in the History department and Director of the Social Science Scholars Program.
Both groups presented their research titled, 'Television News and the (Mis)Representation of Cocaine and Opiod Users: A Systematic Study of NBC Nightly News Reports.' The students hypothesized that the news media's reporting biases are partially to blame for the racialization of cocaine use in the 1980s. The students found that today's opioid users are being depicted more sympathetically than cocaine users in the 1980s.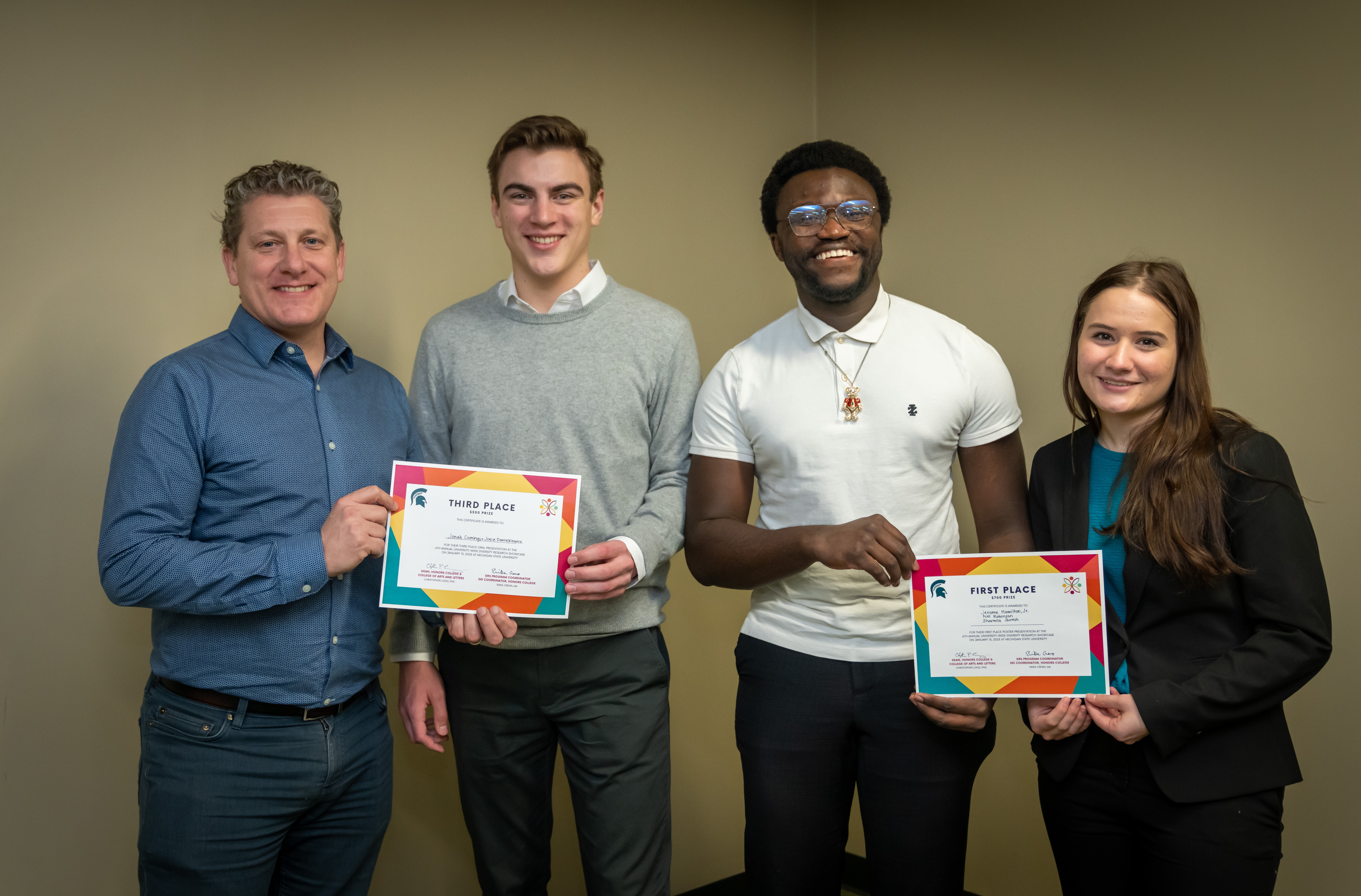 From left, Dr. John Waller, Political Science Pre-law sophomore Jonah Cummings, Political Science Pre-law Sophomore Jerome Hamilton Jr., and Political Sicnece Pre-law sophomore Josie Danielkiewicz. Photos by Steve Jessmore.

After a comprehensive study of NBC Nightly News broadcasts from two seven-year periods, the group found compelling evidence that cocaine use was indeed stigmatized in the 1980s far more than opioid use today with black users being disproportionately stigmatized for their cocaine usage. While opioid users are seen as unfortunate and sympathetic victims of a public health crisis, cocaine users were demonized as dangerous criminals. A 1990 survey reported that 80.1 percent of cocaine users were white and only 10 percent of users were black, and yet NBC's news clips highlighted black users in 60 percent of their news items. This has contributed to the racist and pervasive association between black people, cocaine usage, and crime. 
The students hope that their findings will lead to a greater understanding of how cocaine usage and crime became racialized in the 1980s and the vast disparity in the news broadcasts covering opioid usage today. The Diversity in Research Showcase hopes to highlight exactly this kind of impactful work on various topics such as race to encourage understanding and inclusion in our students.   
Read more about the Social Science Scholars Program here.