Society of Antiquaries elects first MSU professor, anthropology faculty Dr. Ethan Watrall as fellow
February 7, 2023 - Katie Nicpon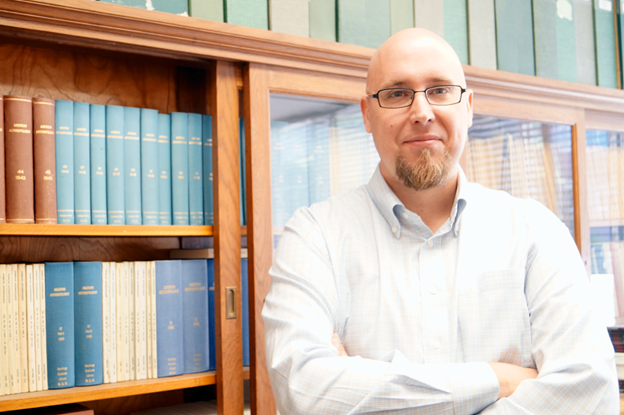 The Society of Antiquaries elected Dr. Ethan Watrall, associate professor in the Michigan State University Department of Anthropology, as a fellow. The Society of Antiquaries was founded in 1707, and represents the oldest learned and prominent scholarly society focusing on heritage and archaeology. The society's 3,000 elected members include some of the most prominent scholars and professionals in heritage and archaeology such as national museum directors, curators, directors of heritage preservation trusts and non-profits, and members of the UK parliament. Dr. Watrall is the first MSU professor to have ever been granted this distinction, only the fourth elected from the Big 10, and the ninth from the United States.
 "Being named a Fellow of the Society of Antiquaries is enormously important to me as it is a recognition of the importance of my work to the fields of heritage and archaeology," Dr. Ethan Watrall said. "It also reflects very well on the Department of Anthropology by shining a spotlight on the outstanding research, teaching, and outreach we're doing in heritage, preservation and community engagement." 
Dr. Watrall was elected due to the notoriety of   his research, teaching and outreach in the use of digital methods and computational approaches to document, preserve, contextualize, and provide access to tangible heritage and archaeology.
 "I strive to leverage digital methods to preserve and provide access to archaeological and heritage materials, collections, knowledge, and data in order to facilitate research, advance knowledge, fuel interpretation, and democratize understanding and appreciation of the past."
 In most cases, his research leans towards providing a mechanism for the public to engage with and understand our collective heritage.
 "But it's not just about public access to digitized heritage," he explained. "My work also focuses on collaborating with communities to digitize their own heritage and tell their own stories about their past with that digitized heritage. A lot of my work also intersects with museums and other collections holding heritage institutions, building workflows and platforms to digitize, provide access to, and contextualize natural and cultural collections that are often completely inaccessible to the public, communities, students, and scholars."
 While Dr. Watrall has directed or co-directed many externally funded digital heritage and archaeology projects, a recent example of his work in this area is the Internment Archaeology Digital Archive (IADA), which he co-directs with his Department of Anthropology colleague Dr. Stacey Camp. Currently funded by the National Park Service and developed in collaboration with MSU's Matrix: The Center for Digital Humanities and Social Sciences, IADA is an open digital archive that will host, preserve, and provide broad public access to digitized collections of archaeological materials, archival documents, oral histories and memorabilia that speak to the experiences of Japanese Americans incarcerated during World War II in the United States.
 "A significant amount of the digitization work on this project is happening in my lab at MSU (Digital Heritage Innovation Lab), including using various techniques to create 3D scans of artifacts and objects from two sites of internment and incarceration - the Minidoka National Historic Site (the site of Minidoka War Relocation Center) and the Kooskia Internment Camp While IADA is primarily designed to address the immediate needs of Kooskia and Minidoka's descent communities, Japanese Americans, and scholars of Asian American studies and incarceration, the project's audience extends well beyond these groups. In its broadest, IADA provides testimony and material evidence of the trauma wrought by incarceration and discrimination."
 Additionally, the focus of Dr. Watrall's teaching helps to prepare future generations of Anthropologists to engage in digital methods and computational approaches to preserve heritage. He regularly teaches ANP 412: Methods and Practice in Digital Heritage and ANP 465: Field Methods in Digital Heritage - the only class of its kind in the U.S.
 "Beyond my curricular efforts, I also direct the Cultural Heritage Informatics Initiative, which provides graduate students interested in cultural heritage with the space to learn how to apply digital methods and computational approaches to their work," he said. 
 Dr. Watrall also seeks to share digital practices with the field of Anthropology across a wide scale. He recently published two edited volumes (co-edited with Dr. Lynne Goldstein, professor emerita of Anthropology) with University Press of Florida. The volumes, Digital Heritage and Archaeology in Practice: Data, Ethics, and Professionalism and Digital Heritage and Archaeology in Practice: Presentation, Teaching, and Engagement, are the outcomes of the National Endowment for the Humanities Funded Institute for Digital Archaeology Method & Practice which he co-directed with Dr. Goldstein some years ago.
 All new fellows are formally admitted to the society during a ceremony at Burlington House, the society's headquarters in London, where they sign the register of admissions and are welcomed into the society. Dr. Watrall hopes to attend the ceremony the next time he's in London.
 "It is my hope that the being named a fellow will help greatly increase the number of graduate students wanting to come to MSU to work with me and my colleagues in the department, provide more opportunities to secure external funding to support our work, provide more opportunities for innovative collaboration with other scholars and units around campus, and encourage the college and university to invest more resources in our work and allow us to grow and extend our reach and impact."
To learn more about the MSU Department of Anthropology, visit anthropology.msu.edu.