MSU alumna and WLI board member continues life of service as President of E.W Sparrow Hospital
February 8, 2023 - Emily Jodway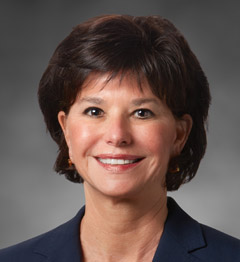 Sparrow Health Systems President and CEO James Dover announced Wednesday the hiring of Michigan State University alumna Margaret Dimond as the next President of the E.W Sparrow Hospital in Lansing. 
Dimond, a 2010 doctoral graduate of social work from MSU, takes the helm as the first female President in the hospital's 127-year history. Prior to her stint as a Spartan, she received a bachelor's degree in history and sociology from Saint Mary's College, a master's of social work from Boston College and a master's of public administration from the University of Michigan. 
Following the completion of her studies, Dimond began work at the Henry Ford Hospital and has since amassed a wide range of experience in the healthcare sector. She previously served as President and CEO of three major hospitals and was most recently based in Naples, Florida at Naples Community Health Care. 
In addition to her healthcare leadership duties, Dimond was a founding member of the MSU Women's Leadership Institute and currently serves on the Executive Board. She has frequently been featured as a guest speaker for the Institute and shares a namesake with fellow WLI supporter Ann Tomlanovich as founders of the Tomlanovich-Dimond Research Equity Fund, which awards faculty and undergraduate teams funding for research surrounding women's equity. 
Dimond also provided leadership and knowledge to the university as a faculty member. She began as an assistant professor in the School of Social Work and went on to be named the Assistant Dean for the College of Human Medicine and Physician Practice Plan. For her contributions, she was presented with the College of Social Science Distinguished Alumni Award in 2016. 
Most recently, Dimond appeared on a 2020 WLI panel highlighting the ability to lead during times of crisis. Dimond was serving as CEO of McLaren Hospital in Oakland at the time and was faced with the challenge of guiding the hospital through the tumultuous beginning stages of the Covid-19 pandemic. It was another of many moments throughout her career that she has displayed her ability to be a visible, empathetic and skillful leader. 
Read more about Dimond and the Women's Leadership Institute here.