Jessie Greatorex prepares to give this year's College of Social Science student commencement speech
April 21, 2023 - Emily Jodway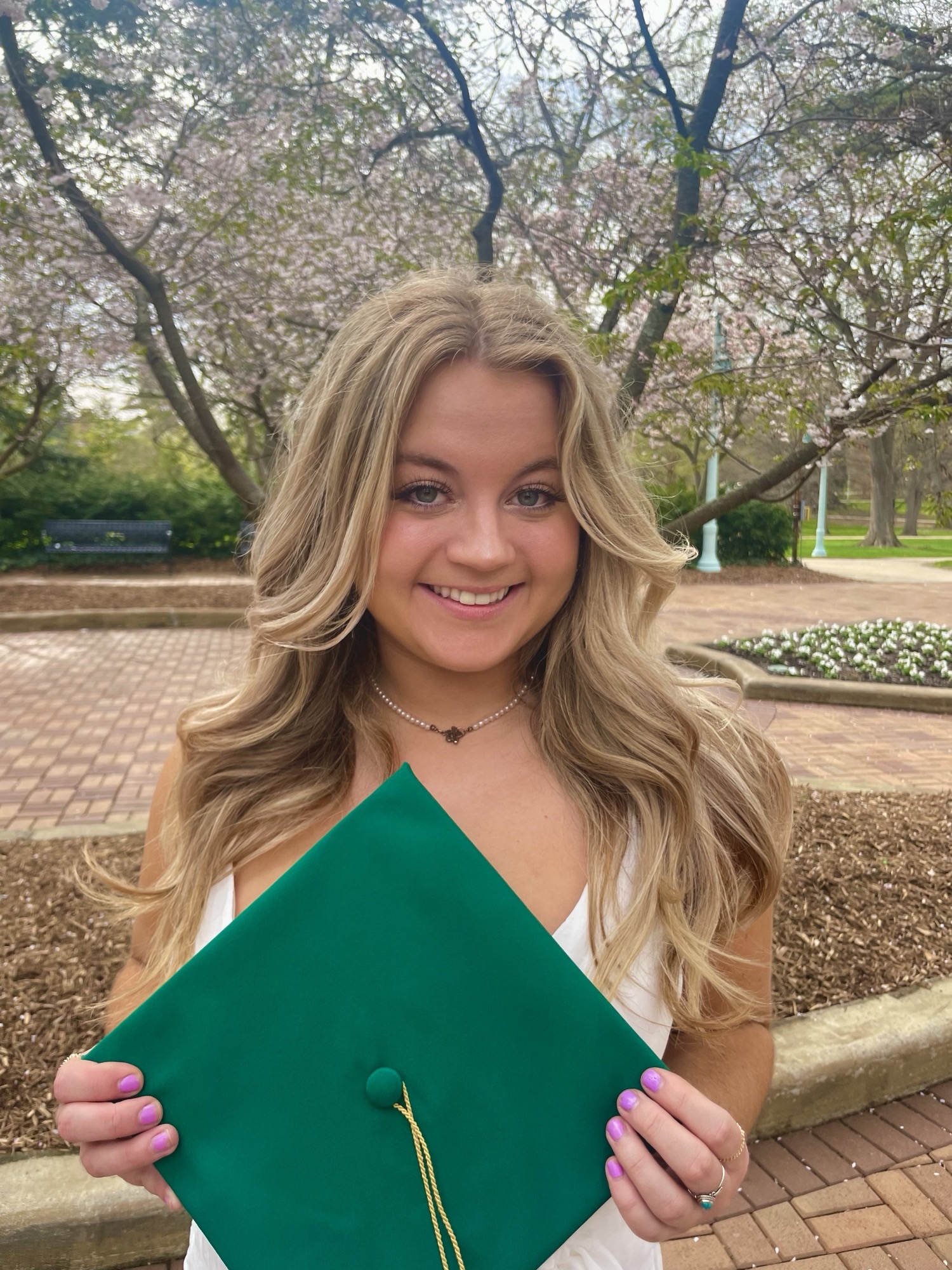 Having experienced all the ups and downs of a tumultuous four years on campus and coming away from it all with a positive attitude and her love for Michigan State intact, Jessie Greatorex knew she would be a perfect fit to give the student speech at the 2023 College of Social Science Undergraduate Commencement Ceremony. 
"I feel like I've really experienced it all when it comes to MSU, and I'm someone who can speak on a lot of different aspects of what it means to be a Spartan," Jessie said. 
When Jessie discusses memorable moments from her time at MSU, she said it does feel like a lifetime of experiences were crammed into those four years, in reality just a blip in time in the grand scheme of things. 
Originally hailing from Clarkston, MSU initially appealed to Jessie for its proximity to her hometown and abundance of research opportunities. Having always harbored a passion for psychology, studying the brain and helping those with special needs, she confidently chose Psychology as her major and began assisting in research at the MSU Autism Lab. 
"I've worked in the Autism Lab all four years, which I really enjoy," she said. "I work with researchers studying parent mediated intervention, which is a type of intervention for young kids with autism that teaches parents new strategies to engage and communicate with their kids, outside of just what the child learns in their therapy sessions. These strategies can be incorporated into their daily lives and can have a huge impact on parent-child relationships and a better understanding of their children." 
Jessie's experience with the lab has had a profound impact on her life. Through her work with Dr. Ingersoll, Jessie has been able to grow and develop both personally and professionally. The lab has provided her with direction and guidance, particularly in terms of her future career goals, as it helped her to realize her passion for research. Jessie learned that research can be a way to make a difference in a lot of people's lives, which is something that she is passionate about.
She cites the College of Social Science as being one of the major reasons she was able to continue this research throughout college, having received funding from the Provost's Undergraduate Research Initiative the past two years. It gave her the opportunity to work in the lab while also pursuing her own personal research and participation in other university activities, like being a member of the Kappa Delta sorority and a senior ambassador for the Undergraduate Research Office. 
She was also a member of the Senior Ambassador Program, an academic initiative founded in part by the Social Science Scholars Program that pairs students with a senior citizen in the community to form friendships. Local seniors benefit from the social interaction - which was especially difficult in 2020, the year of the program's founding - while students get a break from academic rigor to participate in meaningful conversations with older individuals that harbor a wealth of wisdom and experience. 
"It was great to build a relationship and learn from one another through this program," Jessie commented. "I love it. My senior host is like my best friend. She and her husband are coming to commence to see me graduate."
In her first year at MSU, things were off to a great start for Jessie. But in the spring of her freshman year, her life and the lives of many students on campus changed completely. The university was shut down and students were sent home to continue classes fully online due to the escalating seriousness of the Covid-19 pandemic. This experience is considered one of the 'valuable lessons' she learned at MSU that she discusses in her speech. She describes finally having settled into twin xl beds and getting along with roommates only to have to "adapt to Zoom University." It taught her to never take hugs or a handshake for granted. 
"We were just getting into the flow of things and getting to meet everyone and understand what college is like, and then it all had to switch to virtual. My entire sophomore year was online," she said. "It was challenging, like it would be for anyone, but it made me appreciate in-person classes and being able to learn on campus. My mentor [Autism Lab Director] Doctor Brooke Ingersoll did a great job of keeping everyone together during the pandemic."
"We still met over Zoom and continued research. The community here in general really helped keep me motivated; the faculty, my peers, we were all in it together."
Even with the pause of the pandemic, Jess still squeezed as much as she could into her time at MSU. In her speech, she reminisces on long nights spent studying in the library, trying (and failing) to catch a last-minute CATA bus, cheering alongside her fellow students at football games, and even learning to heal from intense trauma in the wake of the February 13 shooting. The latter was just one of the many examples she witnessed of the Spartan community coming together in support of one another. It solidified in her the idea that Spartans are one big family that continues to exist even after graduation. 
"I am really honored to be able to share my speech with everyone at graduation," Jessie said. "It's a huge milestone for every single person coming together at the Breslin Center that day. Part of the purpose of my speech is to help everyone realize that and remember the positive experiences they had here at MSU. And hopefully get my fellow peers excited about the future, too!"
Jessie will give her full speech at the Breslin Center on Saturday, May 6 at 8:30 a.m. at the College of Social Science Spring Convocation Ceremony. (Link to more information)