With pride for the past and hope for the future, Chicano/Latino Studies celebrates 25 years
May 11, 2023 - Karessa Weir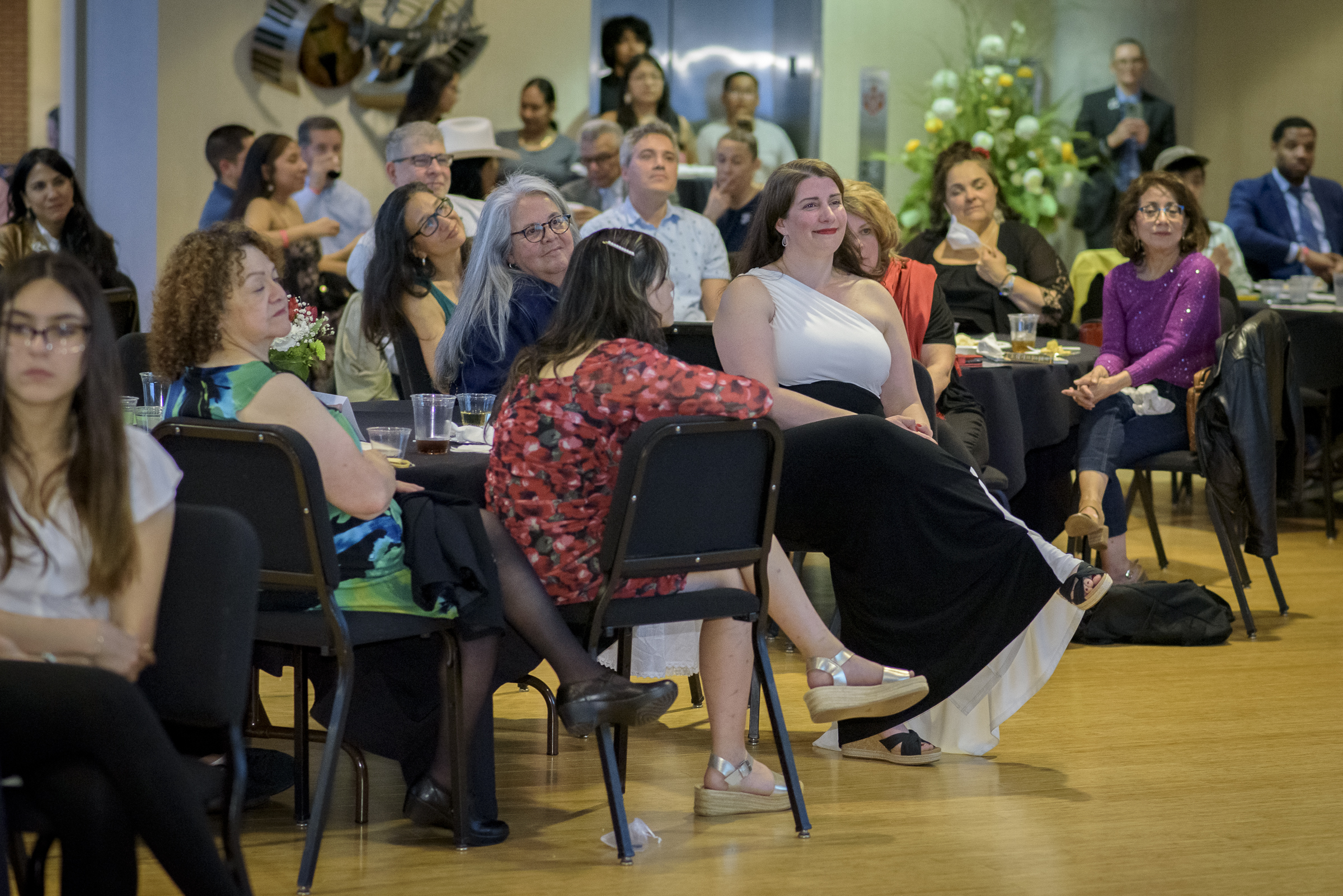 Photos by Jackie Belden Hawthorne, College of Social Science.
The Chicano/Latino Studies program at Michigan State University celebrated its 25th Anniversary with a gala Friday May 5, an event filled with speeches of gratitude for those who made the program possible, appreciation for the current leaders, and hope that the program's future will continue to grow under the next generation of scholars and educators in CLS.

The program opened with a performance by Danza Azteca a group based at the Azteca Youth Enrichment Center in Pontiac, Michigan. The five dancers performed traditional songs and folkloric dance, including the Dance of Naui Ollin honoring our Mother Earth, the Dance of Tezcatlipoca (internal memory), the Dance of Ehecatl (wind), the Dance of Quetzalcoatl (spring) and Izta Cualti (dance of the white eagle.)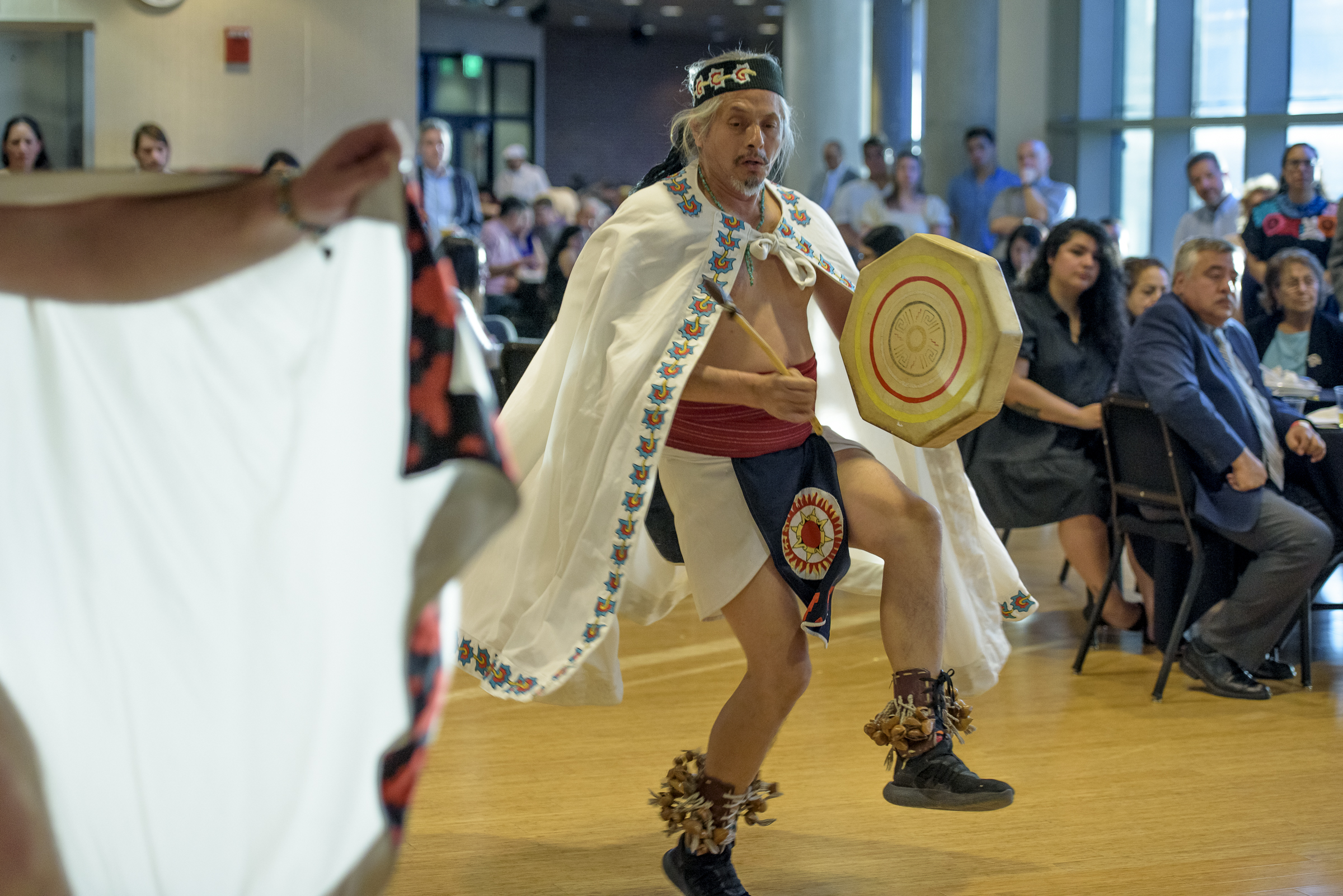 Following Danza Azteca's performance, recent Chicano/Latino Studies doctoral graduate Dr. Esther Ayers read the land and labor acknowledgments before CLS Director Dr. M. Isabel Ayala addressed the overflowing Jackson Lounge at the Wharton Center for Performing Arts. 

"The Chicano/Latino Studies program was founded on the voices, scholarship, curriculum, and labor of students, staff, faculty and the Latina/Latino/Latinx/Latine communities in Michigan. Yes, CLS includes all of us," Dr. Ayala said. "While tonight we honor those who came before us and the role they played in establishing CLS, this celebration is also about all of us here tonight; all who in some shape or form have been responsible for the renovation, transformation, sustainability and growth of CLS."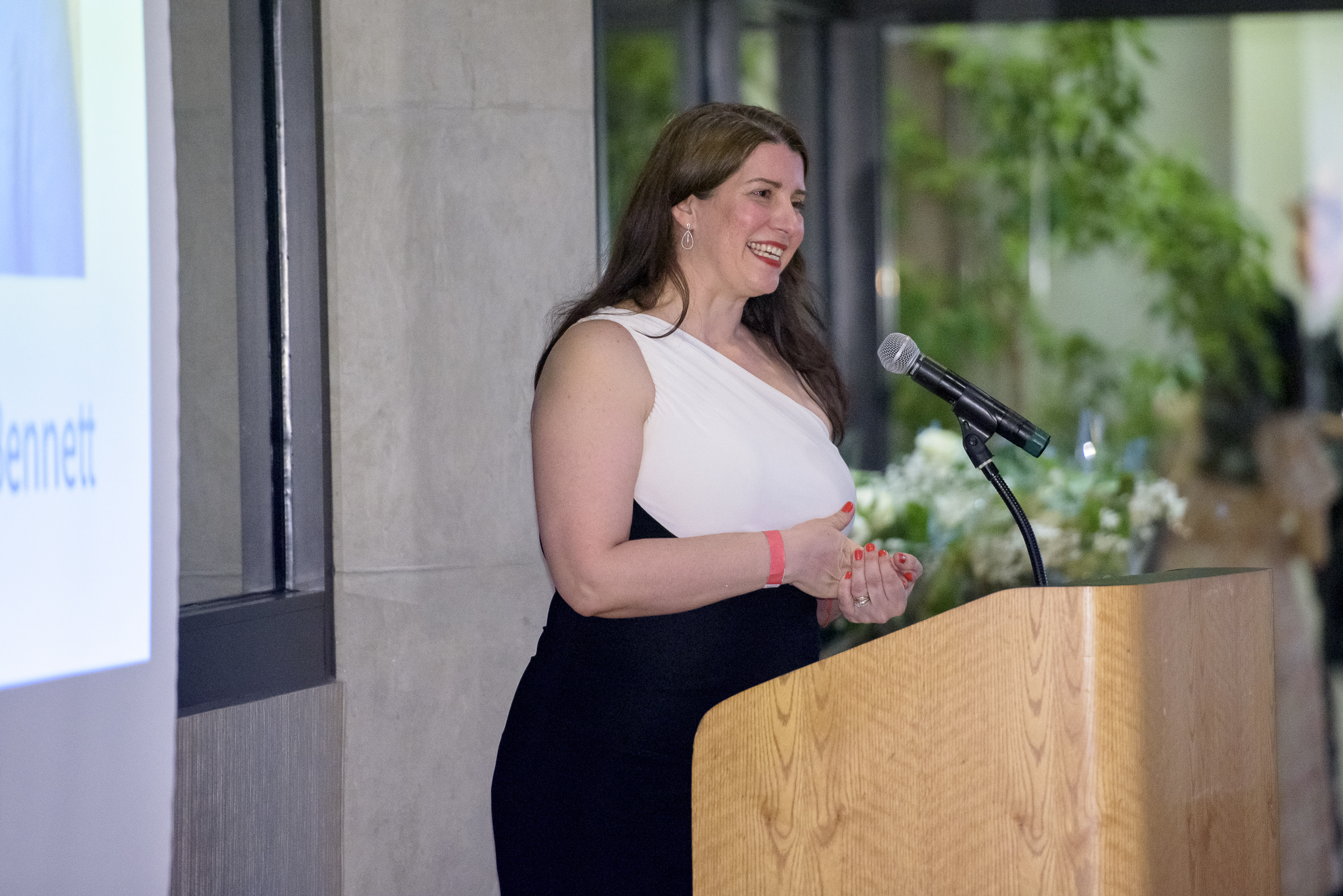 "For many of us, being part of CLS has meant raising our voices to ask for classes that bring attention to stories of inequities while simultaneously celebrating anécdotas of lucha and esfuerzo, strategies of resilience and muchos consejos."

"Now through the effort of lifetime advocates, of students, faculty and staff, CLS is not only found in the social sciences, but also in STEM fields," she said. "CLS is everywhere."

"CLS inspires us to value difference and work for a more socially just world. …There is simply no place where the CLS familia cannot make a difference to foster growth and flourishing."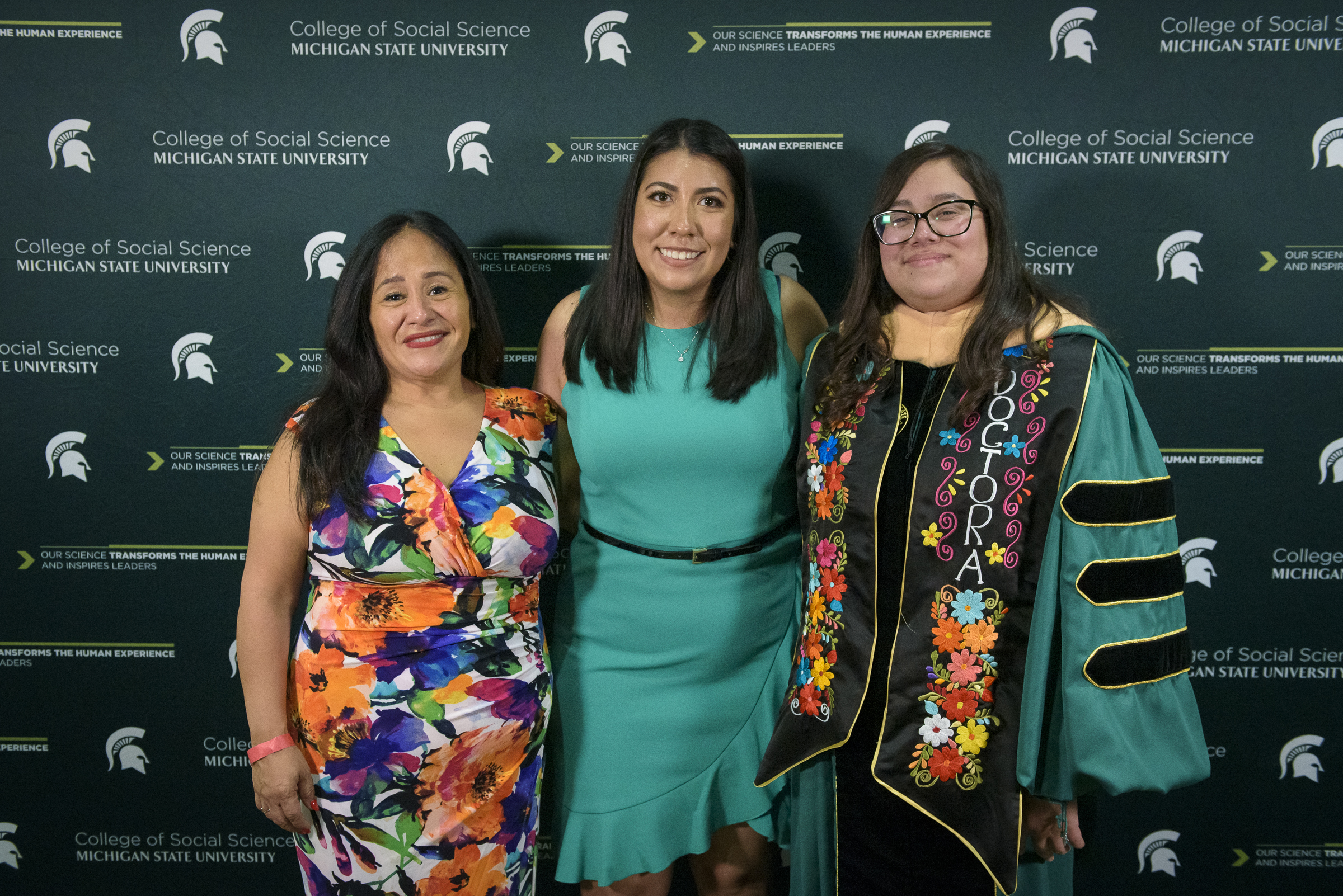 Three PhD graduates - Dr. Esther Ayers (CLS), Dr. Vanessa Aguilar (CLS and English) and Dr. Angélica Ruvalcaba (CLS and Sociology), as well as the 21 undergraduate students who completed the Chicano/Latino Studies minor, were also celebrated at the gala.

MSU's Interim Provost and Executive Vice President for Academic Affairs Thomas Jeitschko noted the program's achievements and its ability to reach across disciplines and departments across the campus. 

CLS is "a transdisciplinary and transformative program," he said.  Chicano/Latino Studies "plays a critical role in fostering a sense of belonging. MSU benefits from the voices of CLS colleagues beyond DEI efforts," Dr. Jeitschko said. "We are grateful for the empowerment of its students, faculty, staff and community. We are grateful for the presence of CLS."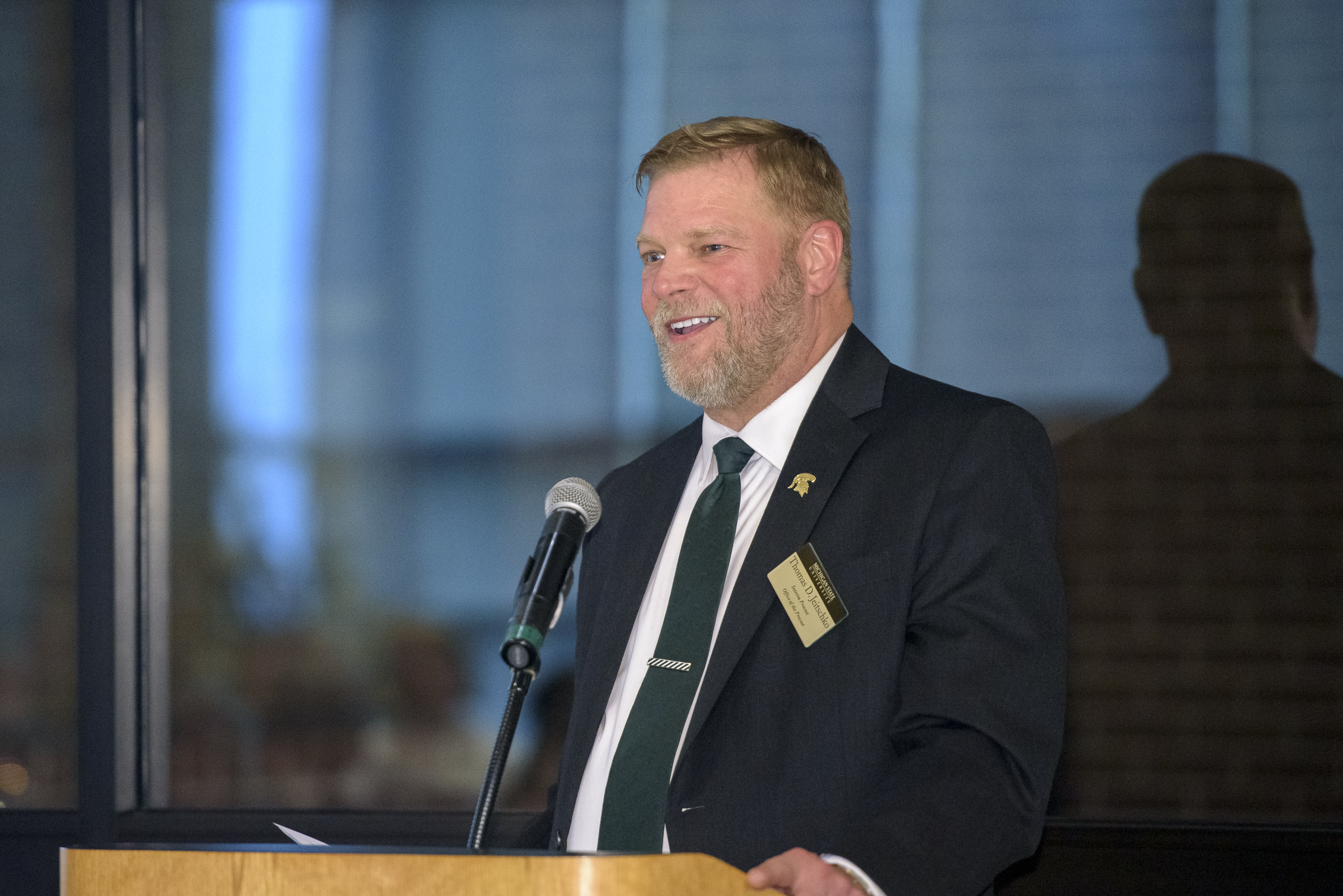 To this end, CLS is proud to enroll the largest number of minors compared to all Ethnic Studies programs at MSU. Moreover, CLS numbers are strong not only compared to other units on campus, but also to Big Ten programs. In fact, CLS at MSU has more CLS minors than Purdue University, Indiana University-Bloomington, Rutgers University, University of Wisconsin-Madison, and University of Iowa.

Beginning his speech in fluent Spanish, Dr. Jabbar Bennett, Vice President and Chief Diversity Officer at MSU, congratulated the program as well as one of the graduating CLS minor students, Robin Morales. Robin had worked with Dr. Bennett on a Transforming MSU Playwriting fellowship.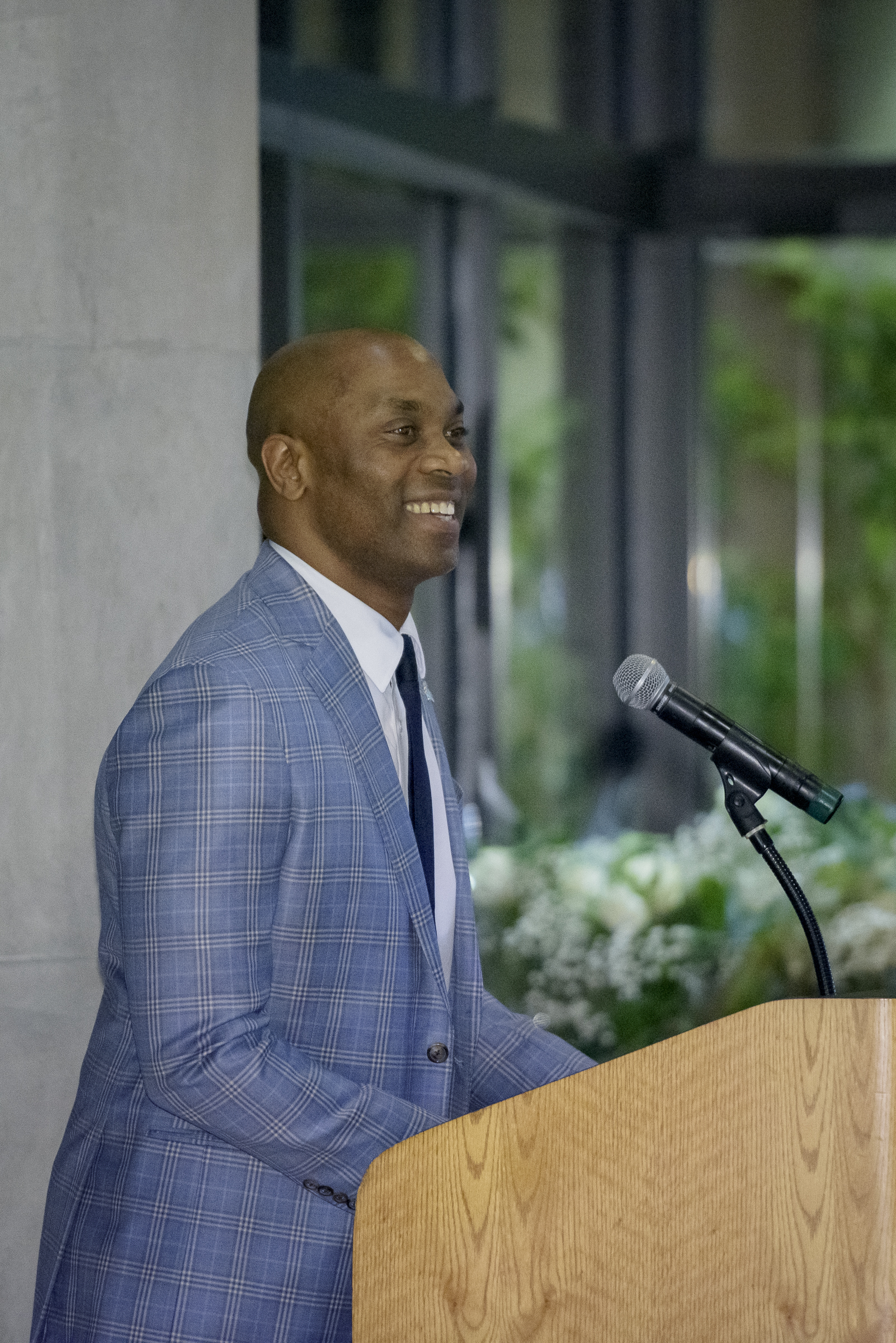 Robin also contributed to the work of CLS 492: Research, Theory and Praxis, which documented the origins of Chicano/Latino studies, Dr. Bennett noted. 

"First and foremost, the Chicano/Latino Studies program has played a crucial role in advancing the academic study and understanding of the experiences, cultures and contributions of Chicanos and Latinos in the United States," Dr. Bennett said. "Through your research, teaching, and outreach, you have brought attention to the histories, struggles, and achievements of these communities and have helped to raise awareness of the complex social, economic and political issues that affect them. 

"Ethnic studies programs save lives!"

Not only has CLS been crucial at MSU, it has also played a huge role in the community, Dr. Bennett said. 

"In addition, you have been a bridge between the university and the wider Chicano/Latino community, working to build partnerships and collaborations that promote mutual understanding, respect and social justice," he said, adding that he, and the Office of Institutional Diversity and Inclusion, hopes to support CLS as it continues to recruit and retain staff and faculty as well as ensuring continued student success. 

He ended by quoting Dolores Huerta, co-founder of the United Farm Workers Association:
"Every moment is an organizing opportunity, every person a potential activist, every minute a chance to change the world," he quoted.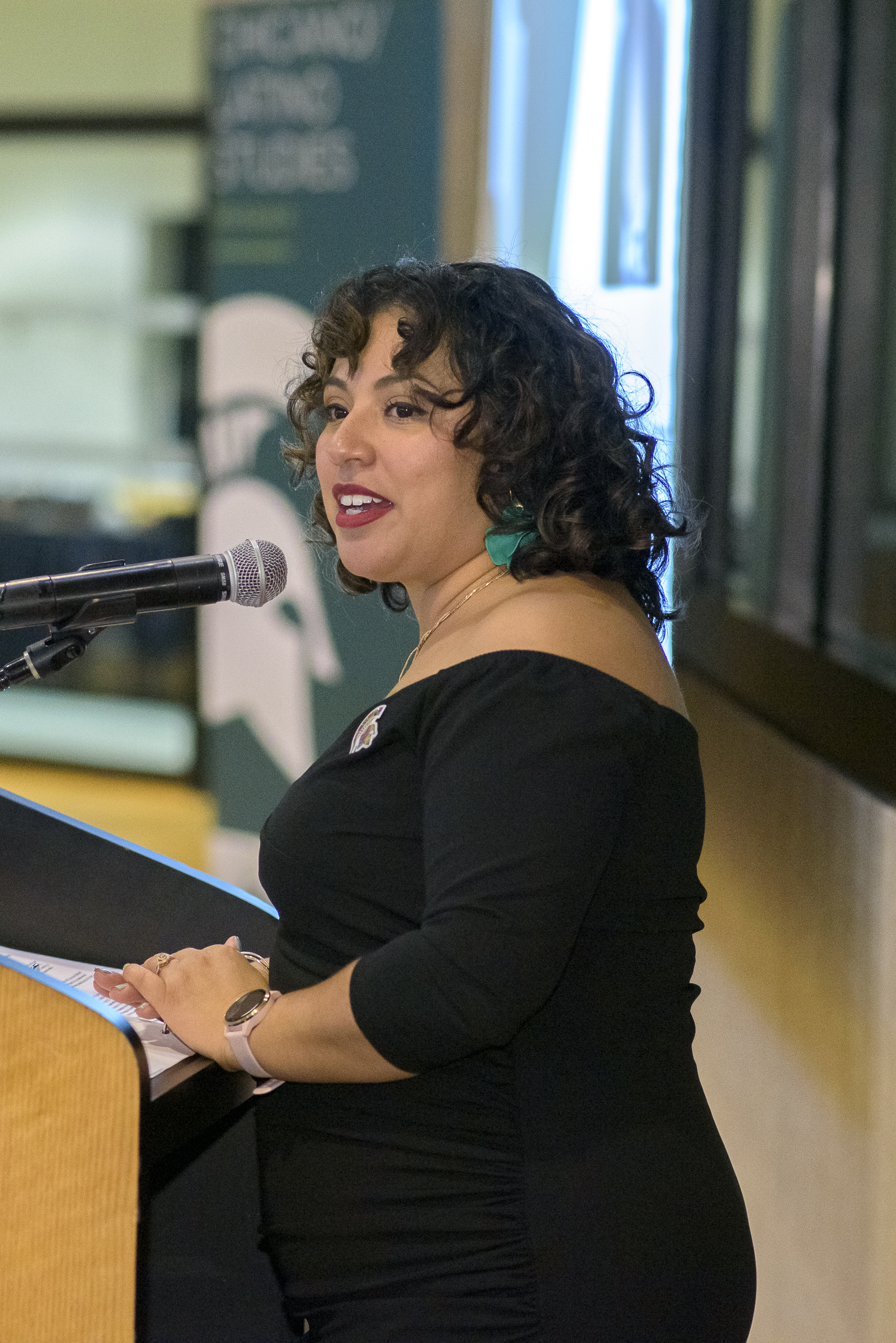 Seven years ago, CLS Undergraduate Program Coordinator Dr. Delia Fernández-Jones came to Michigan State University due to the urging of previous Chicano/Latino Studies directors who advocated for a hire in Latino history who would play a role in CLS.

"I am so grateful for those who have come before me who have done the work to make this program a success," she said. "After 25 years of being an official program, we are proud to tell you that CLS now boasts filled to capacity CLS introduction classes."

Dr. Fernández-Jones also noted that CLS students are interning with the College of Human Medicine, developing curriculum for the Indigenous Youth Empowerment Program, researching ethnic studies in K-12 education and developing a girls mentoring program. 

The son of two Cuban immigrants, CLS Minor Robin Morales, who recently graduated with a degree in Interdisciplinary Studies in Social Science, introduced the project he worked on with Dr. Fernández-Jones and other CLS 492 minor students to document the history of the program in both a video and website.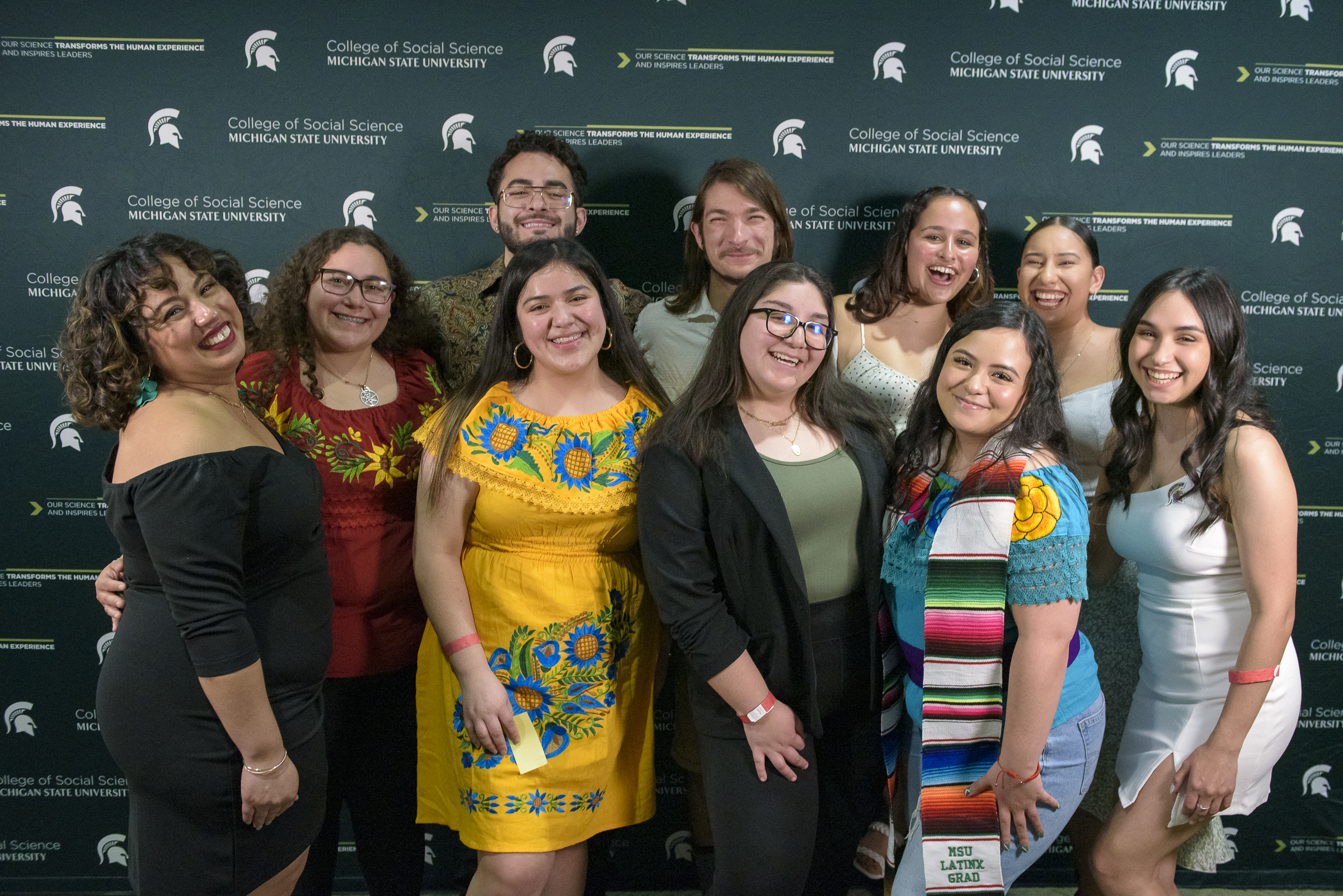 The group looked at more than 50 years of documents, photos, peer reviewed articles and conducted interviews with some of the first Chicano/Latino students at MSU in the 1960s. Their legacy of advocacy for courses, resources and support were integral in what CLS is today.

"Everyone has a role to play to make the next 25 years successful," he said.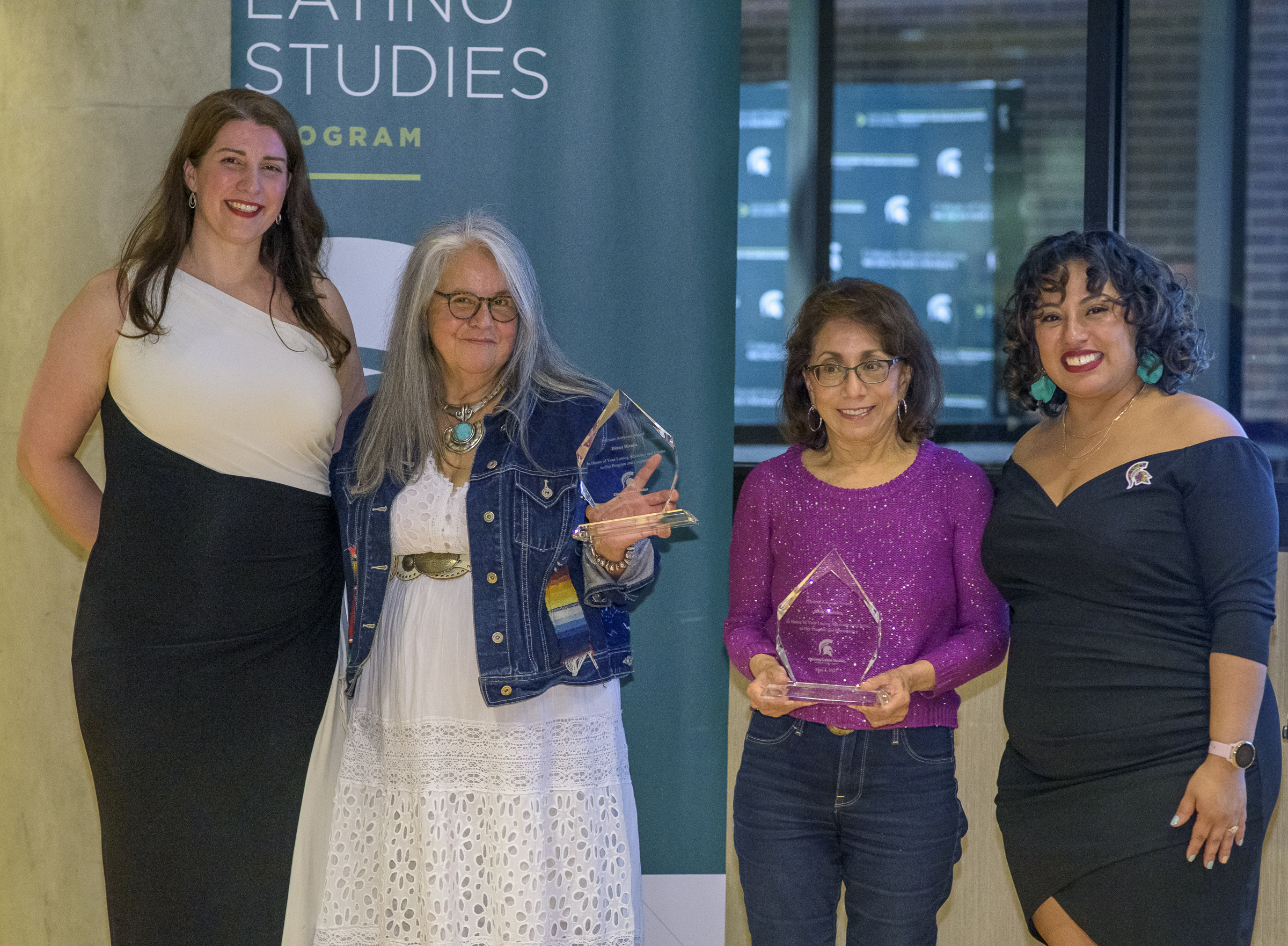 In recognition of the work they did as students, but also as longtime members of the MSU CLS community, Dr. Ayala presented Lifetime Advocate Awards to Chicano/Latino Studies Librarian Emeritus Diana Rivera, Rosa Morales, and Diana and Juan Marinez. 

"They were involved in preserving our history to ensure that our long legacies here at MSU would not be erased, but instead available for generations to come," Dr. Fernández-Jones said.

Rivera accepted the award and noted that having a Chicano/Latino program at MSU is now more important than ever.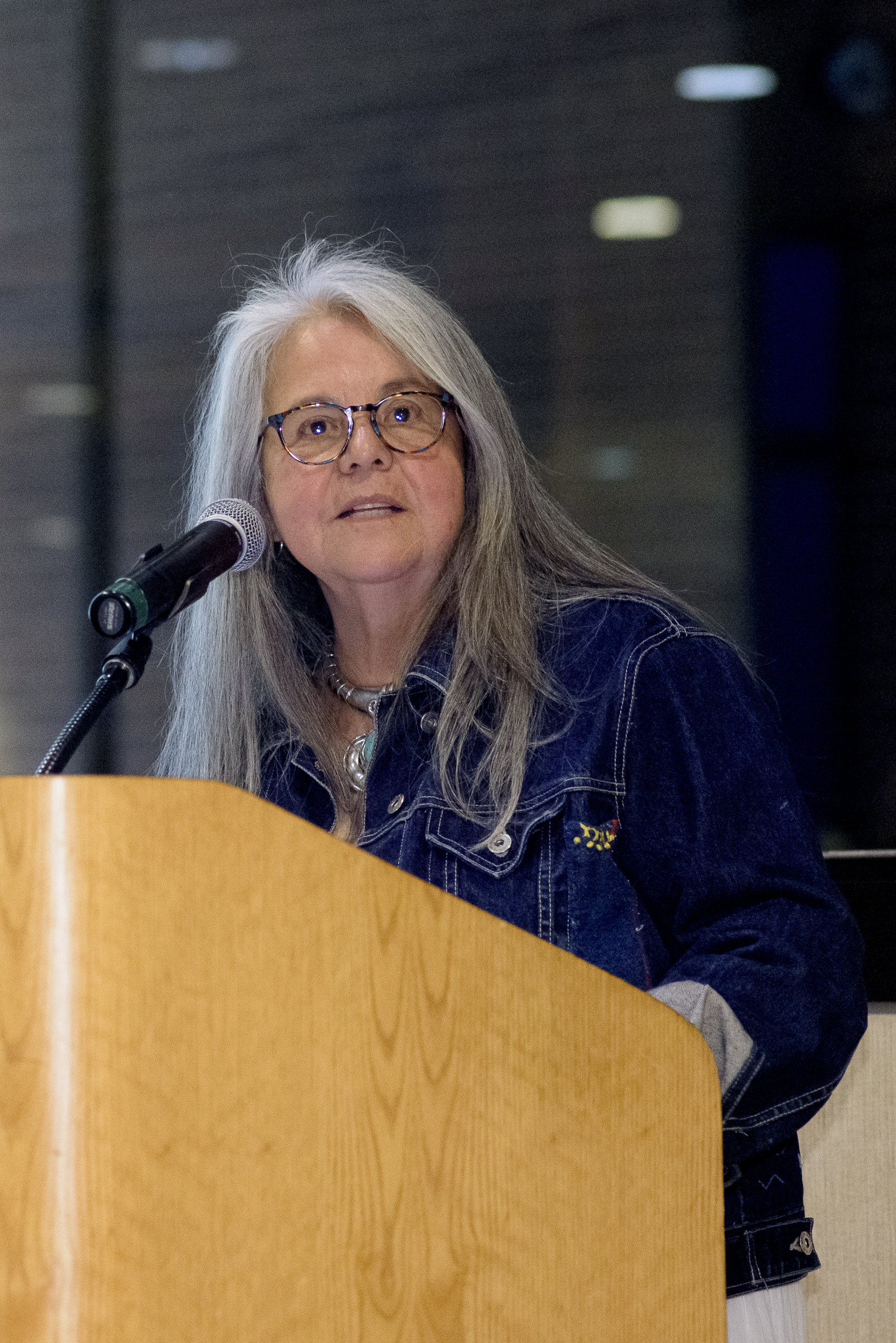 "The recent hits on ethnic studies gives us more reason to advocate for CLS students. Keep the message of Chicano Studies alive. Fight for what CLS stands for," Rivera said. "No one defines you but you."

The program concluded with the recognition of all the CLS PhD and minor graduates and a toast to the next era of Chicano/Latino Studies at MSU. 

"We ask all of you to raise your glass and join us in a salud o un brindis to the next 25 years," Dr. Ayala said.