Researchers utilize Tomlanovich-Dimond Fund to empower Somali Muslim women fighting against Amazon
May 22, 2023 - Emily Jodway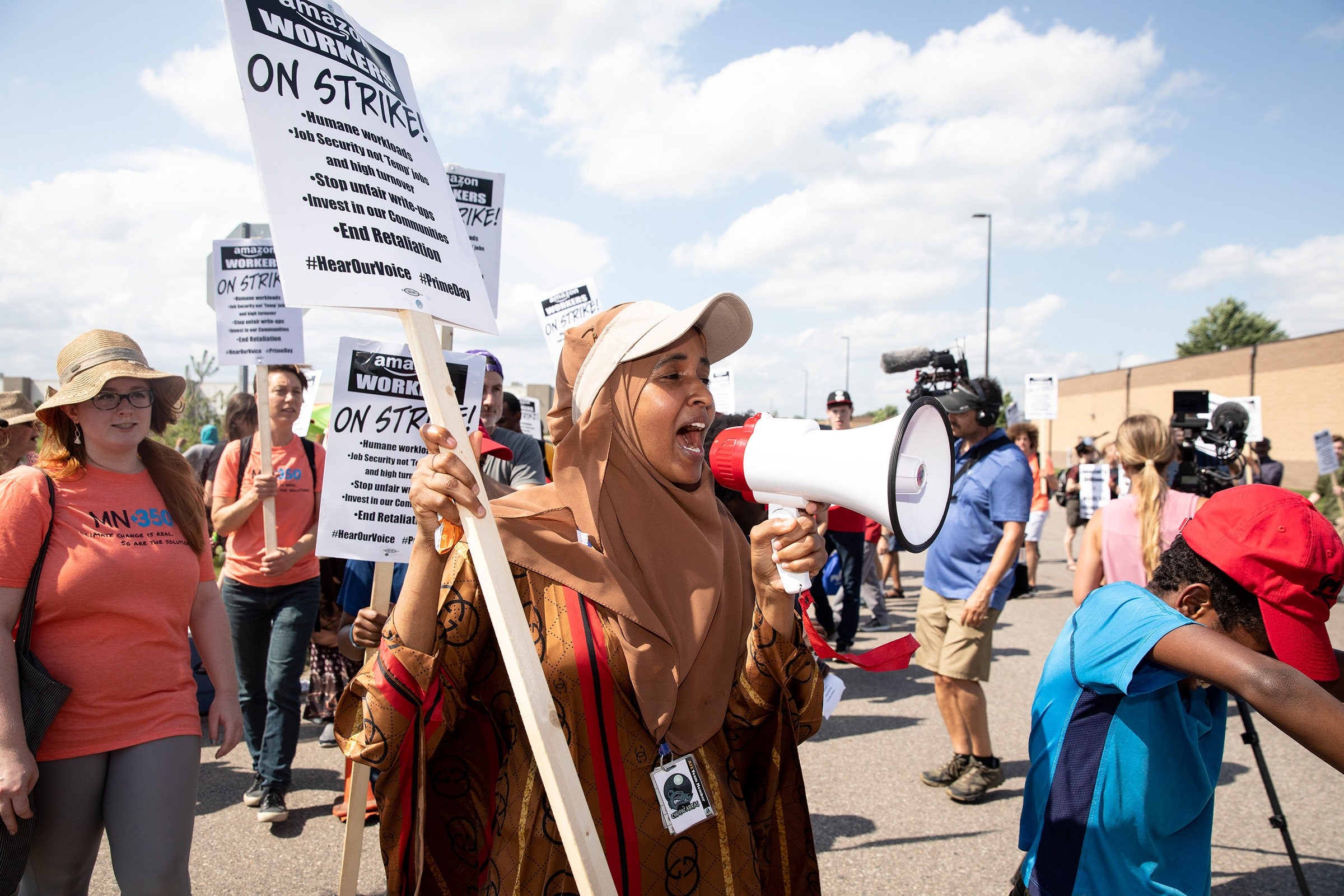 Hibaq Mohamed demonstrating outside of Amazon's MSP1 facility in Shakopee, Minnesota. PHOTOGRAPH: JENN ACKERMAN
A pair of researchers from the School of Human Resources and Labor Relations were recently awarded $10,000 from the Women's Leadership Tomlanovich-Dimond Research Equity Fund to be used toward their research on Somali women in Minnesota standing up for better worker's rights at a local Amazon warehouse. 
Associate Professor Maite Tapia and Abbigail Foss, a senior with dual majors in Human Capital and Society and the James Madison school, collaborated on a research proposal titled 'Fighting for Equity against All Odds: Somali Muslim Women Standing Up against Amazon. Tapia specializes in comparative employment relations, social movements, labor and migration, and intersectionality, and had done work previously with the Retail, Wholesale and Department Store Union. Through this partnership she learned about the Somali women migrating to Minneapolis for work, while Foss heard the story in one of Tapia's classes and was eager to offer research assistance. 
"When we first heard about Minneapolis and the warehouses there, and that there was a majority Eastern African workforce in those places, we were drawn to it, especially because our research has been done with a racialized and gendered lens," Tapia said. "This is how it got started and what we look at when we interview workers. In essence, examining the intersection of Blackness, Muslim identity and gender and centering that to understand worker experiences at Amazon."
These women were one of the first groups to fight back against working conditions at a major company, Amazon. The women felt they were being discriminated against in terms of religion, race and gender in the workplace. Many of their complaints centered around not having enough time for bathroom breaks or prayer, and were limited in their ability to leave work in the case of a family emergency. 
"One of their biggest asks has just been to receive basic respect and be treated like human beings," Foss explained. "A lot of them said they felt like they were robots. We've also heard a lot from women who have been discriminated against for wearing hijabs, being told it's too big, it gets in the way of work, they'd be more likely to get promoted if they didn't wear one."
Tapia and Foss went to Minneapolis in March 2023, as part of a larger research team made up of men and women from an array of backgrounds, which they thought would both bring a better understanding of the women's struggles as well as bring their own lived experiences to the conversation. They also worked with a translator within the Somali community. Rather than conducting basic surveys or interviews, the researchers built up a rapport with the women so that the conversations could take place with a foundation of trust established. 
"We went to Minneapolis to talk to these women face-to-face and to see what it was like for them to live and work there," Tapia said. "Interviewing through storytelling is a method that we use, and that means listening to their full stories and thinking about them not just as workers, but through their origins and lived experiences and how that affects their work."
Being on-site also afforded the researchers the opportunity to see the Somali neighborhoods in Minneapolis, which gave more insight into the lives of the women, including seeing how far of a trek the women have to make each day from their homes to the Amazon fulfillment center. Minneapolis is also the location of the 2020 murder of George Floyd by police officers. Many of the women who made the journey from Somalia to Minnesota were aware of certain stereotypes of racism in the South, and didn't expect it to be as prevalent in the Midwest as it can be. 
"Workers we interviewed at other Amazon warehouses in areas like Alabama describe it as almost having an expectation that there will be racism present," Tapia explained. "But when they applied to work here at Amazon, they saw the company as more progressive and didn't expect to be treated in the same way. Initially, for some women, Amazon is seen as a savior, but there is often disillusion when they come to work and experience some of those same sexist, racist discriminations."
The goal of the researchers is to tell the stories of these women in their own words while helping to share those stories and make a wider audience aware of the inequalities they face. They plan on publishing academic articles as well as producing public-facing reports to help other organizations assisting these women understand the background of their issues. In addition, they hope to expand their research across the United States and even Europe, to create a more comprehensive report of how Amazon is treating their warehouse workers worldwide. These women come from a wide array of backgrounds and walks of life, and much can be learned from them on how to improve labor relations and the workplace environment. 
"We talked to a wide array of people, and it was very powerful [for me] to see the dedication of people my age and the experiences they've already had," Foss said. "We talked to people who didn't go to college due to the expenses, as well as people who were working at the fulfillment centers to support their education. To see them persevering through really draining, physically exhaustive working conditions and still going to class and getting their homework done … I admire them very much for that."
With the help of the Tomlanovich-Dimond Fund, Tapia and Foss can better amplify the stories of the Somali women and continue to work with them and other groups to improve the lives of workers everywhere. 
"We are so grateful to the WLI and the fund for giving us this opportunity - without it, we couldn't have gone to Minneapolis this spring, which was instrumental to furthering our research," Tapia said. "And that's what it's all about, it's telling the story and showing the leadership of these courageous women fighting against Amazon."
Read more about the Tomlanovich-Dimond Fund and Tapia/Foss's work
here
.