MSU Economics alumnus Dr. David Kelly speaks at MSU College of Social Science Commencement
May 23, 2023 - Katie Frey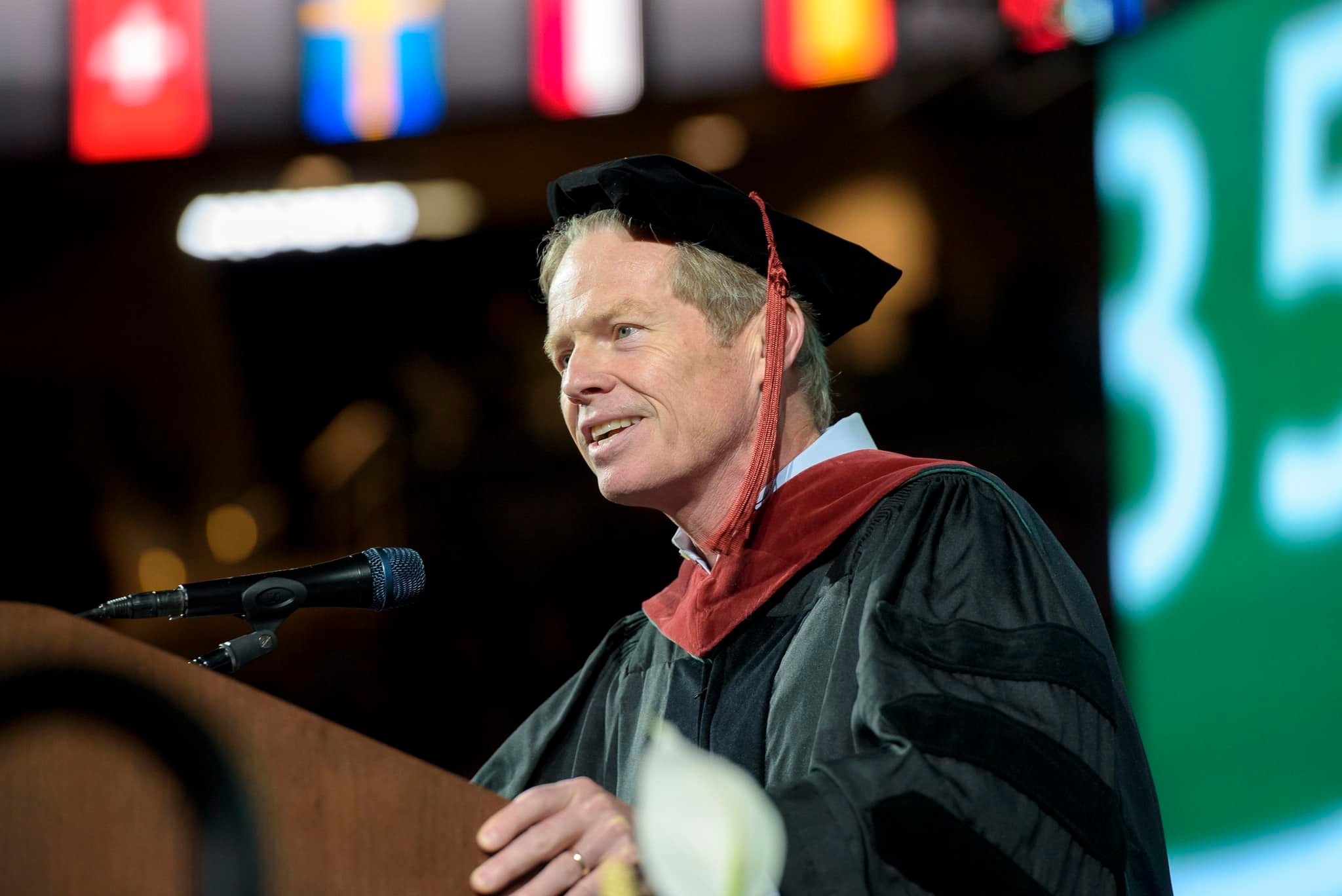 MSU Economics alumnus Dr. David Kelly was the MSU College of Social Science spring 2023 commencement speaker on May 6, 2023. He graduated with his master's degree in economics from MSU in 1986 and his doctorate in 1989.  
"If there is one word which I believe is the key to a successful and happy life, it is the word 'respect' – or as Aretha Franklin would have put it:  R-E-S-P-E-C-T," he shared with Class of 2023 graduates. "How you respect yourself, how you respect your mind and your body, and how you respect others. But it starts with truly respecting yourself.  Give yourself respect and then use it to make the great choices that will shape your life." 
Dr. David Kelly is the Chief Global Strategist and Head of the Global Market Insights Strategy Team for J.P. Morgan Funds. He said that in his line of work, he spends a lot of time looking at numbers, and one of those numbers he brought to share with seniors is 77 million – the number of people who were hired last year. As seniors set out to add their resumes to 77 million piles of resumes in the United States, Dr. Kelly illustrated a way to find the right fit.  
"Picture a clear, moonless night sky with millions of stars twinkling away in front of you. Those are all the possible jobs you could do," he said. "Now draw three big circles: 'what you love, what you are good at, what'll get you paid.' Now pull the circles together.  It's like a big old Venn diagram - all you've got to do is find a job in the intersection of those three circles. Something you love.  Something you are great at. And something that pays. And you've got to be honest with yourself. If the job you've in doesn't fit into that intersection keep looking – but in the meantime, do the very best with the job you've got, to help your resume float higher the next time it's in one of those piles." 
With over 20 years of experience, Dr. Kelly provides valuable insight and perspective on the economy and markets to thousands of financial advisors and their clients. Throughout his career, he has developed a unique ability to explain complex economic and market issues in a language that financial advisors can use to communicate with their clients. He is a keynote speaker at many national investment conferences. 
"We appreciate David's support for our department, including his service on our Alumni Advisory Board," said Dr. Steven Haider, professor and chair of the MSU Department of Economics. "We are so grateful to have had him back on campus to share his words of wisdom with our graduating seniors."   
This isn't Dr. Kelly's first time giving back by connecting with MSU students. In 2012, Dr. Kelly spoke to MSU economics students about the economy, and importantly, advice about how to enter the career field.  
"It's really important for everybody who wants to study economics – economics is all about the numbers, it's analytical, and a lot of you by nature are analytical," he said. "But you've got to work on the communications and the literary side of economics too. What makes a difference when you're looking for a job, or what makes a difference when you're working a job and trying advance a job is your ability to express your ideas and to get your point across." 
 
Dr. Kelly is also a frequent guest on CNBC and other financial news outlets and is widely quoted in the financial press.  In addition to his Ph.D. and M.A. in Economics from MSU, he holds a B.A. in Economics from University College Dublin in the Republic of Ireland. 
In 2022, he received the College of Social Science's Distinguished Alumni Award. The award is given to alumni who have differentiated themselves by obtaining the highest level of professional accomplishment.