Gender Affirmation Project: Breaking Down Barriers for Trans and Nonbinary Communities
June 1, 2023 - Shelly DeJong

Transgender (trans) and nonbinary individuals face numerous challenges in affirming their gender, including difficulty accessing legal name and gender marker changes. In response, Michigan State University's Trans-ilience lab has partnered with Allen Neighborhood Center, a Lansing community non-profit, to launch the Gender Affirmation Project. The program will offer logistical and financial support to trans and nonbinary people seeking legal gender affirmation through name and/or gender marker changes. 
Psychologist Dr. Jae Puckett is the director of the Trans-ilience lab, a professor of ecological-community psychology, and a member of the Consortium for Sexual and Gender Minority Health, a thematic research group of the College of Social Science.   
"We developed this partnership because of community needs, as well as research documenting the importance of legal gender affirmation for health outcomes," said Dr. Puckett. "When trans and nonbinary people legally affirm their gender, they report reduced suicidality, depression, and anxiety, as well as less exposure to harassment and violence."  
The process of legal gender affirmation is often challenging, costly, and confusing, which can cause distress and interfere with daily life for trans and nonbinary people who desire such changes. Legal name changes require a petition to the court, attending a court hearing, publishing a notice of the change in a newspaper, getting a background check, navigating confusing paperwork, and paying fees, which can amount to $300-350. 
The program's purpose is to improve access to legal name and/or gender marker changes while also promoting health and well-being for trans and nonbinary individuals. Identification documents impact nearly every aspect of a person's life, and for trans and nonbinary individuals, not having their name and/or gender marker updated on their documents can negatively impact their employment, housing, healthcare, and education.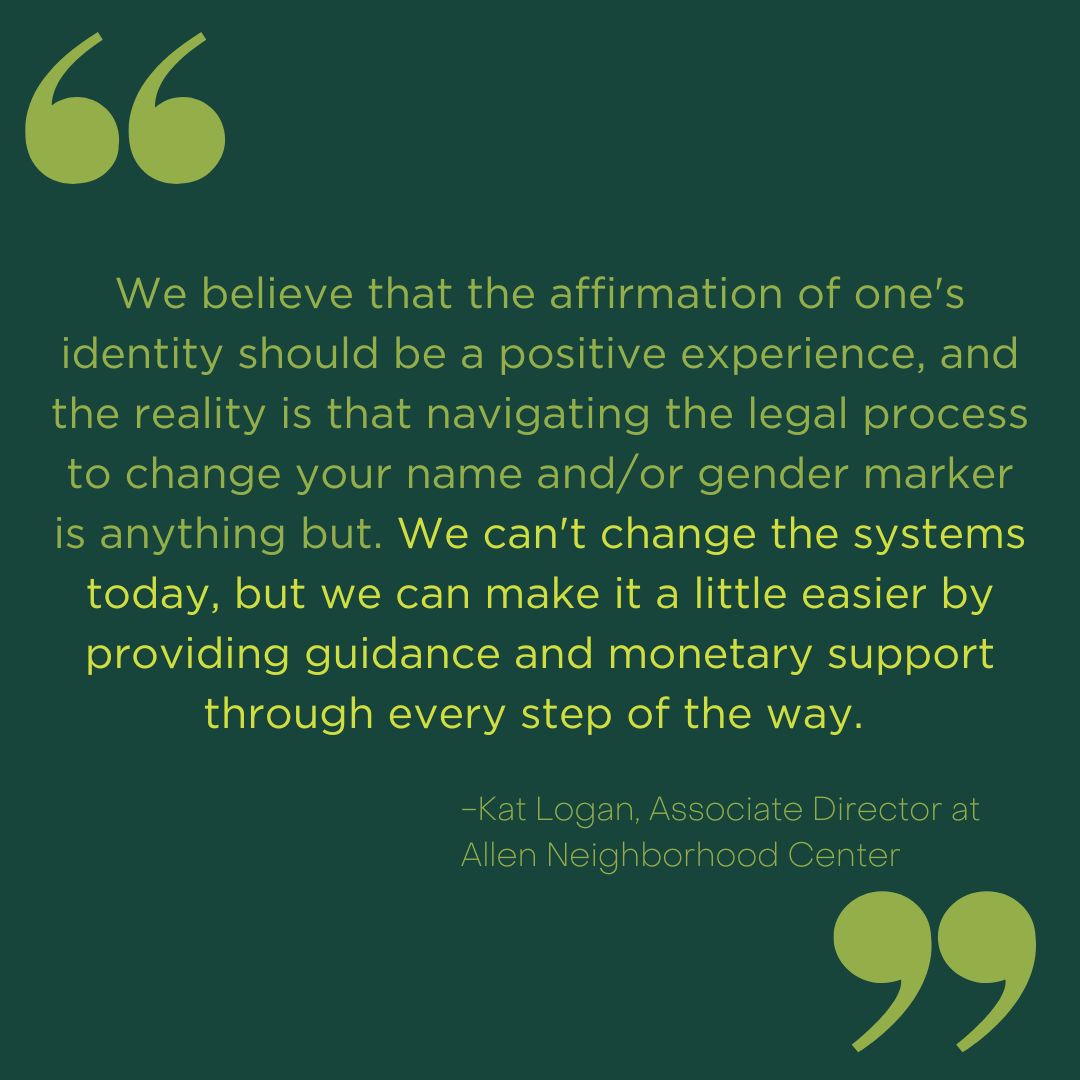 The Gender Affirmation Project aims to make the path toward gender affirmation more accessible by providing guidance and monetary support to local trans and nonbinary people seeking any of the following: legal name change, gender marker change on MI state identification/license, name and/or gender marker change on a birth certificate. The program's eligibility criteria are being trans or nonbinary, aged 18 or above, living in Ingham County, and self-reported financial need for those seeking financial assistance. 
"We believe that the affirmation of one's identity should be a positive experience, and the reality is that navigating the legal process to change your name and/or gender marker is anything but," said Kat Logan, Associate Director at Allen Neighborhood Center. "We can't change the systems today, but we can make it a little easier by providing guidance and monetary support through every step of the way. Our hope is that by helping fill out the forms and paying for the process, this path toward gender affirmation will be more accessible."  
Click here to learn more and donate to support the program and help promote trans and nonbinary individuals' rights and equality. Learn more about the research on the importance of legal gender affirmation by visiting the Trans-ilience Facebook page.  
If you're a trans or nonbinary adult living in Ingham County and would like assistance with your legal gender affirmation, you can fill out this request form to participate in the program.