Social Science Students shine at this year's Mid-sure Symposium
July 27, 2023 - Patti McDonald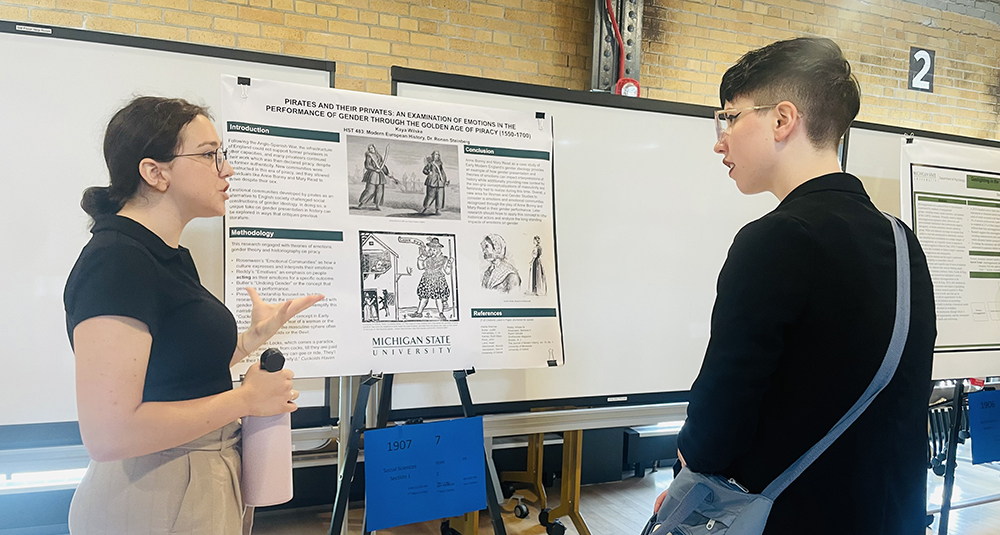 Kaya Wilske talks to an attendee at Mid-Sure 2023
Every year, The Mid-Michigan Symposium for Undergraduate Research Experiences (Mid-Sure) gives undergraduate students the opportunity to showcase their research to the public.
On Wednesday afternoon, students from varying academic disciplines displayed their research and presentations. For the second year in a row, Mid-Sure was held at the STEM Teaching and Learning Facility at Michigan State University. The symposium showcased several undergraduate research from the College of Social Science. The research expanded along a wide variety of majors, from political science to history and everything in between. The students presented in poster format, which allowed them to share their findings and interact with the community at-large.
Kaya Wilske, a senior majoring in History (with a minor in Women's and Gender Studies) analyzed the theory of emotions and how the role of emotions can interact with gender and sexuality. Wilske said her research was an extension of a project from Dr. Ronen Steinberg's class on the History of Modern Europe.
"We had focused on the theory of emotions, and I essentially combined Women's and Gender Studies with the History of Emotions and I looked at two really infamous pirates, Anne Bonny and Mary Read," Wilske said.
"Bonny and Read were cool because they were known for dressing in masculine clothing. However, when they would switch back to dressing feminine, their emotions changed drastically and they would use that type of gender performance to use the judicial system against them, forgoing the previous actions of having this go getter attitude that featured some anger when they were dressed up in masculine clothing."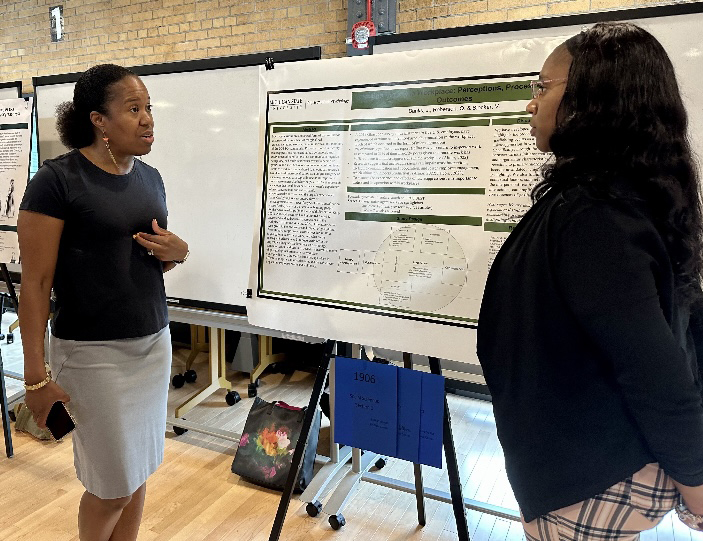 Professor Quinetta Roberson (left) speaks with Jasmine Banks (right) at Mid-Sure 2023.
Wilske said she hopes people can relate to her research and feel validated about their own gender and sexuality.
"I think that in today's world we can learn more by looking back on how our historical events impact the way we act today and there's a lot of discussion that is going on about gender performance and what is gender, what is sexuality and so looking back on people who were just being themselves can be really impactful and powerful especially to queer youth today and being able to see that there were people hundreds and hundreds of years ago who are just like you can be really remarkable."
The event expanded to MSU undergraduate researchers, visiting students participating in research at MSU, and students from other institutions in Michigan. The presentations by the students covered crucial topics and research that has real world impacts.
Psychology student senior Jasmin Banks examined the role of gaslighting in the workplace.
"I was inspired to do this type of research because I am a minority and I myself have a lot of experience with being gaslighted and experiencing micro-aggressive behavior in the workplace," Banks said.
"We found that gaslighting in the workplace causes employees to feel inadequate and employees then display poor work performance and go through a lot of indecisiveness."
Banks said she wants her research to inspire real change so employees can feel more confident at work.
"I hope this research can help spark a conversation to reconstruct and implement more positive workplace environments."
For more information on Mid-SURE's annual symposium, click here
Mid-Sure 2023 College of Social Science presenter list
Manvir Bamrah, Psychology - The effect of blue light exposure on cognition after a night of sleep deprivation
Jasmin Banks, Psychology - Gaslighting in the workplace: Perceptions, Processes, and Outcomes 
Rebekah Batu, Political Science and Pre-Law - Tweeting into the legislative arena
Jerome Hamilton, Political Science - Thinking Beyond the Box: Investigating Pizza Box Recycling at MSU  
Brennan Haugen, Psychology - Identifying strategies for event professionals to incorporate Diversity, equity, and inclusion (DEI)
Jolie Kretzschmar, Psychology - Moral Humility is Associated with Lesser Religiosity and Lesser Religious Exclusivism
Shub Ranjan, Psychology - The importance of moral humility; a force for decreasing polarization
Bailey Rann, Psychology - Relationship between working memory capacity and rhythm discrimination ability in adults who stutter
Aditi Sharma, Anthropology - The relationship between maternal stress and the immune specificity of milk 
Josh Taft, Political Science - Tweeting into the legislative arena
Siri Vangavolu, Anthropology - Visualizing Enamel: Histological methods in anthropology
Kaya Wilske, History - Pirates and their Privates: An Examination of Emotions in the Performance of Gender through the Golden Age of Piracy (1550-1700)