MSU Economics Professor Jeffrey Wooldridge holds the inaugural Walter Adams Distinguished Faculty Fellow
July 27, 2023 - Katie Frey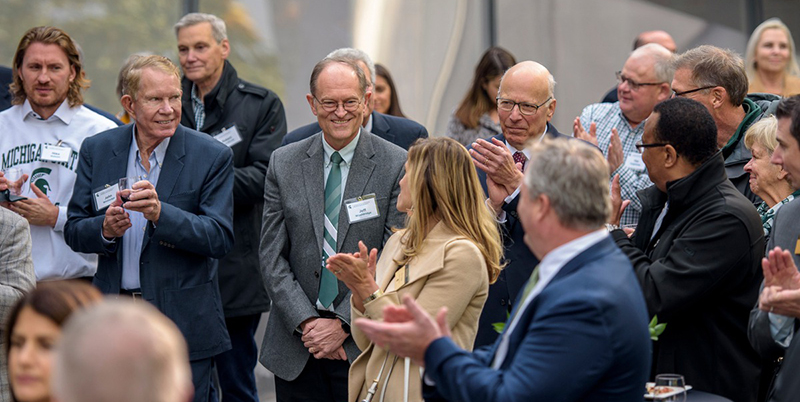 Jeff Wooldridge was recognized as the inaugural holder of the Walter Adams Distinguished Faculty Fellow in Economics.
The Michigan State University Department of Economics announced Dr. Jeffrey Wooldridge as the Walter Adams Distinguished Faculty Fellow. Endowed positions allow faculty to pursue their research interests and refine their teaching skills. 
"I am honored to be the first holder of the Walter Adams Distinguished Faculty Fellow because, in addition to being an impressive scholar with broad-based knowledge and perspective, Walter was a mentor and friend," Dr. Jeffrey Wooldridge said. "When my wife, Leslie Papke, and I first arrived in East Lansing in 1991 to start our new positions at MSU, Walter immediately took us under his wing."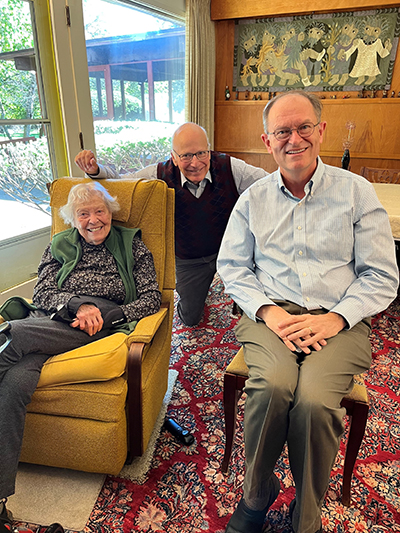 Dr. Jeff Wooldridge visits with Pauline and Jim Adams, Walter Adam's wife and son.
Dr. Walter Adams taught economics from 1947 to 1993 and is one of the most beloved and inspiring economics professors in Michigan State history. He served MSU as president, distinguished professor, friend, and mentor.
"Walter is an icon of not just MSU economics but of Michigan State University," Dr. Wooldridge said. "During my 32 years at MSU, I have met MSU graduates in various places in the world. If they're of a certain generation and took economics at MSU, Walter's name usually comes up. He had such a strong reputation as a teacher – and not because he was a pushover."
For undergraduates, Dr. Adams was best known for Econ 444, at the time, the toughest and most-loved economics course at MSU.
"He understood that research, teaching, and service were all important in our jobs as professors. Walter was a prolific researcher, but he also thought it was important to contribute to society – for example, by testifying as an expert in various Congressional hearings. Walter's interests were wide ranging: economics, history, politics, the Spartan Marching Band, MSU athletics," Dr. Wooldridge reminisced.
As president, Dr. Adams carried MSU through a very difficult period of student and establishment relations. His success can be measured by the fact that toward the end of his term, petitions requesting that he remain as president had collected the signatures of some 950 faculty and 20,000 students—approximately half of the entire student body. However, he stuck to his original promise, and on January 1, 1970, Walter Adams returned to what he considered his true calling: economics.
"I can't stress enough how important Walter's legacy has been to the Department of Economics," said Dr. Steven Haider, professor and department chair. "He made a difference in so many lives as a professor, as the president and to our society as a valuable advisor. We are grateful for his legacy to MSU—a legacy that has inspired many alumni to contribute to this endowed position. We're delighted to award it to Jeff, as Walter's colleague and friend and who is also a dynamic contributor to MSU and the profession."
Dr. Wooldridge's research and teaching field is econometrics, which concerns developing quantitative methods for analyzing economic data. Econometrics focuses on ways to infer causality from data generated by the complex interaction of individuals, firms, and governments.
He plans to use the funding toward sharing his research, participating in the academic community, and by investing in graduate students.
"The extra resources provided by the fellowship allow me to more easily travel to conferences even if I'm not a keynote speaker," Dr. Wooldridge said. "I can also support more PhD students with travel funds so that they can attend conferences and present their work."
At this point in his career, his focus is mostly on the econometrics of panel (or longitudinal data), where he follows the same observational units (people, schools, counties, etc.) over time. The panel data structure helps to study the causal effects of policy interventions over a period of time. His recent work has focused on ways to make policy analysis more flexible and convincing.
"I've always been fairly active with teaching and research, and occasional consulting, since being at MSU," he said. "Nevertheless, I felt reenergized when named the Adams Distinguished Faculty Fellow. I've been working on revisions of my two existing books and trying to get a third book finished. I think Walter would approve of that. I'm busier than ever giving keynote lectures at conferences and teaching short courses – online, in the U.S., and abroad. Walter had a strong international reputation. I've been lucky that econometrics is in high demand, and I'm invited to present research and teach in lots of interesting locations. It's a source of satisfaction to represent MSU around the world."
Endowed positions are one of the most valuable and critical means of recruiting, retaining, and rewarding exceptional faculty, and the Walter Adams Distinguished Faculty Fellow enables the Economics Department to recruit and retain the highest-quality faculty.
Learn more about giving to the Walter Adams Distinguished Faculty Fellow: https://givingto.msu.edu/crowdpower/walter-adams