College of Social Science welcomes the Class of 2027 at the annual College Colloquium
August 28, 2023 - Patti McDonald
The College of Social Science at Michigan State University welcomed their 2027 class on August 25 with an annual colloquium held at the Wharton Center where hundreds of first-year students attended.  
The event featured inspiring remarks from College of Social Science Dean Brent Donnellan, Associate Dean for Undergraduate Studies, Emily Durbin, Marlon Lynch, alumnus (School of Criminal Justice) and Vice President and Chief Safety Officer at Michigan State University, along with alumnus (School of Human Resources and Labor Relations) Darryl Robinson, retired Senior Executive Vice President & Chief Human Resources Officer for CommonSpirit Health.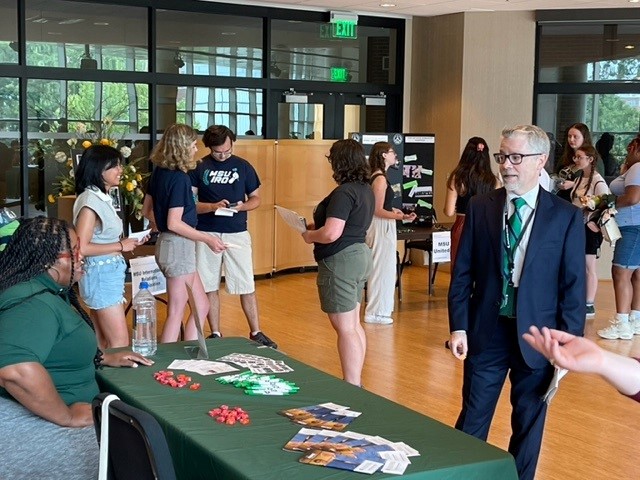 The College also provided a virtual welcome kit to all undergraduate students which includes various resources such as study tips, virtual meeting backgrounds, study away/abroad information, and scholarship resources.  
Dean Donnellan wanted students to know how impactful their college careers can be, especially as social scientists.  
"I truly believe today more than ever is a time that your training in the social sciences can impact the world and give you what you need to take you where you want to go," Donnellan said.  
"The social sciences will provide you with the tools to become the next generation of outstanding leaders that the world needs right now; Spartans will make a difference." 
Donnellan said he wanted students to feel motivated prior to their first day of classes.  
"I can't wait to see you begin your journey here at Michigan State and I want you to know that you are a part of a family, you are a part of something bigger as a member of the College of Social Science and this starts right here, right now with colloquium on a Friday afternoon." 
 A handful of undergraduate students also welcomed the first-year students with inspirational words, including Senior Taylor Hughes-Barrow, a Human Development and Family Studies major. Barrow also serves on the Dean's Student Advisory Committee and the Dean's Advisory Committee for Diversity, Equity, and Inclusion.  
"During your college career, you are constantly putting in the work every day internally and externally to be where you want to be so trust that process. If you aren't happy at any point in where you are going or the direction you are going, you can always change that," she said. 
After the welcome speeches, students attended resource fairs so that they could connect with their specific departments and units to ask questions prior to the first day of classes.  
Presley Wood, a history major and junior who recently transferred to MSU, said she sees a lot of value in the colloquium event, as it can be stressful to attend a new school. 
"I know this event is mainly for first-year college students but as a transfer student, I appreciate the welcoming event and I am so excited for classes to start," she said. "It can feel slightly overwhelming starting school at a new university." 
You can hear a welcome message from Dean Donnellan and some other notable Social Scientists here.