Dimond named President of University of Michigan Health-West Region
August 29, 2023 - Emily Jodway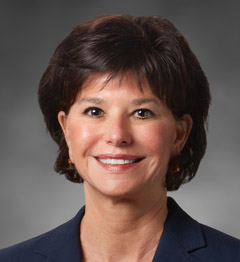 Michigan State alumna and Women's Leadership Institute Executive Board member Margaret Dimond recently received a new role as president of the University of Michigan regional health system, on the heels of being named the first female president of E.W Sparrow Hospital in February. 
"I am thrilled to be taking on this role, and I look forward to working with the staff at both Sparrow and UM Health-West along with all of the caregivers and the community," Dimond said. "We will continue the long tradition of outstanding clinical care and patient-focused service centered on personalized care for each patient and their family. Having the world-class care of the University of Michigan Health helping us expand clinical excellence close to home contributes to an extraordinary experience for those we serve."
Sparrow Hospital, located in Lansing, recently joined forces with University of Michigan Health in a regional partnership that includes Sparrow, UM Health-West and five other community hospitals. As President, Dimond will oversee regional operations and assist in U-M Health's goals of creating an extensive network of care that will benefit both patients and staff statewide. 
"Margaret's rich experience in health system operations and collaborating with physicians and staff to improve the patient experience make her an ideal candidate for the leadership role," said Marschall Runge, M.D, Ph.D., CEO of Michigan Medicine and dean of the U-M Medical school. "She has an extensive background in all facets of hospital operations and has served in many health care executive positions in Michigan. We know she'll be ready to lead our teams as we continue to build our statewide network."
Diamond was named president of E.W. Sparrow hospital after returning to Michigan from Florida and her role as chief administration officer for the Naples Physician group. She assumed the role as the first female president in the hospital's 127-year history. A 2010 doctoral graduate of Michigan State, Dimond also spent time as an instructor in the School of Social Work and Assistant Dean of the College of Human Medicine. She has previously served as president and CEO of McLaren Oakland Hospital, Ascension Crittenton Hospital, Karmanos Cancer Hospital and the McLaren Medical Group, adding up to decades' worth of experience in the healthcare sector.
Dimond was also an integral part of the formation of the WLI and currently serves on the Executive Board. She has frequently been featured as a guest speaker for the Institute and shares a namesake with fellow WLI supporter Ann Tomlanovich as founders of the Tomlanovich-Dimond Research Equity Fund, which awards faculty and undergraduate teams funding for research surrounding women's equity.
"Congratulations are once again in order for our own Margaret Dimond," said Amanda Guinot Talbot, Director of the WLI. "Margaret, you continue to astound us and make us proud to call you a Spartan and, more than that, a Women's Leadership Institute board member and ambassador!"
Read more about Dimond and the Women's Leadership Institute here.