Class of 2021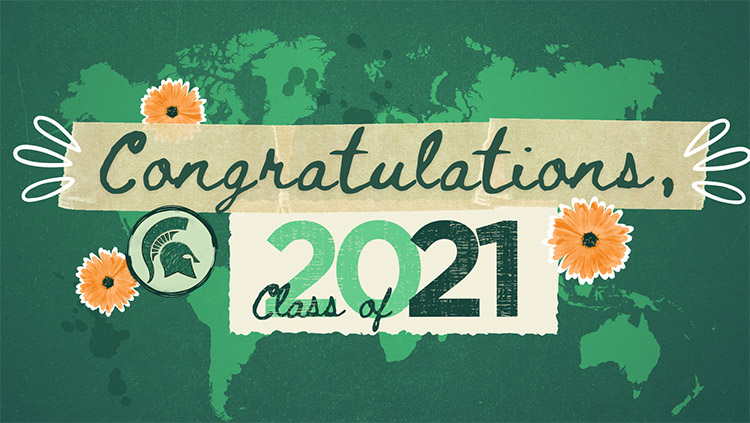 Congratulations to the graduating Social Science class of 2021! Over the last four years, you have proven that you can do virtually anything. The College of Social Science is so proud of each and every one of you, and we are so excited to help you celebrate this monumental achievement that is a testament to your hard work, dedication and Spartan will.
Our mission in the College of Social Science is that we transform the human experience and inspire leaders. You have each personified this message, persevering through one of the most challenging periods of modern history and coming out on the other side with a degree in one of the social sciences. And with that degree, you will change the world. You already have.
Below are messages from College leadership, faculty, alumni and fellow students who are excited to congratulate and celebrate you and all of your accomplishments.
---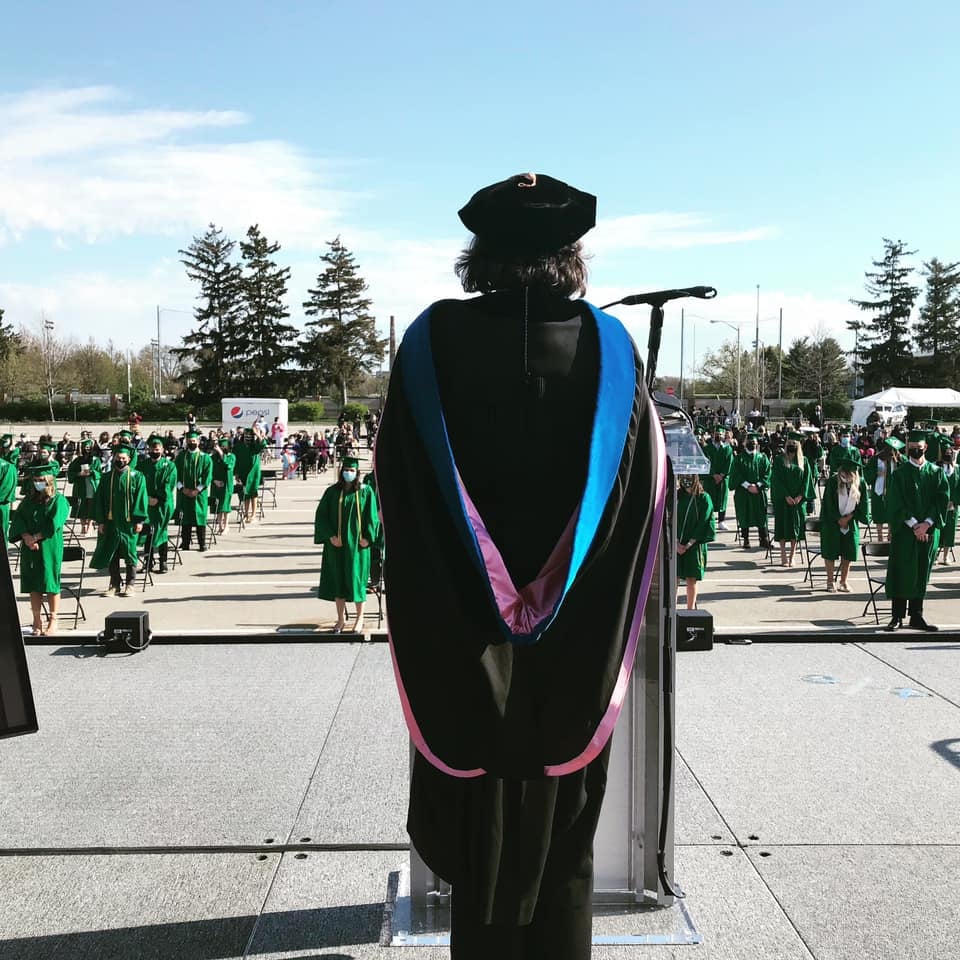 Photos of Commencement Ceremonies May 1 & 2
---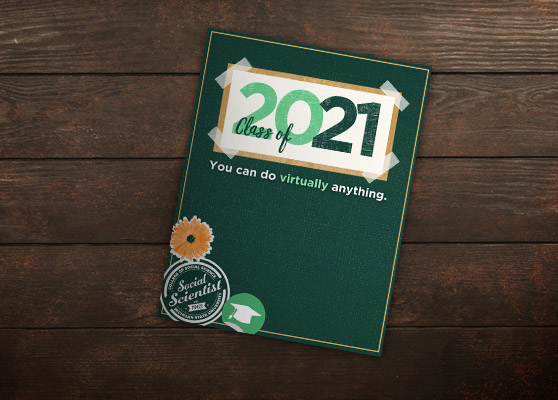 You can do

virtually

anything
As a parting gift to our graduating seniors, the College of Social Science has assembled a small scrapbook sharing memories, photos, and advice for the Class of 2021. Download the document here to save it on your computer, share it with family and friends, and/or print for safekeeping!
---
Student Commencement Speaker
Selva Haidar
Political Science and Human Capital and Society Graduate
---
Board of Trustees 4.0 Winners
Erin Elizabeth Debono
Psychology
Olivia N. Dinkins
Psychology
William David Eckerle
Psychology
Sophia Saige Epstein
Social Work
Alison Paige Ferer
Economics
Katlyn L. Hemp
Psychology
Isabel P. Hershey
Anthropology
Nathan Garrett Jackson
Psychology
Jasmine N. Jordan
Political Science
Annika Lee Linzmeier
Psychology
Ethan Jacob Loch
History
Olivia R. Mobley
Interdisciplinary Studies
Adeline Grace Nelson
Psychology
Danielle Nicole Petras
Psychology
Renee Elizabeth Rogowski
Social Work
Max David Sandler
Psychology
Maysa Chen Sitar
Political Science
Elisha Marie Smith
Human Development and Family Studies
Madeline Therese Smith
Psychology & Human Resources and Labor Relations
Amanda Jane Torno
Social Work
Amanda Jane Torno
Urban and Regional Planning
Chloe Joan Vansickle
Interdisciplinary Studies
---
---
Outstanding Seniors
Outstanding Senior Awards are presented to graduating seniors who have demonstrated exemplary academic and extracurricular successes, and a strong sense of leadership, commitment and dedication to MSU.
Lulu Nestor
Anthropology
Alexandra Gormely
Criminal Justice
Jack Mueller
Economics
Ryan Snider
Geography, Environment, and Spatial Sciences
Eric M. Baylis
History
Elisha Smith
Human Development and Family Studies
Lauren Moffitt
Human Resources and Labor Relations
Chloe VanSickle
Interdisciplinary Studies and Global and International Studies
Jasmine Jordan
Political Science
Erynne Dixon
Psychology
Erin Kramer
Social Work
Daisy Genson
Sociology
Kelsie Stuber
Urban and Regional Planning
---
Eric Baylis
MSU History Graduate
Lulu Nestor
MSU Anthropology Graduate
Alexandra Gormely
MSU School of Criminal Justice Graduate
Elisha Smith
MSU Human Development & Family Studies Graduate
Lauren Moffitt
MSU School of Human Resources & Labor Relations Graduate
Chloe VanSickle
MSU Interdisciplinary Studies & Global & International Studies
Erin Kramer
MSU School of Social Work Graduate
---
Social Science Leadership & Faculty
As your leaders, professors, mentors and teachers for the last four years, the faculty here at the College of Social Science have been continually impressed with the adaptability, passion and intelligence of the Class of 2021. Hear their congratulatory words of wisdom below!
Mary A. Finn
Dean, College of Social Science
Nwando Achebe
Assoc. Dean for Diversity, Equity and Inclusion
College of Social Science
John Waller
MSU Assoc. Professor of History
Director, Social Science Scholars Program
Angela Hall
Assistant Professor
MSU School of HRLR
Caitlin Cavanagh
Assistant Professor
MSU School of Criminal Justice
---
Social Science Alumni
Now that you've graduated, you will forever be a part of the College of Social Science alumni family - and our alumni couldn't be happier about it! Hear their advice for navigating the world as a recent Social Science graduate.
David Kelly
MSU Economics Alumnus
Chief Global Strategist
JP Morgan Asset Management
Stacy Sollenberger
MSU School of Human & Labor Relations Alumna
ISHR Group
Executive Coach
Vada Lindsey
MSU Political Science Alumna
Professor of Law and Assoc. Dean for Enrollment and Inclusion
Marquette University Law School
---
Class of 2021
We want to hear from you!
Have you accepted a job, internship, or graduate school offer? Are you seeking employment, weighing your options, or looking for opportunities to stay connected with the College of Social Science? Take our quick 2-minute survey to let us know about your post-grad plans!