Empowering the future: MSU's new era in African American research
October 16, 2023 - Brandon Drain
Since its inception in 1997, the Michigan Center for Urban African American Aging Research (MCUAAAR) has stood as a beacon for transformative research dedicated to the health and vitality of older African Americans. This collaborative platform unites three of Michigan's top academic institutions: The University of Michigan, Wayne State University, and since 2018, welcoming Michigan State University into its fold.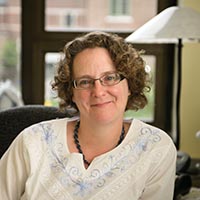 Spearheading MSU's most recent contributions to MCUAAAR -- since Dr. Joan Ilardo (2018 to 2023) -- is Dr. Amanda Woodward, it's co-director and professor for the School of Social Work at MSU. "The big focus for MCUAAAR," she states, "is on expanding social and behavioral research related to older African Americans, particularly urban, older African Americans." Woodward's role doesn't end there. As the co-leader of MCUAAAR's Research Education Corp (REC), Woodward's emphasis lies in "coordinating the training and support of the research scientists that we fund."
Woodward's journey with MCUAAAR has evolved from her days as a doctoral student. Reflecting on her longstanding connection, she recalls, "I've been associated with MCUAAAR since my doctoral days, with Dr. Robert J. Taylor, the current Principal Investigator, guiding me as my dissertation chair at U of M." Such reflections underscore her commitment to the cause. "The mentorship and support of junior faculty, especially those of color, deeply resonates with me."
Dr. Mieka Smart, once a budding MCUAAAR Scientist and now part of an initiative to shape its future leadership, sheds light on the Center's nurturing environment. "I felt that although the scientist meetings were designed to offer formative and critical feedback, it was done in a way that never felt critical," she explains. While addressing the future of MCUAAAR, Smart emphasizes two pivotal leadership skills: fostering inclusion and driving innovation.
But there's another instrumental voice in this symphony of empowerment: Dr. Kent Key, co-lead of the community core. With Flint, a predominantly African American city, serving as the backdrop, Key's endeavors have been pivotal. "The primary goal is to increase the amount of African American elders in research," Key explains, highlighting the hesitancy of the African American community towards research due to unethical practices of the past. However, with mechanisms like the Community Ethics Review Board in place, and a deep-rooted commitment to community-based participatory research, MCUAAAR aims to transform this narrative.
For Key, the approach to community engagement is anchored in presence, transparency and mutual benefit. He emphasizes the importance of being "present at townhalls, community events and city council meetings to show support for issues important to the community" and believes in "creating mutual benefit from research efforts."
In an era where academic diversity often finds itself in the limelight, MCUAAAR, fortified by its partnership with MSU, is not just a participant but a trendsetter. With MSU's integration, the center embraces the university's esteemed land grant mission and
With a harmonized vision, leaders like Woodward, Smart and Key are steering MCUAAAR towards new horizons. As it evolves, one thing remains certain: MCUAAAR's dedication to bettering the lives of older African Americans remains unwavering, promising strides in research for years to come.