MSU Geographers shine at 2019 Michigan Coastal Dunes Symposium
October 4, 2019 - Liz Schondelmayer
On October 3, faculty from the Michigan State University College of Social Science presented at the 2019 Michigan Coastal Dunes Symposium. 
Held at The MTG Space in Lansing, the event's theme was "Learning to Live in Dynamic Dunes." The Symposium featured five presentations, including a keynote presentation from the director of the Michigan Office of Outdoor Recreation Industry, Brad Garmon, followed by a panel discussion about dune management at the state and local level. 
Featured at the Symposium were MSU social scientists Dr. Robert Richardson, Dr. Alan Abrogast and PhD student Kevin McKeehan.
First presenting was natural resource economist Dr. Robert Richardson. Richardson explained the results of his online survey, #HowYouDune, which collected data on the way Michiganders use and value the dunes. He then presented mental maps of stakeholders' perceptions of processes impacting the dunes, which were developed in a series of workshops held across the state.
"This research will inform the Coastal Zone Management Program of the Michigan Department of Environment, Great Lakes, and Energy on how citizens value dunes and how they understand change in sand dune systems," explained Richardson. 
Following Dr. Richardson was Dr. Alan Arbogast, chair of the Department of Geography, Environment, and Spatial Science. Arbogast presented on the formation and evolution of the dunes over the last 5,000 years. His research team mapped the dunes' lifespan changes by carbon-dating buried organic matter and determining the age of grains of sand at different levels within the dunes.
Arbogast's research contrasts the commonly-held misconception that the dunes formed all at once due to glacial activity. "The current system for managing the dunes is based on an inaccurate model for their formation," explained Dr. Arbogast. "We now know that the dune landscape is incredibly dynamic and responds to fluctuations in lake level and climate changes."  
"As individuals, local municipalities and even the state government grapple with future management and preservation considerations, new understandings about their evolution may play a role in shaping those conversations."
Arbogast recently received widespread media attention for his research team's extensive mapping of Michigan's coastal sand dunes, which can be found here.
Kevin McKeehan, a Geography PhD student, presented on the evolution of the dunes using photography to illustrate changes to the landscape over time. McKeehan and his team recreated photographs taken between 1880 and 1980, resulting in a visual side-by-side comparison of how Michigan's dunes used to look and how they look now.
"As I have presented pieces of this research to interested groups over the summer, I have noticed how surprised most people are by the differences demonstrated in the two matched-pair photos," said McKeehan. "Being able to demonstrate to Michiganders the changes underway in their coastal dune environments due to climate and development is very exciting and further illustrates the dynamic nature of our coastal sand dunes."   
MSU Social Scientists presented findings this week that will impact how Michiganders interact with their state's coastal sand dunes and inform better policy for preserving and protecting these unique natural resources.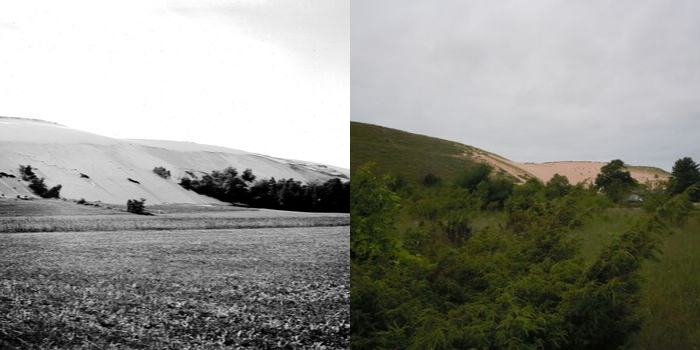 This photo shows the before and after of the Sleeping Bear Dune Climb in 1917 and 2019.