Social scientist helping parents with autistic children through the COVID-19 crisis
April 6, 2020 - Liz Schondelmayer
For many families of children with autism, dealing with the COVID-19 pandemic can be an especially challenging time. On top of the many changes brought on by this public health crisis, parents or caregivers may struggle to find available supportive services for their children.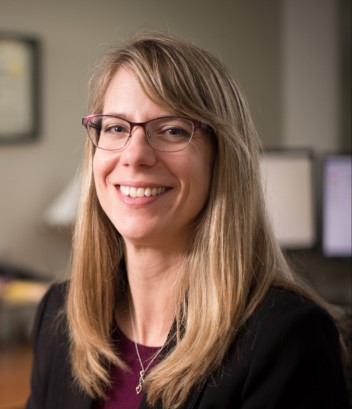 Michigan State University psychologist Dr. Brooke Ingersoll (pictured left) is addressing this gap in services by bringing accessible resources to parents through telehealth, or transmission of health services over the internet. 
So far, Dr. Ingersoll and her collaborator, Anna Dvortcak, MS, CCC-SLP, have held two training webinars for clinicians who serve children with autism transition their traditional in-person services to telehealth-based parent coaching. The webinars, held March 27 and April 3, are posted  on YouTube and are freely available to the public. 
Backed by years of research 
As many as 1 in 68 children is diagnosed with autism, but many families are unable to secure needed resources and services. Dr. Ingersoll, who has been studying ways to improve the experiences and outcomes of families with autistic children for almost 20 years, has developed a novel telehealth parent coaching intervention as a way to address this gap in an accessible and effective manner.
The research team's 2016 pilot study,  published in the Journal of Autism and Developmental Disorders, established this invention as an effective tool for parents to lower their stress levels and improve their children's social communication development. Participants completed an online interactive tutorial, practiced intervention techniques with their children, and half received coaching sessions provided over Zoom. 
Many families who participated in the pilot study found the intervention extremely helpful. "I feel like I have the power to really help my kid now," noted one mother.
After such promising results, Dr. Ingersoll and her team secured an $800,000 grant from the Health Resources and Services Administration to expand their study. This study will work with 90 families with young autistic children, and test the relative effectiveness of two different telehealth parent coaching approaches: self-directed learning via an interactive tutorial and coach-assisted learning provided through Zoom. They will also examine which approach works best for which families.  
Given how quickly many Americans have moved to self-isolation, Ingersoll and her team are prioritizing and fast-tracking their telehealth research. "Our devoted graduate students are putting all of their energy into getting these resources to the families who need them, as quickly as possible," Ingersoll explains. 
Bringing resources to families - virtually 
Aside from the online webinars, Dr. Ingersoll is also working with her graduate students and Dr. Natalie Moser, the Director of the MSU Psychology Training Clinic, on research to understand how clinicians use telehealth to provide clinical services during and after the pandemic.
Dr. Ingersoll hopes telehealth programs will help every family access the services that they need. "This research is important because it increases accessibility for families who would otherwise not have the resources to participate in such training," says Dr. Ingersoll. "It provides support and access to services that can make all of the difference for these kids."
Keep up with the latest COVID-19 updates and find MSU community resources here.