History in the making: How one MSU professor is documenting the COVID-19 crisis with her students
April 21, 2020 - Liz Schondelmayer
As MSU students have made the move to virtual learning, one history professor is adapting her online courses in a unique, innovative way.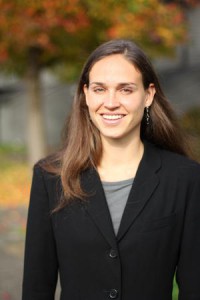 Meet social scientist Dr. Erin Graham (pictured left), who has built a platform for students in four of her classes to document their first-hand accounts of living through the COVID-19 crisis. These individual student journals, updated weekly throughout the duration of the semester, give students a chance to share their experiences, build a community and create a primary record of life within self-isolation.
Students have a choice to complete these journal entries in lieu of their final project, though students who have made progress on the latter can stay on track to finish their original assignment. The journals are posted online and are freely accessible to the public.
"This has been an extremely trying time for students, and it is important for us as professors to demonstrate the utmost compassion and flexibility," says Dr. Graham. "I'm hoping that sharing these journals will allow for our students to create a community and a healthy space for listening."
Dr. Graham shares that students in her classes are struggling with more than just the loneliness and anxiety that comes with isolation - many are facing isolation alone away from their families and many are caring for sick family members.
"It's important to check up on students and make sure none of them feel left behind or forgotten," says Dr. Graham.
The students' journals are updated weekly every Friday throughout the end of the semester. Dr. Graham notes she looks forward to reading them and seeing the new hobbies and skills her students are developing. 
"It's been awesome for me and their fellow classmates to learn more about my students as human beings," notes Dr. Graham. "It's been amazing to see their strength and resilience."
Access the students' journal entries and see history in the making for each of the following classes:
Keep up with the latest COVID-19 updates and find MSU community resources here.