Social science LEADR lends 3D printer for creation of over 10,000 face shields
June 24, 2020 - Liz Schondelmayer
While many hospitals and community organizations struggle to obtain necessary personal protection equipment, LEADR (the Lab for the Education and Advancement in Digital Research) is putting its resources towards addressing the shortage. 
Coordinating with the MSU libraries as well as other campus and local organizations, LEADR has lent its Ultimaker 2+ Extended 3D printer for the production of plastic face shields and mask straps. So far, over 10,000 face shields and over 4,000 face mask straps have been distributed to Lansing and Flint hospitals, as well as local food packaging facilities, dentist offices and research labs.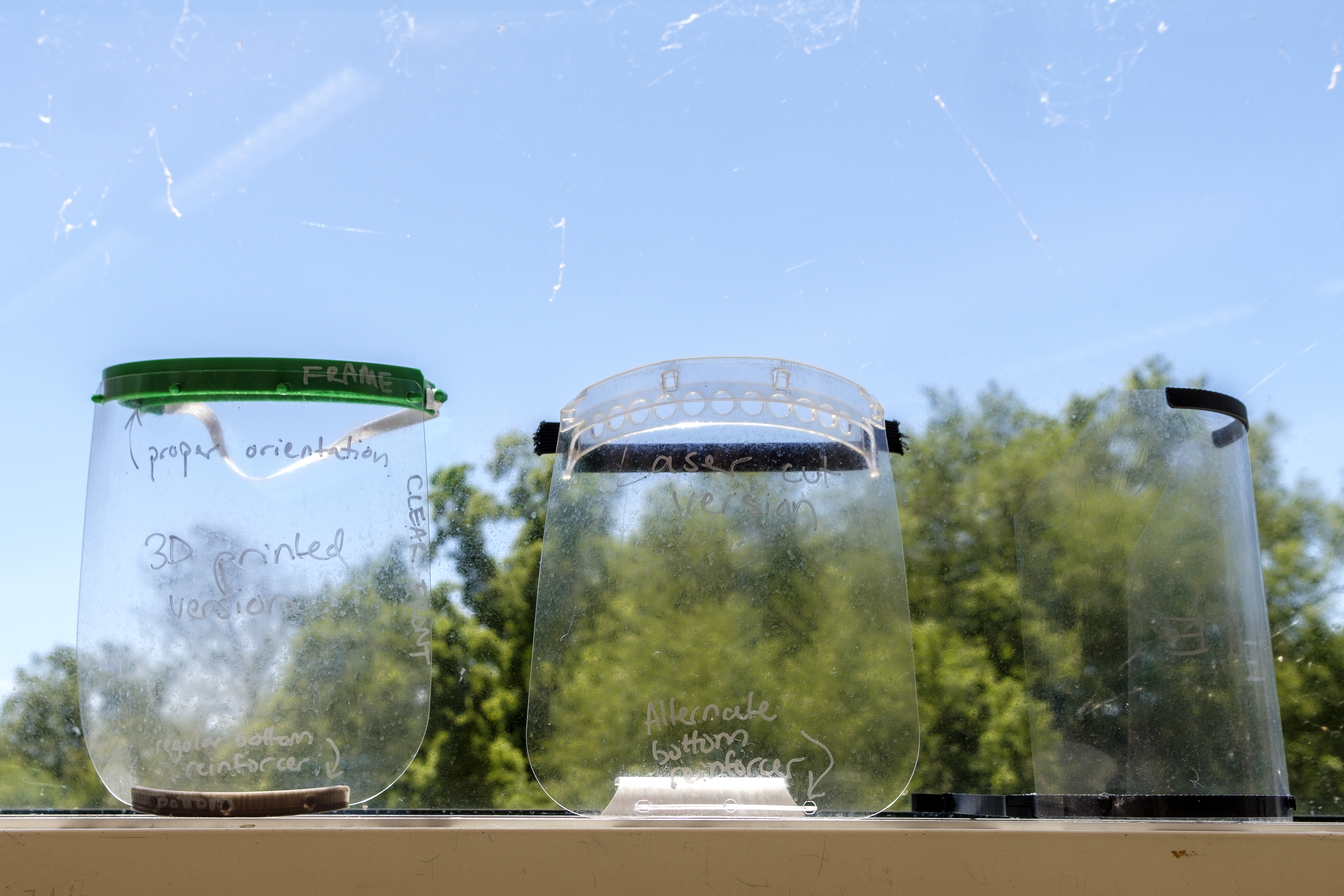 Photo Courtesy, Jackie Hawthorne, MSU College of Social Science
Leading the effort is Makerspace Coordinator Jamie Moriarty from the Selma D. and Stanley C. Hollander MakeCentral: Makerspace located in the MSU main library.   
" Around the middle of March we began thinking about ways that we could help," Moriarty explained. "The initial Stay-at-Home order delayed our plans, but fortunately we were able to start printing face shields towards the end of the month. It was really a group effort with many people researching options, comparing designs and finding connections for resources, needs and equipment."
The effort has united different groups across campus, as well as across the state of Michigan and even into Wisconsin. A full list of participants can be found here . Said Moriarty, " The MSU Libraries is part of an enormous team at MSU  that has come together to produce and distribute 3D printed face shields for frontline workers. This team, which includes MSU Extension, MSU St. Andrews, the School of Packaging, Department of Pharmacology and Toxicology, the College of Engineering, University Outreach and Engagement, Lansing Makers Network, other MSU faculty and staff and Spartan alumni, is using their 3D printers and other equipment to make face shields for frontline workers."
"We connected with the MSU Healthcare Provisions Supply Chain and we were able to quickly coordinate with others on campus and pool our resources," said Moriarty. "We have people printing face shields with us as far as Rogers City and even Wisconsin."
"I am so glad that I have been able to help aid health care workers so they can keep themselves safe," expressed Moriarty. "I am very thankful we have had the access, resources, and community to make all of this happen. During all of the uncertainty and troubling news, it has been wonderful to be able to do something to help."
"LEADR's primary focus is on student research, and it will be great to demonstrate to future students how digital humanities tools and methods (like 3D printing) can benefit the community beyond MSU," said LEADR director Alice Lynn McMichael. "The initiative to produce PPE on campus is an extraordinary collaborative effort, and I'm glad LEADR could contribute to it."
LEADR is a collaborative project of the Department of History, Department of Anthropology, and Matrix. The space is open for students within these departments to learn, experiment and build with cutting-edge tools, technologies and methods for digital social science and humanities.
Learn more about this effort and how to get involved, or donate to help support the creation of more personal protection equipment!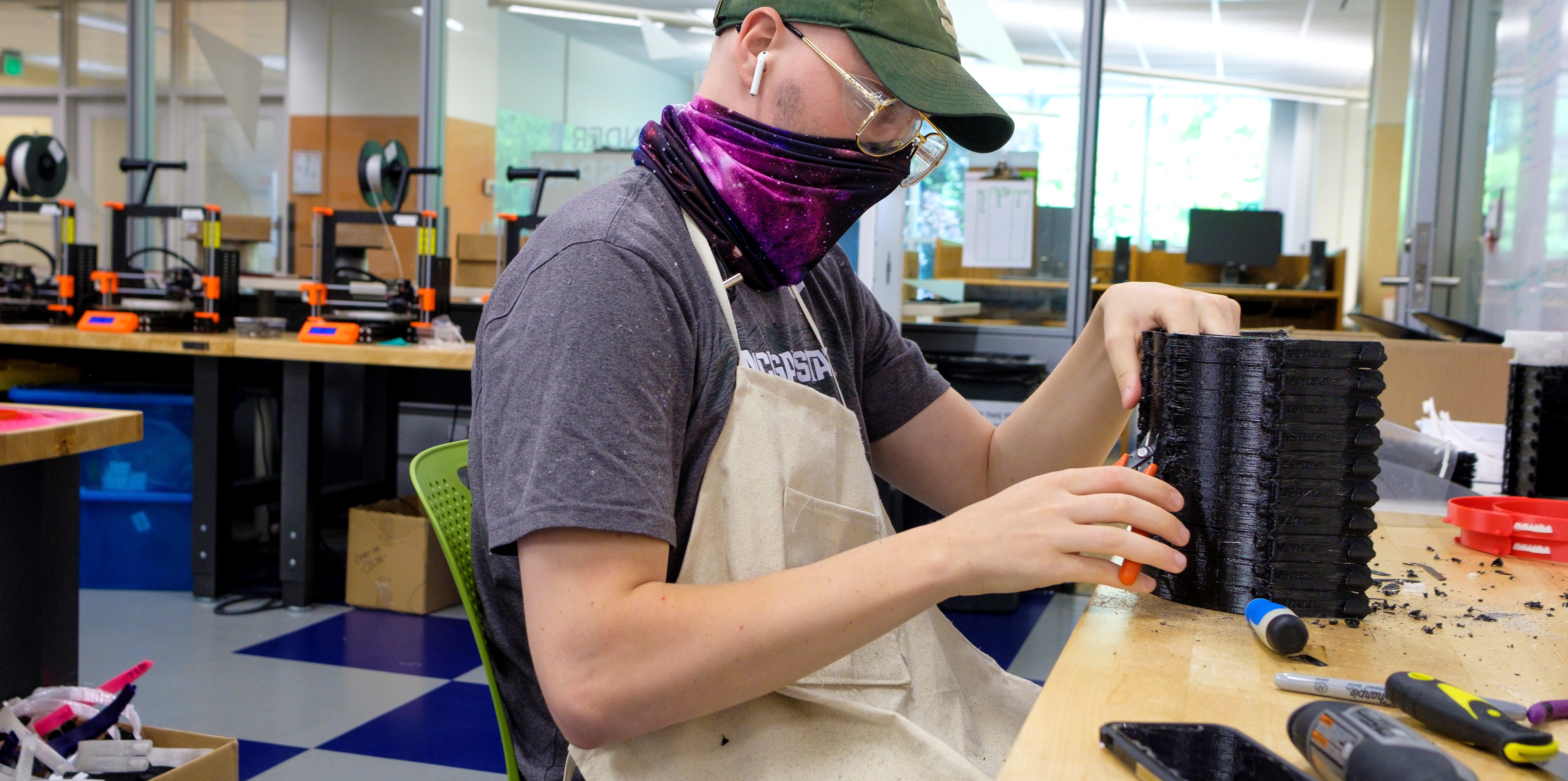 Photo Courtesy, Jackie Hawthorne, MSU College of Social Science