MSU receives $4M for new doctoral fellowships in education sciences
July 9, 2020 - Karessa Weir
Michigan State University has received $4 million from the U.S. Department of Education to prepare scholars who will help shape decisions affecting students and schools across the nation.
The grant will provide fellowships, including tuition, living expenses and additional resources, for up to 21 doctoral students over five years.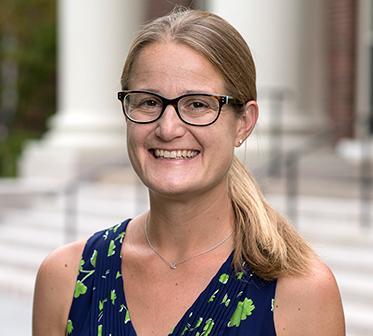 "As a political scientist who studies education policy, I'm particularly thrilled that the Department of Political Science is formally a part of this program. There are so many important questions at the intersection of education politics, policy, and implementation. Having this kind of opportunity to support training for the next generation of scholars in education politics and policy is an absolute dream for me," said Co-PI Dr. Sarah Reckhow (pictured left), Associate Professor of Political Science.
"I am so excited to be part of this new pre-doctoral training program in education policy and implementation. We will begin recruiting doctoral students this fall. The program offers strong financial support for students, unparalleled research opportunities with top researchers, and practical research experience through apprenticeships in state and local education agencies."
"We are excited for this opportunity to improve and highlight the quality of students we have studying education at MSU," said Scott Imberman, professor of economics and education policy, and principal investigator on the interdisciplinary project. "This will build on the mission of the MSU College of Education to work closely with educators and policy leaders and tackle pervasive educational challenges in the world."
Candidates can be enrolled in any Ph.D. program at MSU and will earn an additional doctoral specialization focused on applying social science knowledge and methods to research on education policy and implementation. Primary related programs include Education Policy; K-12 Educational Administration; Higher, Adult and Lifelong Education (HALE); Economics, and Political Science.
The first participants to the program will be selected from among doctoral students who have been admitted for the 2020-21 academic year. Starting their second year, they will receive stipends of $34,000, tuition coverage, health insurance and $2,000 in research and travel support for each of three years.
They will be required to work with a core faculty member as a research assistant for two years, then complete a one-year apprenticeship with a policymaking organization. Partners will include the Michigan Department of Education, the Detroit Public Schools Community District, MSU's Institutional Research Division in the Office of Planning and Budget, and the MSU Associate Provost for Undergraduate Education's office.
"Essentially, they will learn what the agencies do in terms of research to study their own schools or students," Imberman said. "The idea is to give doctoral students much more exposure to practical experience in education, and to enhance their ability to conduct high-quality research while at MSU and beyond."
Doctoral students in the program will also participate in related seminars, invited speaker events and a summer research workshop. Several of these learning opportunities will be available to the broader college and university community as well.
The Education Policy Innovation Collaborative, or EPIC, which focuses on conducting research with consequence for improving education, will manage the grant under the direction of Emily Mohr.
Joining Imberman as members of the faculty steering committee and co-investigators on the grant are EPIC Faculty Director Katharine Strunk, Joshua Cowen and Dr. Reckhow of the MSU Department of Political Science. Additional core faculty members include Chris Torres, Madeline Mavrogordato, Rebecca Jacobsen, Kris Renn, Leslie Gonzales, and Stacy Dickert-Conlin and Todd Elder, both of the MSU Department of Economics.
The actual grant amount from the federal education department's Institute of Education Sciences (IES) is $4,023,893.16. There is a cost share of $628,124.