Michael Hudson - Diversity Champion
July 24, 2020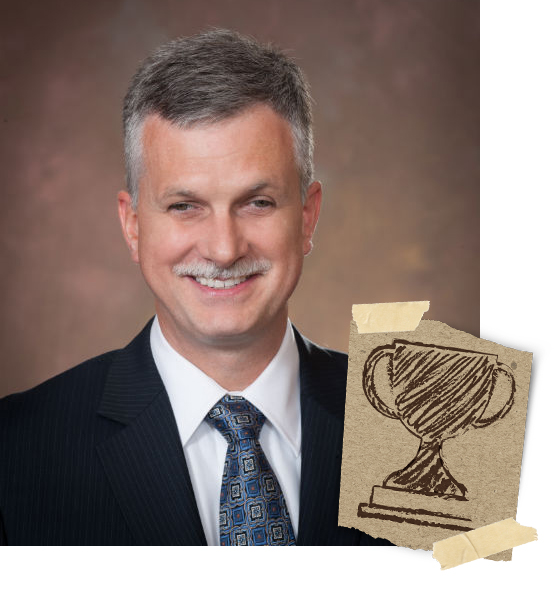 Michael Hudson has been with MSU since 1992, and is currently the director of the Resource Center for Persons with Disabilities (RCPD).
What is the RCPD, and what does it do for the MSU community?
Our mission is to lead Michigan State University at maximizing ability and opportunity for full participation for people with disabilities. Our goal is really to get people with disabilities fully integrated into all of the things that MSU offers, and make sure that they derive the highest benefit from a high-quality education so that they can live the lives they want to live and reach their aspirations. 
On a day-to-day basis, we work to understand people's challenges, greet them with high-quality services, and hopefully, provide them with an even bigger awareness of what's possible when living with a disability.
There's an empowering mission to our program, in that we want to help students see opportunities for themselves they might not otherwise see. For many people, disabilities arrive unexpectedly, and at the time, these new challenges can look like dead-ends or roadblocks. When a person first acquires a disability, especially a substantial one, it may look hopeless. We work to help students get past these feelings of hopelessness and grow realization they can still experience a high quality of life.
Building community is another instrumental part of our program. Oftentimes, when one acquires a disability they may feel they're the only one facing it. There's a temptation to suffer silently with low expectations. However, it's our goal to help people with disabilities connect with others who are helping to solve problems and ultimately moving toward success.
My job as director then is to ensure our program staff is well-engaged with the challenges of the population they work with, and develop innovative leaders who can dream up new ways to make education transformative for everyone. 
Given the COVID-19 situation, what challenges have arrived for students with disabilities, and what are some ways those challenges can be overcome?
Today's challenges have a lot to do with the shift to online learning, which created new dynamics. For example, for many students with mobility disabilities, the migration to an online experience has improved their quality of life and education. However, for others, challenges arise. For instance, students with hearing impairments could struggle to access class content, if online lectures or chats lack captioning. 
Another challenge we've been working on recently relates to social distancing signage. If it's imperative for a student to operate within expected protocols posted on signs around campus, what are they supposed to do if they can't read the sign? We're working on some solutions to make signage more accessible on campus right now.
In general, we need to be nimble in our thinking and possibility-centered. To get through this pandemic, students and faculty need to be communicative and adaptive. Faculty are increasingly practiced at providing online learning experiences, and students are discovering strategies for online learning. This means communication is key.
Our best solutions happen when we find issues early. Therefore, I encourage faculty to listen and students to communicate, and I also encourage RCPD staff to help build those bridges between students and faculty for optimal outcomes. Working as a triad, there's very few problems we can't solve. 
Why is this work so important to you?
As a person with blindness caused by an extremely rare, recessive hereditary condition, I myself have gone through difficult times realizing that life doesn't always go how you initially wish it would. However, the imperative is to find successful people living with similar conditions, and to build a community where you can learn to see new opportunities. 
I want people to know that disabilities don't have to diminish your quality of life. They do pose lots of challenges, but that's what higher education is supposed to be about anyway - to learn how to solve problems and overcome adversity. Working in higher education is an unsurpassed chance to grow through our lived experiences and turn our obstacles into opportunities.
We all have to find our passion, despite a disability, and then once we reach that success in what we're passionate about, we have to share it with others. MSU is a fantastic place where opportunity exists and nearly anything is possible.
---
Read more: