Social Scientists featured on 2020 Homecoming Court
September 9, 2020 - Liz Schondelmayer, Aimee Klevorn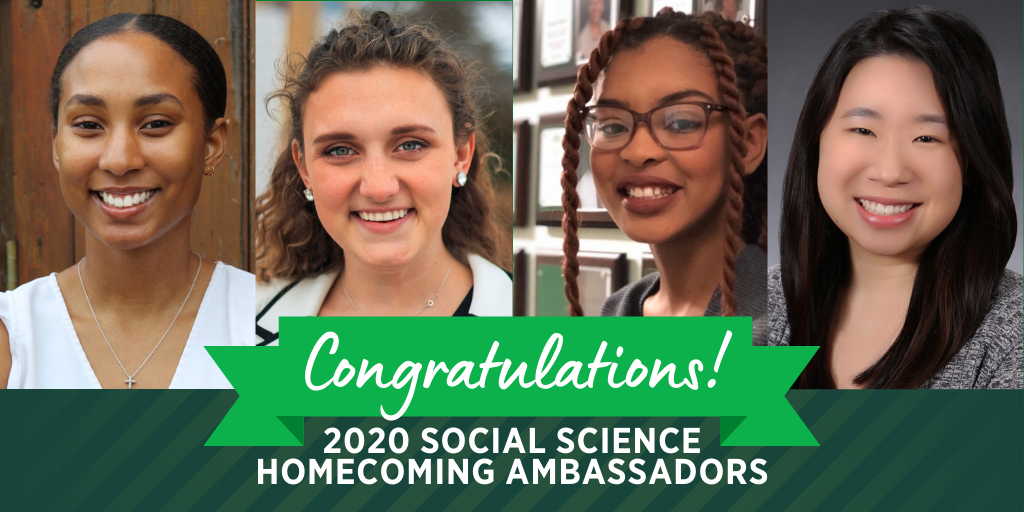 This year, Homecoming is going to look a little bit different - especially with the cancellation of the 2020 of the Big 10 football season. However, the celebration is still on and will take place virtually, featuring Sparty as the Grand Marshall and the theme of "From East Lansing, with Love."
In line with tradition, the Alumni Association has also chosen 10 exemplary students to serve on the Homecoming Court - an extremely high honor given only to students who truly exemplify what it means to be a Spartan. We are extremely proud that this year, 4 of these 10 students are social scientists. 
Andrea Blair is from Buchanan, Michigan, and is majoring in World Politics. On campus, Andrea has established herself as a leader and an advocate for her fellow students. She is the Chief of Staff for the Associated Students of Michigan State University (ASMSU), and served as President of the Junior Class Council and the College of Social Science Dean's Advisory Council. Well done, Andrea!
Rachel Anne Harmon is from Williamston, Michigan, and is majoring in Human Resources Leadership, and has held four internships so far during her undergraduate experience. As a Resident Assistant, Rachel championed diversity and inclusion causes on campus, and she was also a part of the Residential Business Community, the Asian Pacific American Student Organization, the Bailey Scholars Program and the Honors College Students of Color Community. Congratulations, Rachel!
Jasmine Jordan is from Detroit, Michigan, and is a Political Science major dedicated to serving her community through internships and volunteer experiences. She is the Co-President of the Council of Students with Disabilities and an active member and treasurer of the Black Alumni Student Association. Jasmine is also a Social Science Scholars Program and the Bridge Scholars within the College of Social Science. Amazing work, Jasmine!
Jordan Polk is also from Detroit and is majoring in Economics and is extremely active on campus, sharing her time and expertise on financial issues with her fellow Spartans. She serves as the ASMSU Vice President for Finance and Operations, and has experience as a Financial Markets Institutes Scholar and a Girls Who Invest Summer Intensive Scholar. She is also the co-founder and president of the MSU Alternative Investments Group. Way to go, Jordan!
The College of Social Science is incredibly proud of each of these students and is honored to have them represent our College. We wish all of the students on this year's Court the best of luck in their studies and a very happy Homecoming!
Learn more about all of the incredible students on the 2020 Homecoming court here.