Diversity Spotlight: Dr. Adam Farero
October 30, 2020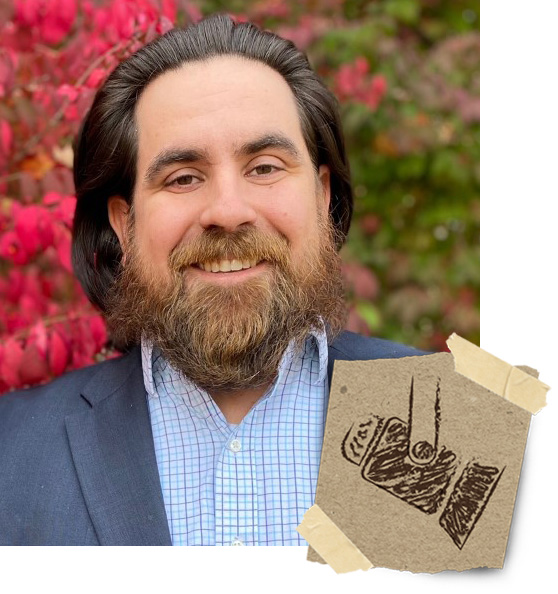 Dr. Adam Farero earned his PhD from the Department of Human Development and Family Studies in December 2019. Since then, Adam has accepted a fixed-term faculty position within the department, where he serves as a full-time assistant professor and researcher.
Born and raised in Michigan, Adam traveled to Nebraska to earn his Master's degree. While he was unsure about his career path early on, he found his calling as a couple and family therapist. 
Throughout my life, I've always been the one that my friends could go to with things they were struggling with. I love being able to reach out and help people, and I felt that one of the best ways to do that as a career was to become a family therapist.
I went to Nebraska fully with the intention of getting my Master's Degree and then starting my own practice, but along the way, I discovered that I have a love for research. That's what brought me to MSU in the HDFS PhD program - I wanted to make a difference on a bigger scale than just one family at a time. I wanted to conduct research that helps families and couples find their inner strength and resilience. 
Currently, Adam serves as a fixed-term assistant professor in the MSU Department of Human Development and Family Studies. While teaching is a part of his job description, he is also instrumental to many research projects within the department. 
The department chair, Dr. Adrian Blow, was really what brought me to MSU. I wanted to do research about resiliency within military families, and much of his research aligned with this focus. As a student, I was able to be the project manager on one of his research grants funded by the Department of Defense, which took a longitudinal approach to studying why some military families flourished while others did not.
I am now working with Dr. Blow on a few more grant applications, while also working on disseminating some of the findings from the Department of Defense grant. I've also joined a grant with Dr. Chris Sullivan in the MSU Department of Psychology, which looks at homelessness in domestic violence survivors, to help with quantitative methods and analysis.
Overall, I'm very engaged in research. I'm still trying to write my first grant and get NIH-funded. While writing grant applications feels like writing a whole new dissertation, it's worth it when thinking about the difference I can potentially make in the world through this research. 
Adam is a member of the Bay Mills Indian Community Tribe, which helped fund his undergraduate education and has supported him throughout his academic journey. He hopes to give back to the community through research on strength and resilience within couples and families. 
My father is Native American, and grew up as a member of the Bay Mills Indian Community living with his family near the reservation. Even though he moved away before I was born, I was able to experience the culture through my extended family and my childhood experiences growing up. Honestly, if it wasn't for my tribe, I would not be here today. They paved the way for me to find out who I am, and their support has largely shaped who I am today. 
My ultimate dream is to take these ideas of strength and resilience and apply them to Native American communities and families. There's so much strength present in Native American cultural heritage and history, and I want to help families realize this and utilize their strengths to flourish. My goal is to find funding and provide the same strength-based approach we use with military families to Native American communities.
When I went into research, I started seeing that, on a broader scale, there are so many positive traits that allow couples and families to work. And when we focus on the positives and what works successfully for people, it creates an opportunity for more people to realize they have that strength in themselves as well, and be able to endure adversity and challenges and still find happiness and joy. 
Lastly, Adam shares what he wishes more people would understand about Native American history and heritage. 
There are more in-group differences than between-group differences. We tend to lump Native Americans together now, but there are so many tribes and so many unique cultural differences. I think being able to give voice to all different kinds of experiences is meaningful, as there is not one common way that Native Americans experience their culture.
---
Read more: