Social Science Alumnus Selected to be MSU's Chief of Police
February 5, 2021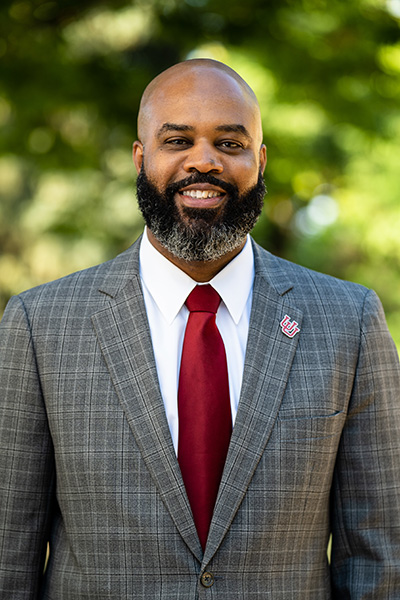 Michigan State University President Samuel L. Stanley Jr., M.D., has selected Marlon Lynch to serve as the sixth chief of the MSU Police Department. Based on his vast experience and expertise, Lynch will also hold the title of vice president for public safety.
"Marlon has a highly distinguished service record, including leading some of the largest university police departments in the country," said Stanley. "His nearly 25-year career in law enforcement will allow him to look expansively across the spectrum of public safety to identify areas for improvement in the department and maximize its community engagement. I know he will be a great addition to the Spartan community."
Lynch currently serves as chief safety officer for the University of Utah in Salt Lake City. In this position, he oversees more than 180 individuals in police, health system security, emergency management and community services.
The search committee was chaired by Deputy Athletic Director Alan Haller, a former first lieutenant in the MSUPD.

"I'm pleased to see the inclusive, equitable and transparent work of the search committee culminate in a successful hire. Marlon has shown he is committed to collaboration and transparency, as well as the safety and success of every community member," Haller said. "Plus, he has an extensive leadership background in higher education law enforcement. Marlon will be an outstanding addition to Michigan State University as the next police chief."
As vice president for public safety and chief of police, Lynch will lead the university's 120-member police department, including community engagement, computer crimes, emergency management, parking enforcement and traffic engineering. His emphasis will be on community policing and enhancing diversity, equity and inclusion efforts.
"This is an exciting opportunity for me to return to a campus and university that I hold in high regard, and to lead a talented group of public safety professionals at Michigan State University," said Lynch. "It's an honor to be selected for this role and to serve the university community while enhancing community collaboration efforts."
Lynch began his career as a police officer in the Meridian Township Police Department near MSU's East Lansing campus. He has also held positions at Southern Methodist University in Dallas; Davidson College in Davidson, North Carolina; University of North Carolina at Charlotte; North Carolina A&T State University in Greensboro; Vanderbilt University in Nashville, Tennessee; University of Chicago; and New York University in New York City.
Stanley pointed out that much of Lynch's experience has been at nationally recognized programs, and that he has been involved in both domestic and international security efforts.
"While he has held many high positions across the nation, Marlon has always been a Spartan," added Stanley. Lynch earned his bachelor's degree from MSU and a master's degree from Boston University, both in criminal justice.
"I would also like to extend my appreciation to Doug Monette for serving as interim chief since July," Stanley said. "Doug has brought a much-needed sense of stability to the department during this transitional time, and I'm sure Marlon will value his input when he starts."
Lynch's appointment is subject to approval by the Board of Trustees at its next meeting on Feb. 12. His planned start date is April 1.
Listen to Lynch on the MSUToday podcast, and read his interview with the MSU School of Criminal Justice here.