Diversity Torch: Wisdom Henry
February 15, 2021 - Liz Schondelmayer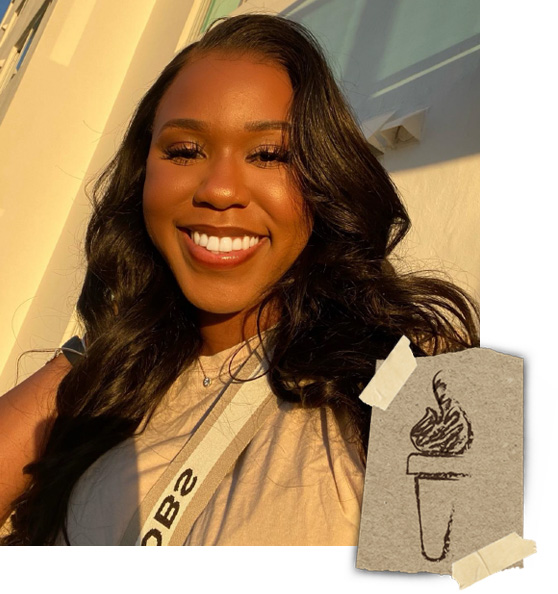 Wisdom Henry is a junior in the Michigan State University College of Social Science, majoring in both Urban and Regional Planning and History. A member of the Social Science Scholars Program as well as the Honors College, Wisdom is a dedicated student in the classroom and a committed activist outside of it.
From Georgia to Chicago to Michigan, Wisdom brought her passions with her to MSU. After graduation, she is hoping to relocate again - this time to Columbia University in New York City.
I was born and raised in Atlanta, Georgia for the majority of my childhood. Around my 15th birthday, my family and I moved to the south suburbs of Chicago, Illinois. As a high school student, I knew I wanted to attend a four year university, however, I had absolutely no preferences. My decision to attend Michigan State University was initially influenced by my mother's inability to attend MSU as a young girl. Michigan State was the first college I toured. The overwhelming school spirit from the students combined with caring faculty and staff instantly made me feel right at home. 
Currently, I am double-majoring in Urban and Regional Planning and History, with a minor in Cities: Environment, Design, and Society. I am also dual-enrolled in the Master of Urban and Regional Planning (MURP) Program. After I complete my undergraduate and dual enrollment program, I seek to study 20th-century African American History at Columbia University.
Currently, Wisdom is conducting research on the devastating impact that gerrymandering has on low-income communities and communities of color. 
When I started this research, I was unaware that gerrymandering municipal boundaries was preventing low-income, minority communities from accessing services such as water, police, and electricity. The invalidation of Section 5 of the Voting Rights Act (VRA) in 2013 allowed states to control municipal annexations without any federal oversight - meaning that voting districts could be drawn however each state wanted.  
Immediately after the abrogation of Section 5 of the VRA, cities begin to circumvent low income minority unincorporated communities at much higher rates. This struck me as economically and racially discriminatory, and so I accepted an opportunity to study the factors that influenced cities to underbound certain fringe neighborhoods with my research mentor and Urban Planning professor Dr. Noah Durst.
So far, my findings suggest that municipalities are influenced to annex or underbound fringe territories, on the outskirts of cities, based on the racial composition of that community. Unincorporated fringe communities with large shares of African Americans are likely to be excluded from annexation and thus excluded from municipal services. On the other hand, fringe neighborhoods with significantly more white residents are more likely to be incorporated into a city. Most importantly, neutral annexations that don't seek to exclude or include particular areas surrounding the city are the least racially and economically discriminatory. Including a compactness standard in state annexation statutes would force municipalities to engage in non-discriminatory annexation practices.
On top of her research, Wisdom is dedicated to promoting social justice on campus and in her community. 
As an activist, I work to support my community by promoting diversity, equity, and inclusion. For example, I am co-founder of the Bridge Scholars Program, a student-led organization that seeks to support racially and ethnically diverse groups of Social Science Scholars - through which, I have organized several seminars that bridge the gap between the lived experiences of minority students and their white counterparts to promote inclusion. I also serve on the School of Planning, Design, and Construction DEI (Diversity, Equity, and Inclusion) committee and I hold the DEI chair in the Social Science Scholars Leadership Council.
In honor of Black History Month, Wisdom shares some of the activists she looks up to the most. 
Malcom X remains one of my favorite activists. Throughout his life, he uplifted black people by advocating for black economic self-sufficiency and instilled pride within the black race. Born out of years black pain, Black Power was heavily influenced by Malcom's beliefs that African Americans needed to control their own neighborhoods, schools, businesses, and governments because white people had failed and were not interested in providing equality.
Anti-Apartheid activist Stephen Bantu Biko is another favorite of mine because he was a student leader. Biko successfully mobilized black university students and eventually urban blacks in South Africa by creating the Black Consciousness movement which educated blacks of their self-worth and potential.
Lastly, Wisdom shares her own perspective of how universities, including MSU, can create a more inclusive, welcoming environment for all Spartans - especially Black students and students of color.
MSU has to focus on equality for black students and other students of color. Recognizing that the lived experiences of blacks and whites are different because a history of injustice and racism against African Americans is the first step to equality. In addition, MSU needs to continuously educate its staff, faculty, and students about cultural and ethnic sensitivity. Implementing required diversity and sensitivity trainings sets a standard of what is not acceptable and holds individuals accountable for their actions. MSU has to condemn and appropriately discipline all forms of insensitivity against marginalized populations on campus.
---
Read more: