MSU, College of Social Science remembers former trustee Barbara Sawyer-Koch
March 8, 2021 - Karessa Weir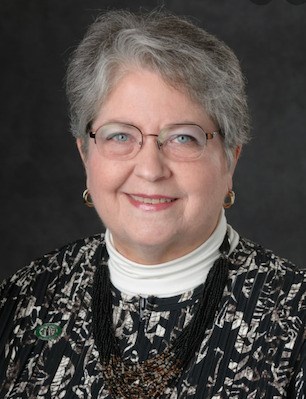 The College of Social Science joins the entire Michigan State University community in remembering alumna, trustee emerita and philanthropist Barbara Sawyer-Koch, 72, who died March 6, 2021.
In 2014, Sawyer-Koch, together with her husband, Professor Emeritus of Philosophy Donald Koch, established the Fate of the Earth Endowment fund within the College of Social Science, and created the Fate of the Earth Symposium Series organized by the Environmental Science and Policy Program housed in the College.
"When MSU began to link its extraordinary environmental research, education and outreach efforts through the Environmental Science and Policy Program, Barbara immediately reached out from the Board to offer support and leadership," said University Distinguished Professor of Sociology Thomas Dietz, founding director of ESPP and chair of the Fate of the Earth Symposium.
"She and Don had a deep commitment to what would be called sustainability.  Their vision was that sustainability required world class research that linked across disciplines.  But it also required engaging that research with undergraduate students and with the larger community to address the urgent problems facing Michigan and the world.  They were wonderfully generous in making contributions to MSU, including the Fate of the Earth endowment.  But even more important was their vision linking research to the community.  I remember with deep affection how much I learned from Don's deep insights into the philosophical foundations of public action, and Barbara's commitment to making links within and beyond the university.  Their wisdom and encouragement helped shape environmental work at MSU, and will be sorely missed."
Sawyer-Koch continued to be an active force in Fate of the Earth and a lively presence at the Symposium even after Dr. Koch's death in 2018.
"It is with great sadness that I learned of the passing of Barbara. She was a tireless advocate for the environment for ESPP and MSU," said Dr. Jiaguo Qi, Director of ESPP and Professor of Geography, Environment, and Spatial Sciences.  "Among many other things, what impressed me the most was how much her vision was ahead of international programs and priorities. While the international community was still discussing ways to engage stakeholder, the FOE initiative that Barbara and Don supported was already in implementation phase to connect the local community with academics, setting a great example of knowledge co-creation of the Future Earth mission.  "
Born in Menominee, Michigan, Sawyer-Koch was retired from the Michigan Department of Treasury. She earned her master's degree in public administration in 1990 from the College of Social Science and served on the MSU Board of Trustees from Jan. 1, 1979, through 1994.
The pair were members of the Wharton and Landon giving societies, supporting MSU over many years and in many ways.
"Barbara Sawyer-Koch expressed her boundless generosity to MSU and its community through countless meaningful acts," said MSU President Samuel L. Stanley Jr., M.D. "A partial list alone includes her 16-plus years on the Board of Trustees and service to the College of Social Science Alumni Board, and, with her late husband, Don, financial gifts supporting MSU's jazz program, environmental studies, nonacademic staff member postgraduate study and the kindnesses they extended to international students over many years."
"She was always supportive of MSU's outreach efforts everywhere, especially internationally, recognizing that as an important part of our land-grant mission," said MSU Senior Vice President for Government Relations Kathleen Wilbur, who served with Sawyer-Koch on the Board of Trustees. "She was also a great advocate for programs focused on student success, along with programs that supported faculty and staff."
"Barb and Don were incredible donors to MSU and supported scholarships and international students, housing many," said Vice President for University Advancement Marti Heil, a longtime friend of the couple. "She volunteered in many MSU programs related to urgent needs of our international students, provided meals and celebrated holidays with many over the years. Although quiet and almost always in the background, her leadership and dedication to MSU has been steadfast, heartfelt and enduring, unlike almost anyone else that I have known in my many years at MSU."
Sawyer-Koch made a major gift in 2020 to help the College of Music surpass its fundraising goal for the recently completed Billman Music Pavilion. She and her husband were jazz enthusiasts, and she directed her gift to name the Donald F. Koch, Ph.D., and Barbara J. Sawyer-Koch, M.P.A., Jazz Combo Practice Room.
"Barb was such a great university citizen and leader," College of Music Dean James Forger recalled. "She also brought the university and community together serving on the board of the East Lansing Summer Solstice Jazz Festival."
In that capacity, she served with University Distinguished Professor and Director of Jazz Studies Rodney Whitaker. "She was a strong advocate for diversity," Whitaker noted. "She also supported diversity by providing financial support for artists with diverse backgrounds."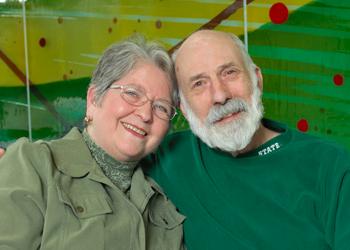 In 2010, the Kochs funded the Ruth Jameyson Above and Beyond Award, which recognizes and supports exemplary nonacademic staff members pursuing postbaccalaureate degrees. She was an AgeAlive committee member for more than seven years to support all things aging at MSU and was the first recipient of the AgeAlive Legacy Award in honor of her dedicated service. She was also an active lifetime member of the Alumni Club of Mid-Michigan.
Through their estate commitment, they will establish a special endowment fund for MSU Libraries; a scholarship fund in the College of Osteopathic Medicine for students committed to serving rural Michigan; an endowment in the College of Human Medicine to support Alzheimer's disease research; endowments to support educational efforts within the community and to support students learning the storytelling trade at WKAR; and a supplemental discretionary fund to the Office of the Provost. The couple also provided cash gifts to fund glass display areas in the main MSU library and has funded an Excellence in Undergraduate Teaching Award. 
Sawyer-Koch's MSU honors include:
2018 Homer Higbee International Education Award for dedication as co-coordinator of the Community Volunteers for International Programs Lending Center
2016 Glen L. Taggart Award for community contributions to international understanding
2014 Outstanding Philanthropist Award, MSU Alumni Association, with her husband, Donald
2013 Globie Award, MSU Office of International Students and Scholars
2008 Alumni Distinguished Service Award, MSU Alumni Association, with her husband, Donald