Dr. Nwando Achebe named among top 100 most inspiring Nigerian women
March 17, 2021 - Liz Schondelmayer
Dr. Nwando Achebe, the Jack and Margaret Sweet Endowed Professor of History and Associate Dean of Diversity, Equity, and Inclusion in the Michigan State University College of Social Science, was recently named one of Nigeria's 100 Most Inspiring Women For 2021.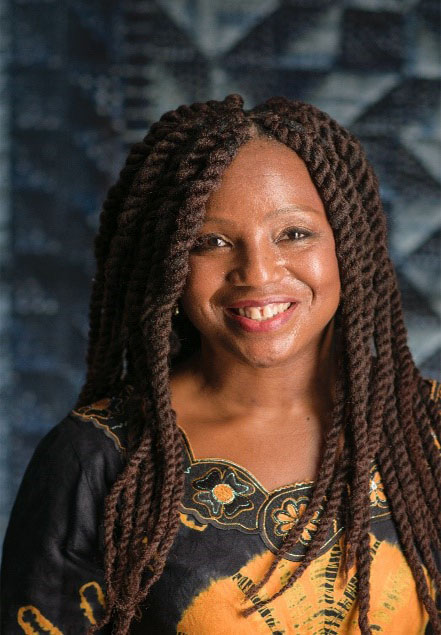 The list was compiled Leading Ladies Africa, an organization dedicated to celebrating African women and fighting for women's rights across the continent. 
"As we continue to advocate and push for gender parity and equality, it's also important that we do that through the lens of diversity and inclusion - especially as it pertains to women of African descent," said Francesca Uriri, founder of Leading Ladies Africa. "Whether they are activists, scientists, poets, doctors, coaches, teachers, members of the LGBTQIA community, actors, politicians, et cetera - every single one of them is welcome at the table, and their contributions matter. Deeply."
Dr. Achebe was included on the list for her contributions to the study of women, gender and sexuality in Nigeria. 
Since joining MSU's faculty in 2005, Dr. Achebe has established a legacy of excellence in her teaching, research and executive leadership roles. In 2021, she was awarded the MSU Beal award for her overall contributions to the university. 
In her research, Nwando focuses on telling the stories of African women. Her sixth and most recent book, "Female Monarchs and Merchant Queens in Africa," considers the diverse forms and systems of female leadership in both the physical and spiritual worlds, as well as the complexities of female power in a multiplicity of distinct African societies. 
In summer 2020, Dr. Achebe was appointed as the College of Social Science's Associate Dean of Diversity, Equity, and Inclusion. There, she works to maintain and enhance diversity and inclusion within the college, for students, staff and faculty from all walks of life. She is also the leader of the Dean's Advisory Board on Diversity and Inclusion.
Beyond her work as an academic, Dr. Achebe is also a committed activist, fighting for women's rights and LGBTQ+ rights while working to end child marriages throughout the entire continent. 
"Advocacy work is hard, and at times, it is thankless and even dangerous. But, it is the work that I choose to do - to use my voice and my scholarship to attempt to make a difference," Dr. Achebe reflected. "Honestly speaking, I don't want to publish another book or article that does not have an advocacy purpose to it. I want to use my work to potentially change lives."
Learn more about Dr. Achebe on her website
, and read Leading Ladies Africa's full list of the
top 100 most inspiring Nigerian women here
.