First Woman to Receive a PhD in Economics from MSU Reflects on Her Legacy
March 18, 2021 - Brandon Drain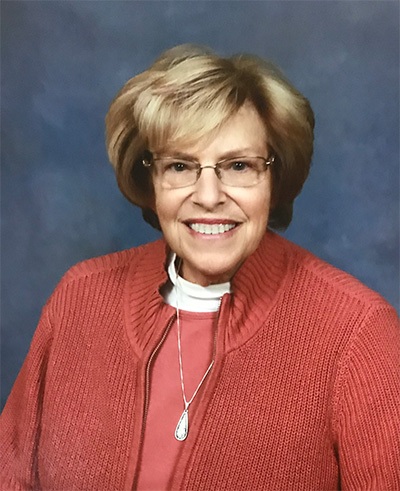 In the traditionally male dominated field of economics, one woman would blaze the trail for others at Michigan State University. In 1970, Barbara Lowrey became the first woman to receive her doctorate in economics at MSU, cementing herself and her legacy in the world of academia.  The incredible story begins, well, right in East Lansing—long before she earned her PhD.
Barbara Rall Lowrey grew up in the small town adjacent to the Red Cedar River—as her father was a professor at MSU and her mother a teacher for East Lansing High. Being the daughter of two educators created an intellectually rich, mentally stimulating home environment where Lowrey could foster her own growth and gain ample support from her parents. Growing up in Lantern Hill—an of East Lansing neighborhood full of professors and their families—added to the intellectually opulent environment. It was here Lowrey was exposed to weekly plays and musicals put on by the professors as well as her parents, adding an artistic climate to the experience. Lantern Hill's architecture had no fences, allowing the children to flow freely throughout the neighborhood; this architectural design parallels the free-flowing, creative and intellectual nature that Lowrey lived through and embodied—having no bounds no restrictions on her potential. "I really do bleed green because Michigan State was so important," said Lowrey when reflecting on her upbringings at MSU. 
While in high school, her father, Leonard Rall, had the opportunity with three other MSU professors to found a business school in Sao Paulo, Brazil; this program was part of MSU President John Hannah's commitment that the University would be engaged in service throughout the world. There, many opportunities were available to her that were not available to women in the U.S. weren't. "I am pre-Title IX," said Lowrey when recalling her high school days. "When I was in high school, there were no women's sports teams—the only thing you could be was a cheerleader. I went to Brazil and I went to this small American high school and the women had sports teams. I have a letter in basketball, I have a letter in softball, I have a letter in volleyball." The time spent in Brazil allowed for Lowrey to experience life not just outside of the U.S. but gave her the opportunity to experience life with exciting opportunities for women.
Growing up in a household of educators allowed Lowrey to foster her own educational values and pursuits. After returning to East Lansing for her senior year, Lowrey then went on to the prestigious Brown University in pursuit of a degree. in physics. Upon discovering that physics just wasn't in her best interests, she turned to political science, which matched her passions.  Because Brown's strengths were not in political science —Lowrey transferred after her freshman year. The destination Lowrey chose to finish her undergraduate tenure was none other than MSU. "It made a lot of sense for me to come back to MSU because it had one of the most premier poli-sci programs," Lowrey explained. 
Upon completing her undergraduate program in 1963, Lowrey found herself following in the footsteps of her father. She, like him, attended the University of Wisconsin to get an advanced degree, but this time in the field of economics. "I switched into economics from poli-sci feeling like, if you were going to be a politician, you ought to understand taxation, economic consequences of your decisions, government budgets and that sort of thing," Lowrey explained. "So I switched. I felt like economics was going to be more important."
She completed her master's in a year, in the shadow of the Cuban Missile Crisis. Two years later, Lowrey and her husband left the U.S. to live abroad (within those two years, Lowrey taught economics at Lewis College near Chicago). While off of U.S. soil, Lowrey had a few teaching stints: she taught at the University of Maryland's overseas program in Germany and Turkey. Despite having a stable job and a master's degree, Lowrey felt there was still a need to pursue her education even further. "With a master's…" said Lowrey. "I was very limited in what I could teach—I needed to go back and get a doctorate." 
The issue, however, was once again choosing where to attend. Ultimately, Lowrey chose the banks of the Red Cedar to finish her academia tenure. "I debated about whether to go back to Wisconsin or Michigan State," Lowrey explained.  "I so liked Max [M.E. Kreinin: Late professor of economics from 1957-2014] that I came back and he and I talked the day I started school. He accepted me as one of his students the first day—the magic of that is he and I decided on a dissertation topic that day!"
The teacher-student bond was the catalyst of Lowrey's decision to return to MSU. "A good teacher makes all the difference," Lowrey explained.
Kreinin saw to it that Lowrey maximized her opportunities in the program. As she finished her PhD, Kreinin helped her attain a job post-graduation. In an era where women struggled mightily towards equality, a harsh refection of the world dawned on the two, especially Kreinin. "One of the things that Max was frustrated about was when he called around helping me look for a job, virtually every place he talked to said: 'Well she's just going to have kids and quit,'" said Lowrey. "The antagonism towards women was much higher than people thought and it really was a shock to Max." The misogynistic antagonism was even prevalent when Lowrey was looking for a house. "I remember when my husband and I bought our house and I was the breadwinner," Lowrey explained. I had to sign a statement that said 'I've worked so hard on my doctorate, I'm not planning to quit.'"
Their collective efforts—Kreinin's eager persistence and Lowrey's determination—resulted in a huge success. After graduation, Lowrey started a 31-year-career at the Federal Reserve Board (Fed) in Washington DC. Having prior lifetime experience overseas prompted Lowrey to accept a position that oversaw international finance and foreign exchange markets. Even at the Federal Reserve, Lowrey continued to break barriers and set new standards for women. After a few years being at the Fed, Lowrey was presented another opportunity to step into the role of an officer as Assistant Secretary of the Board. At that time there were only two other women officers and they were rehired retirees! In her new role. Lowrey was now supervising an extensive program to review and alter statutorily-mandated regulations of the Federal Reserve; challenging old ideations and innovating new ones—this was the same narrative present throughout her life. It also meant stepping out of her comfort zone as she left her familiar field of international finance. "So the job turned out to be a wonderful fit for me of getting to know the whole functioning of the Fed rather than just international finance," said Lowrey.
Being in this new position granted Lowrey meetings with fellow woman trailblazer, Janet Yellen. "I got to know Janet Yellen and briefed her," Lowrey explained. "You have no idea how happy I was when she was named Secretary of Treasury. I knew her before she went to the Council of Economic Advisers.. before she came back as Vice Chairman of the Fed and then Chairman. She has a passion and it's genuine."
Social cohesion—in the world of academia and beyond—was a central component in Lowrey's life. Developing bonds, meeting new people, and integrating herself in rich environment were the pillars of her success. "The most meaningful experience to me is I worked with bright people who were collegial," said Lowrey while recalling her time at the Federal Reserve. "It was nice to be with people with integrity—I just feel so blessed."
Barbara Lowrey paved the way for women of her time—and women today—towards the road of success. Barbara Lowrey is the physical embodiment of what the term, "trailblazer" truly means; a person who, despite the climate around her, proved that a bright mindset, determination and hard work really do pay dividends. 
Barbara Lowrey and Honors College
Barbara Lowrey on Economics