Diversity Spotlight: Secretary Spencer Abraham
April 12, 2021 - Liz Schondelmayer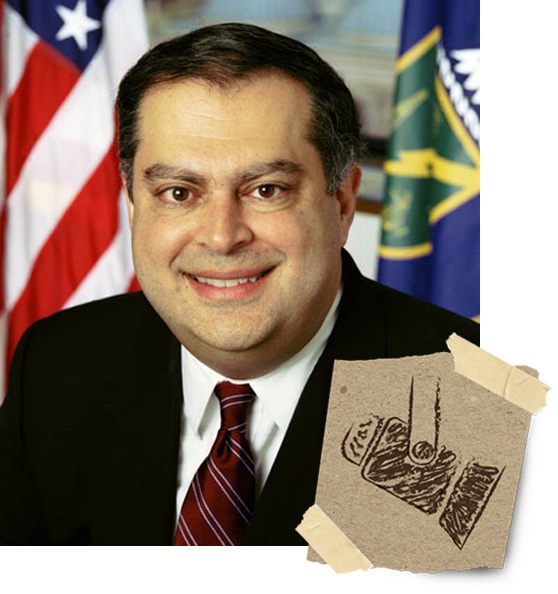 Secretary Spencer Abraham represented Michigan in the senate from 1995-2000, before serving as the tenth United States Secretary of Energy from 2001 to 2005 under President George W. Bush. Before his rise to national political stardom, Secretary Spencer graduated from Michigan State University in 1974 with a degree in Political Science. A forever Spartan, Secretary Abraham uses his influence to promote diversity, equity, and inclusion initiatives in the energy field. 
Secretary Abraham grew up in East Lansing, Michigan, and realized his dream of becoming a Spartan in 1970. Many of the classes he took on campus helped shape his career interests.
I graduated in 1974, and my major was Political Science. Most of my courses were either in that department, or in the James Madison College. 
I had the unique situation of growing up in Lansing. I was really a hometown boy at MSU. I was always an MSU fan, and I never really thought about going anywhere else for college. 
There were a lot of courses that I took which had a direct impact on my career, including a political science course on practical politics taught by one of MSU's top political science Professors Dr. Joseph Schlesinger. 
One of the assignments for the course was to develop a political game plan for a campaign and I remember developing a very detailed one. Professor Schlesinger told me: "This plan is great, but your candidate won't win." To his amazement we did win that race and I remember him reaching out to congratulate me when we did. That was the first campaign I managed, and it helped propel me to become more deeply involved in politics.
I also took some great history courses; several surrounding the history of US foreign policy, which helped me develop a lifelong interest in international affairs and provided me with a great foundation for the work I later did in the Senate and at the Department of Energy.
Currently, Secretary Abraham's career involves balancing different responsibilities for different roles - all of which utilize his unique skill set and Spartan will to help others.
My current professional life is really focused on three different things: First, I work as a consultant to Blank Rome, which is a large U.S. law firm with a presence in many different cities. In addition, I sit on four public company boards of directors. Finally, I have my own small consulting business. I keep busy on multiple fronts, and each is interesting in its own way. 
In his work, Spencer Abraham makes sure that diversity is central to the goals of the organizations he collaborates with. 
The Blank Rome law firm, where I'm a senior advisor, has made diversity a key operational priority and created a model that other national law firms can adopt. At the four company boards where I sit, we've been very active in the adoption of diversity and inclusion policies to try to make sure that throughout the company ranks, we have a playing field that allows diverse people to have the chance to join these companies and assume leadership roles. A number of these are in the energy sector, which is not traditionally a sector where diversity prevails. However, I was on the board of directors for Occidental Petroleum for 15 years, and during that time, we hired the first woman to serve as CEO of one of the world's major oil and gas corporations.
In his personal life, Secretary Abraham is inspired by the women he grew up with, and the Lebanese heritage that has shaped him into the person he is today. 
I grew up in a family where the women, including several of my aunts and my mother, were very successful businesswomen - well ahead of the transition of society to one where women owned businesses were common. My aunt was one of the first women to own her own business in Lansing back in the 1940's.
Also, both sides of my family are of Lebanese heritage. My mom grew up in Toledo Ohio and my dad in Lansing. From a very early age, I became aware of the challenges that Lebanese and Arab Americans sometimes have to overcome to get a fair shot. That personal history led me to consider diversity and inclusion in the context of my work both in government and in other sectors.
In honor of Arab American heritage month, Secretary Spencer also pays homage to the Arab Americans who have inspired him in his professional career.
I have the honor of being the Chairman of the American Task Force on Lebanon, and I have had the privilege of getting to know many Lebanese people, both personally or through a business organization, who have achieved amazing things in their life. 
First, I'd say in the public service front, I've known and have great admiration for Lebanese Americans on both sides of the political aisle. This includes George Mitchell, who preceded me in the U.S. Senate; Donna Shalala, a good friend of mine who was the Secretary of Health and Human Services and congresswoman; Governor Chris Sununu of New Hampshire, his father former Governor John Sununu and his brother, former Senator John Sununu Jr. and Alex Azar, who is also a former HHS secretary.
Beyond politics, I immediately think of the contributions of the Danny Thomas family - the family who founded and manage Saint Jude Children's Hospital, which helps young children receive treatment for childhood illnesses and cancer without having to pay for their treatments. Ultimately, Arab Americans have contributed to politics, science, the entertainment world, and business. There's really so many people that fit the bill of being inspirational figures for me and for others of Arab American heritage. 
Finally, Secretary Abraham shares misconceptions many Americans hold about Arab Americans and their heritage - and what his heritage is really all about. 
For me, I think it is incredibly important to just understand the remarkable contributions of Arab Americans. I'm most familiar with the Lebanese American community because of the role that I have, but the contributions to the U.S. made by Arabic immigrants have been incredible.
Most recently, a number of the senior officials in the Moderna company - which has produced one of the leading vaccines approved to prevent the COVID-19 virus - are Lebanese American, including scientists and managers. 
I wish people knew more about our heritage, and what I refer to as the four F's - food, family, friendship, and faith. We have great food, we have a great commitment to family, we greatly cherish friendships and we are a people who place faith at the center of their lives.
---
Read more: