CSS Young Alumni Spotlight: Algeria Wilson, MSW
April 15, 2021 - Liz Schondelmayer
Algeria Wilson (pictured below with her daughter, Raegan) is the Director of Public Policy for the Michigan chapter of the National Association of Social Workers. She graduated from MSU with her MSW in 2019, and has since used her passion for helping others to be a leading voice for social workers in the state.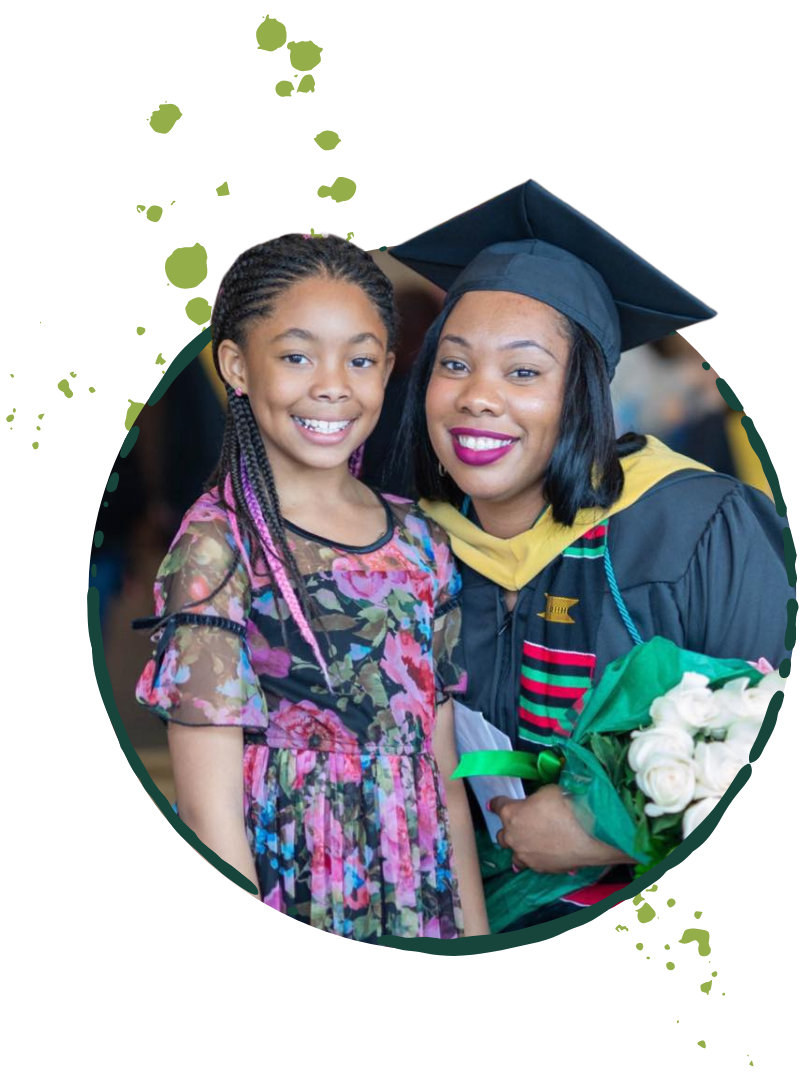 Where did you grow up, and what initially brought you to MSU?
I grew up in Cincinnati, Ohio. I attended undergrad at the University of Cincinnati, for my Bachelor of Social Work. I came to Michigan to attend MSU to obtain my Master of Social Work. MSU really appealed to me because of its support for student parents, as well as the Master of Social Work Advocacy Scholar program that has a strong emphasis on policy.
What is your favorite MSU memory?
I have so many!
The first is when when my daughter built up enough confidence to teach a cupcake baking class to other children, as a part of a Student Parents on a Mission event. It was so cute and brave of her to show other children how to have fun with making cupcakes. I know it's just a very simple memory, but ot was an example of the small skills she was able to learn from living on campus with me and being in community with her friends – those events and memories are invaluable.
The second was when I was able to attend the University of Connecticut's Campaign School, with my advocacy scholar's cohort. The Campaign School taught us how to run for office as social workers, and the experience was full of travel hiccups and great networking, which was the perfect mix for an eventful time.
How did you choose your major?
I knew that I wanted to pursue a Master's degree in social work based on my experience within my Bachelor of Social Work program. However, I was in search for a Master of Social Work program that was focused on policy and social change. I am so glad that I found that within MSU's School of Social Work.
How did your degree help shape your career path?
I always knew what I wanted my career path to be, however, MSU really assisted in placing me in the right direction to get there with ease.
At MSU I was able to work with a highly esteemed professors, and mentors, on research and evaluation projects, which opened my understanding to multi-sector solution-based approaches. Being at the intersection of research, evaluation, and policy change taught me a great deal in how to work towards systemic change.
In addition, as an Advocacy Scholars alum, I was introduced to legislators and advocacy organization executives, that I work with today. Many of whom remembered me from our Advocacy Scholars events. My predecessor of my role was someone I met while in my program, during a presentation in one of our Advocacy Scholars courses. I was in awe of the work that he was able to do in his role at the time, that after the presentation, I said to my professor, "I would love to have his job one day!" And a few years later, I am now in that role.
What is your favorite part about your current job? What is the most challenging part?
I love working towards solving complex issues, specifically, with like-minded, passionate individuals who radically want systemic change. The more challenging my work, the more I'm intrigued. It keeps me humble, eager to learn, and requires me to think critically.
The most challenging part can be handling a large portfolio of issues. Some which, I am not a subject matter expert on. I most certainly rely on experts in the field, as social workers, focus on every area of social injustice. Also, every issue is urgent, and still must be prioritized move toward a solution, which can be tough because you want to tackle everything.
What excites you the most about your career? 
What excites me about my career is the limitless opportunities to influence and create change. I am an optimist and believe that you can play a role in making situations in life better for those that come behind you. I get to do that now, and I will have to tools to be able to do that forever – that is what keeps me going and excites me daily.
What volunteer/community work have you done since graduating? Why are these things important to you?
I have been able to be more involved with volunteering to assist in activities my daughter is involved in at school whereas before when I was in grad school some of that involvement was limited. For example, I have been able to volunteer as a Girls on the Run Coach, at her elementary school and show up for after school events, all which are very important to me.
What is the best thing about finishing your education? What do you miss the most about being in college, and what do you miss the least?
As a student parent and first-generation college student, completing an advanced degree, and being able to share that feeling of accomplishment with my daughter, family and support system was a great feeling. Finishing my education continues to be one of the most singularly important milestones in my life to date.
However, what I do miss is the energy from being on campus. Riding bikes around , walking around, and taking in the scenery. I still do all of the above from time to time, but since I am not on campus frequently, it is not quite the same.
I do not miss at all the late and sleepless nights or being over caffeinated!
What advice do you have for current students, as far as choosing a major and finding the right career path?
 Mentorship is very important! Building a support system is very important! I say support system because, everyone's support system looks different. It may be friends, families, mentors, employers, just find them because the journey is one that will have highs and lows. Finding the right mentor and people to support you along your journey is helpful and life changing. I could not have made it this far without either mentors or those who helped support me in various ways.