Social Science undergraduate named Truman Scholar
April 15, 2021 - Matthew Zierler
Gregory Marchal has been named Michigan State University's 17th Truman Scholar. He is one of 62 students from 51 U.S. colleges and universities selected as Truman Scholars.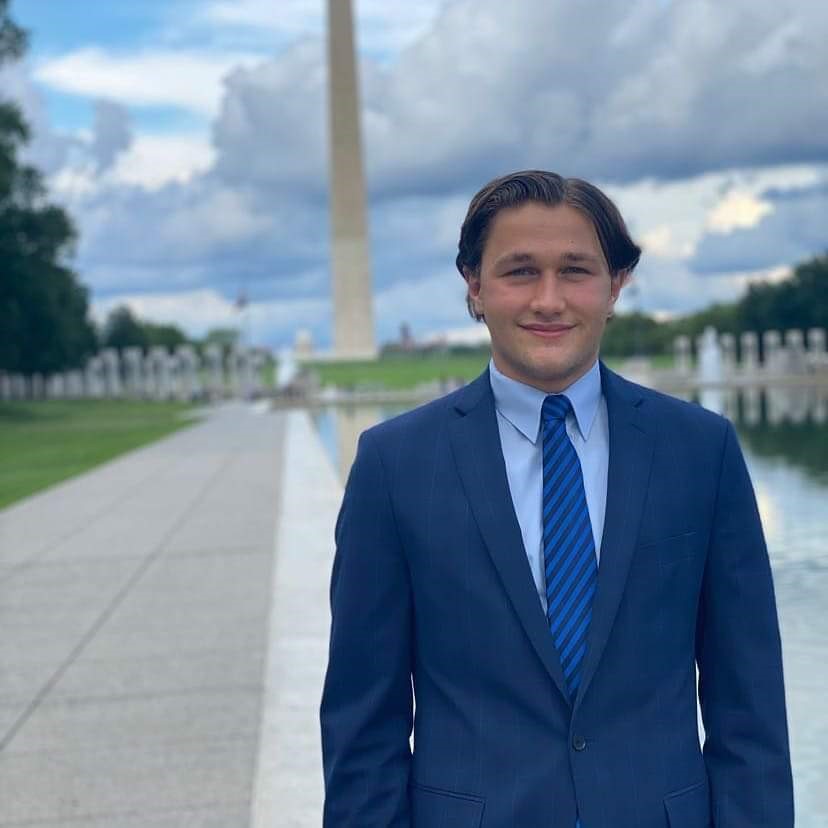 Marchal (pictured left) is an Honors College junior majoring in Economics in the College of Social Science, with minors in Social Science Quantitative Data Analytics in the College of Social Science, and Political Economy in James Madison College. He is a member of the Econ Scholars Program and is a STARR Scholar. Marchal is from Green River, Wyoming, and a graduate of Green River High School.
He currently serves as a research assistant to Dr. Mariah Ehmke in the Department of Economics, at the University of Wyoming on a project that focuses on building an economic model to understand parent's vaccination decisions. Prior to this, Gregory was a research assistant to Dr. Lisa Cook in the Department of Economics and James Madison College at MSU, on projects that focused on demographic trends in tech companies as well as monetary policy. Gregory's ultimate goal is to work with the Federal Reserve so he can influence monetary policy to reduce racial inequality in the U.S.
"I would like to thank my mentors, Dr. Lisa Cook, Dr. Antonio Doblas-Madrid, and Dr. Kristin Janka, as well as the Starr Scholarship and its sponsors, Dr. Doug Estry and Dr. Korine Wawrzynski, for helping me achieve this honor. I am also incredibly thankful for my wonderful parents and brothers who have supported me every step of the way. With the support of the Truman Foundation, I cannot wait to promote equitable monetary policy in my future career," said Marchal.
Marchal's faculty mentors are Professor Lisa Cook in James Madison College and the College of Social Science, and Professor Antonio Doblas Madrid in the College of Social Science.
"When students think of making people's lives better, they rarely think of monetary policy as a tool to achieve this. However, after I introduced Greg to it, he thought about it, studied it, mastered it for the Federal Reserve's College Fed Challenge, and ultimately appreciated how powerful monetary and regulatory policy can be. He is a superlative student and creative, empathetic, and extraordinary leader. I am ecstatic that he is putting his training in economics to use in such a meaningful way. I am honored and proud to welcome him to the community of Truman Scholars!" said Cook.
"I am delighted that Greg Marchal has been awarded the Truman Scholarship. Greg excels among the excellent. He is sharp, thorough, and so articulate he makes communication look easy," said Doblas Madrid. "Outside of class, he is a go-getter, a team builder, and a team player. Two highlights: His key role in MSU winning the 7th district and reaching national finals of the Fed Challenge, and his research on vaccine hesitancy, which sheds light on one of the issues of our time."
"From my first interaction with Greg, he stood out as the definition of a dynamic and engaged scholar, always looking to challenge himself and those around him.  He has continuously sought out and participated in new opportunities that have added considerable depth and breadth to his knowledge and abilities.  It has been an absolute pleasure to have been given the opportunity to play even a small part in Greg's success. As a result of being a STARR Scholar, Greg has had the freedom to explore and engage in a wide range of curricular and co-curricular opportunities.  Freedom that, without this generous gift, might not have been possible," said Doug Estry, Co-Director Emeritus for the STARR Charitable Foundation Scholarship.
The Truman Scholarship Foundation recognizes college juniors with exceptional leadership potential who are committed to affecting change through public service by providing them with financial support for graduate study, leadership training, and fellowship with other students.
The National and International Fellowships and Scholarships (NIFS) Office, administered by the Honors College, helps interested undergraduate and graduate students to pursue major national and international opportunities by providing information and direct support throughout the competitive application processes.