Dr. Erin Graham Receives the Integrative Studies in Social Science Teaching Award
May 3, 2021 - Karessa Weir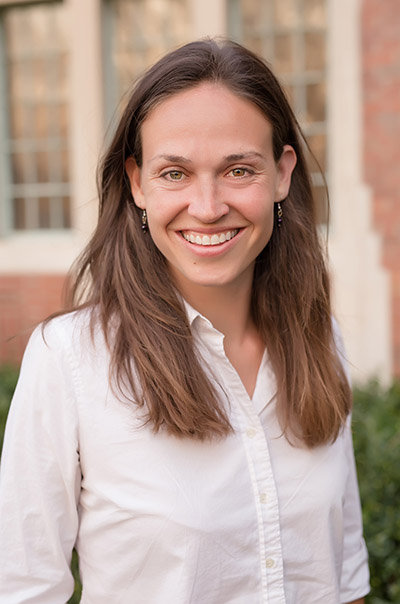 For some instructors, Integrative Studies in Social Science presents a challenge - how to not only teach a wide range of students with different interests and knowledge but also to engage them in the topic and with each other.
But for Dr. Erin Graham, ISS is the perfect subject for her style of teaching philosophy - to approach the students where they are and facilitate their learning from each other.
"In my classes, students feel empowered to deconstruct arguments and problematize traditional framings of issues and events," she wrote. "All participants in the class construct knowledge by engaging in discourses that are grounded in disciplinary epistemologies.  These discourses serve as meaning-making routines in which I scaffold students' abilities to analyze and make sense of a variety of social science sources, arguments, and ideas using the academic language of social scientists.  By engaging in these discourses, students understand that learning requires collegial and collaborative discursive interactions between everyone in the class."
The College of Social Science Award Committee found Dr. Graham's approach to be effective and engaging, and have awarded her the 2020-2021 Integrative Studies in Social Science Teaching Award.
"You have a rare ability to engage students from diverse disciplinary backgrounds and to move them toward impressively meeting learning outcomes through new, bold, and innovative approaches to teaching," wrote Dr. Walter Hawthorne, Associate Dean of Academic and Student Affairs. 
As an Assistant Professor of History and Core Faculty in Chicano/Latino Studies Program, Dr. Graham explores labor, migration, and gender in Latin America, with a specific focus on Mexico and the U.S.-Mexico borderlands.
But she knows her ISS students come from across the university from Hospitality to Supply Chain Management. 
"It is rewarding to reach students who have never seen this content before," she said. 
To ensure the students learn not just from her but from each other, Dr. Graham focuses on facilitating dialogue and giving students a voice in the course. This hasn't been as easy in a virtual classroom but she said she and her students have adjusted and are continuing to succeed. 
"My goal is for students to leave the class with new ways of seeing, understanding, and interacting with the world around them," she said. 
In addition to her work at MSU, Dr. Graham is an Ingham County Commissioner (District 9) and former President of the East Lansing School Board.