Melissa Christle Receives Matt Hansen Outstanding Staff Award
May 3, 2021 - JJ Thomas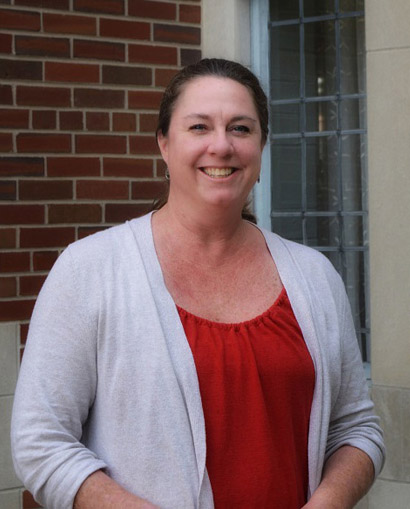 Melissa Christle is the Graduate Secretary for the School of Criminal Justice at Michigan State University and the recipient of the 2021 College of Social Science Matt Hansen Support Staff Award.
Melissa first joined the School of Criminal Justice in 1999 and began serving as the Graduate Secretary for the School's Masters and Doctoral programs in 2001. The entirety of her time at MSU has been dedicated to the School of Criminal Justice and College of Social Science.
Melissa says that receiving this award means a tremendous amount and extends her sincerest and heartfelt thanks to College of Social Science, the School, and those who nominated her.
Melissa was nominated for the Matt Hansen Support Staff Award because of her commitment to the wellbeing and success of the Graduate Students in the School. Jennifer Paruk, a Graduate Student in the School of Criminal Justice who nominated Melissa for the award says "Melissa has left a positive mark on graduate students with her unwavering personal support and dedication to making SCJ a happier, kinder, and more welcoming place. We are so happy that the College of Social Science has recognized Melissa for all that she does for us students and the larger SCJ community."
"Melissa is the cornerstone of our graduate program community. She is the face of our School as we welcome new students to our graduate programs. She guides our faculty and administration in matters of University process as we develop our graduate program offerings and curricula. Melissa has become our go-to person when those in the School need help, because she is a problem solver. And without fail, she lends a helping hand with grace and a smile on her face. She is simply the best," said Christopher Melde, Associate Director of the School of Criminal Justice, Director of Graduate Studies, and professor.
Melissa says her favorite part of the School of Criminal Justice is the camaraderie of the School among the faculty, staff, and students, and the support shown for one another across the board. She also genuinely enjoys learning about the various areas of Criminal Justice that the faculty and students are working in and studying. Melissa says, "to see how far reaching and interconnected all of these fields are, is incredible."
This award is in honor of Matt Hansen, who served as an Administrative Assistant in the Department of Human Development and Family Studies, and fully exemplified the desired qualities of award recipients--including commitment to excellence and service to community. While his life was cut short, Matt made a strong and unique impact on all who came in contact with him, and through his true professionalism, fostered a positive culture and climate throughout our College.