Recent Graduate Jasmine Jordan Receives Dean's Diversity, Equity and Inclusion Award
May 3, 2021 - Liz Schondelmayer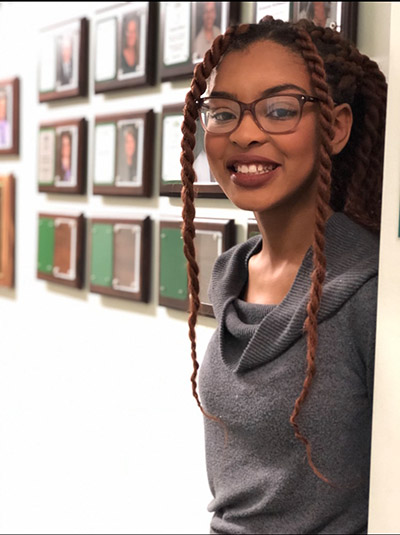 Political Science senior Jasmine Jordan is the winner of the College of Social Science's Dean's 2021 Diversity, Equity, and Inclusive Excellence Undergraduate Student Award. Since joining MSU in 2017, Jasmine has committed herself to improving the campus experience for students of color, students with disabilities, and other students. 
As a sophomore, Jordan served on the Executive Board of the MSU Tower Guard, for which she served as a liaison for the Resource Center for Persons with Disabilities (RCPD). She continued to make change in this area, serving as the co-president of the Council of Students with Disabilities (CSD), a campus organization that identifies and addresses challenges that students with disabilities encounter, beyond the RCPD's jurisdiction.
A student with a disability herself, Jordan is passionate about dispelling stereotypes students like herself often face, and fighting for better representation and understanding of disabled students of color. Due to her advocacy work in this area, Jasmine was also nominated as the College of Social Science's very first Diversity Torch in July 2020, in honor of Disability Independence Day.
Jordan is also a member of the Bridge Scholars, an organization of students of color and allies in the Social Science Scholars Program committed to making diversity, equity and inclusion central to the program. Through the program, Jasmine is involved in two separate research projects centering on racial justice: one exploring how racial minorities are misrepresented in high school history textbooks, and the other looking at housing segregation among MSU students. 
Due to her work on the intersection of racism and ableism, Jasmine was invited to serve on MSU President Samuel L. Stanley's Racial Equity Task Force in the summer of 2020. Jasmine also won the prestigious Gates-Cambridge scholarship, and will be attending Cambridge University in England starting fall 2021. 
After graduating, Jasmine hopes to pursue a career as a civil rights attorney, continuing her legacy of fighting for diversity, equity and inclusion wherever she goes.
"Jasmine is a diversity, equity, and inclusion champion whose leadership in several organizations and committees, including the Council of Students with Disabilities (MSU), The Good Counsel (New York), the Honors College Inclusive Excellence Strategic Committee, Tower Guard, and the Black Alumni Student Association, has helped make MSU a more inclusive space," said Dr. Nwando Achebe, the Associate Dean for Diversity, Equity and Inclusion in the College of Social Science. "She is also a superstar scholar, who has received numerous awards and scholarships, including the prestigious Gates-Cambridge Scholarship."