Diversity Torch: Katie Pezzetti
July 23, 2021 - Liz Schondelmayer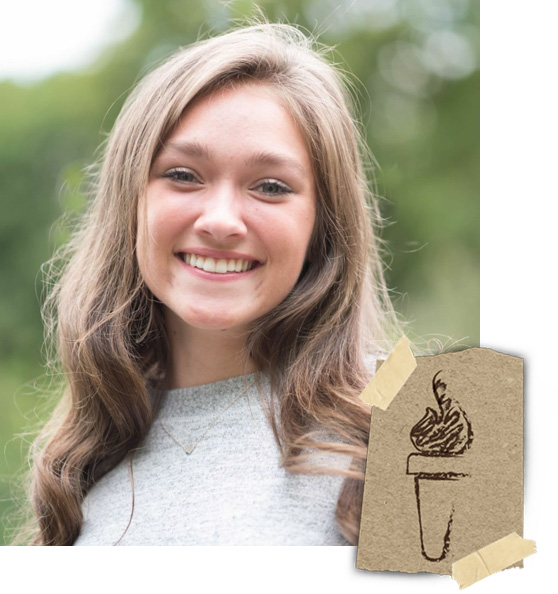 Katie Pezzetti is a junior majoring in Human Capital and Society in MSU's School of Human Resources and Labor Relations. She is also working on a double minor in Business and Leadership of Organizations. Passionate about creating more equitable workplaces, Katie serves as an intern with the Michigan Employment Clinic where she helps people with disabilities gain access to inclusive employment opportunities. 
Since coming to MSU's campus in the Fall of 2018, Katie has made many meaningful connections with her professors and peers. 
A major highlight of my MSU experience so far involves the relationships I have developed over the last 3 years. I have met some amazing people through school, work, and my internship. Another highlight would include having the opportunity to work with the Michigan Employment Clinic. It has been a great learning experience and I have gained a lot of perspective in these past few months. I am thankful to have my supervisor, Professor Stacy Hickox, for she has provided a lot of guidance and encouragement throughout my time with the clinic. I also enjoy meeting with clients and ultimately helping them with their interview preparations. It is extremely rewarding to see my clients thrive and get excited about their future career opportunities.
Katie began her internship with the Michigan Employment Clinic earlier this year. Her role includes helping those with disabilities find employment opportunities, while also working with employers to make sure their workplaces are equitable and inclusive for her clients.
I got started at the Michigan Employment Clinic in January 2021 as an intern. I am currently still an intern for them as well as the Volunteer Coordinator for Spartan Fair Chance which is an MSU organization that we partner with that help underprivileged families find employment (specifically those who have interacted with the criminal justice system). 
We also partner with Spartan Project SEARCH which is a one-year school-to-work transition program for high school students with intellectual and developmental disabilities to gain employment skills through internships. We have about a 100 possible internship sites at MSU that I have emailed about partnering with us to provide these students with internships in the fall and spring semesters. 
I have also helped with ASSET-EPASS students, which is a training and support program that helps students with disabilities on work-related social skills and job preparation. Throughout the spring, I assisted in resume/cover letter workshops, interview preparation, and both phone and zoom mock interviews. All these workshops that I participated in were designed to help these students prepare for all work-related situations.
I also created three diversity, equity, and inclusion (DEI) pledges for employers to sign. These pledges are designed for employers to complete in order to gauge both their organizations current commitment to inclusion in the workplace and how to further advance their inclusion practices now and in the future.
Finally, I am currently working on creating a few fact sheets that highlight employer concerns about hiring those with disabilities. One of the fact sheets that I just started is a myth vs reality sheet for employers to access regarding concerns that they might have regarding hiring someone with disabilities. The purpose of these fact sheets is to debunk most of the myths out there and let employers know the benefits of hiring someone with disabilities based on statistics pulled from various studies.
From her experience, Katie knows that there are many false assumptions and common myths surrounding people with disabilities - and works diligently to debunk them. 
Out of the many assumptions people tend to have about people with disabilities, there are a few that I would like to clear up. One myth is that people with disabilities live very different lives than people without disabilities. Some people may have a few different ways of doing things depending on the type or severity of their disability. However, other than that they live the same as everyone else. 
Another myth is that people with disabilities are unable to meet performance standards, making them a bad employment risk. There are many studies that contradict this statement. One study from DuPont surveyed around 800 employees with disabilities and found that 90% of people with disabilities were average or had better performance at work compared to 95% for people without disabilities. One last myth is that there is a large expense to accommodate workers with disabilities. Studies show that most workers with disabilities require no special accommodations. If they do require some type of accommodation, these expenses are extremely low (one time cost usually less than $500). 
As an ally, Katie offers her advice for how each of us can better support those in our day-to-day lives with disabilities through education and advocacy. 
The best way to be a better ally to those with disabilities would be to educate yourself. Anyone can do so by finding articles online or by donating your time to volunteer. Providing patience and respect to everyone that you encounter is also very important. You never know what someone's story is, so showing respect to someone could make a huge difference in their lives. 
I also believe that we should all be advocating for accessibility in our daily lives. At work, we should be talking about inclusion freely and making sure that our employers are providing a safe and welcoming environment. When we go to the store, we should be asking the managers why they don't have elevators or even a ramp next to the stairs. All these things may seem insignificant to you, but they could have a major impact in someone else's daily life.
After leaving MSU, Katie hopes to work in human resources for a Michigan-based company, where she can use her expertise and experience to create a workplace that centers around diversity, equity and inclusion.

After I graduate, I am hoping to find a full-time job as a Human Resources Specialist. I would like to be located somewhere close to home in Michigan. Overall, I am hoping to become a part of a company that has the same values as me and be able to implement what I have learned into their current DEI practices.
---
Read more: