MSU archaeologist featured in film on WWII Japanese-American internment experiences
October 18, 2021 - Katie Nicpon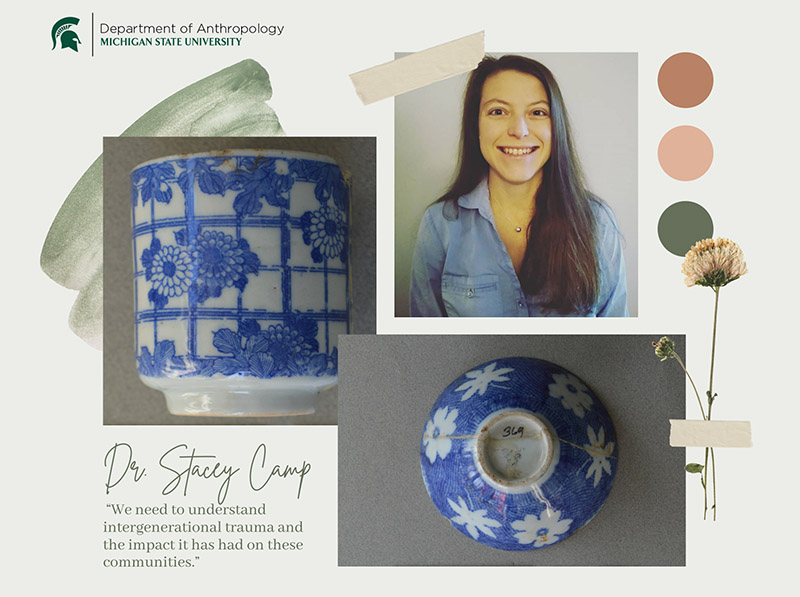 A Buddhist temple, a church, a hotel, grocery stores, homes, a barbershop - Nihonmachi or "Japantown" in Santa Barbara, California, was thriving in the 1920s and 1930s. But that was before February 1942, when President Roosevelt issued Executive Order 9066 that allowed the United States government to incarcerate over 120,000 Japanese-Americans. 
The new feature film, Sonzai: Japantown in Santa Barbara, tells the story of this community through oral histories, research and archaeological artifacts to examine life before and after the Japanese-American residents were forcibly removed from their community and their presence was erased. Stacey Camp, PhD, who is an archaeologist and associate professor in the MSU Department of Anthropology and the Campus Archaeology Program Director, participated on the research team highlighted in the film. 
"My research is on Japanese-Americans incarcerated during WWII and how material practices changed after being incarcerated," Camp said. "When I was hired at MSU in 2017, I used my start-up funds to look at a collection of materials from a Japanese-American community that was excavated during a dig for Spanish-colonial remains in downtown Santa Barbara." 
The collection was enormous and had a lot of potential with reports written by famous archaeologists of the 1960s and 1970s. But it was in need of being rehoused and rehabilitated, slowly degrading away in storage. Camp knew that it deserved a collaborative, deep-dive, so she reached out to Koji Lau-Ozawa, a historical archaeologist and Stanford doctoral candidate, about leading the research project to examine this material. 
"He had family who were incarcerated in Japanese-American internment camps, and this was a part of his doctoral dissertation to understand what life was like prior to people being incarcerated," Camp said. "Also, Koji knows the descendant community well, he speaks Japanese and he was able to talk to a number of descendant community members and collect their stories." 
While Lau-Ozawa studied the larger collection of data, Camp contributed to the project by studying two boxes of material pieces that did not have "provenance," which means the pieces that did not have a precisely documented or clear location where it was archaeologically uncovered. 
The film, directed by Barre Fong, covers this story about how this collection is coming to life. 
"One of the stories that stuck with me is that a Nihonmachi descendant, her family came back to Santa Barbara and wanted to rent an apartment because they lost their business and their property, but no one would rent to them," said Camp. "In the three years of the war, Japanese-Americans were intentionally erased from the landscape and they lost everything on the West Coast." 
The film was created for the second annual Tadaima! A Community Virtual Pilgrimage, a virtual event created to safely experience the Japanese American Memorial Pilgrimages that have been cancelled due to the COVID-19 pandemic. This year, Tadaima's focus was identity, indigeneity, and intersectionality related to the WWII incarceration of Japanese Americans, and the virtual event invited the Japanese-American community and allies to participate. The film was shown live followed by a discussion with Fong and Lau-Ozawa that was moderated by Camp. 
"I am proud of the film, and really grateful to have had the chance to moderate an interview with Barre and Koji during Tadaima," Camp said. "To bring people in communities together around archaeological collections is why I am an anthropologist. This is the most fulfilling part of my career." 
The treatment of Japanese-Americans has far-reaching implications for today. 
"This is an important American story that everyone needs to understand about how immigrants have been treated," Camp said. "We need to understand intergenerational trauma and the impact it has had on these communities, and bring that understanding to the decisions we're making about immigrants today." 
To watch the film and Camp's moderated conversation with Lau-Ozawa and Fong, visit https://youtu.be/BOofWgTz8SA.