U.S. Sen. Debbie Stabenow, MSU College of Social Science alumna, receives the Bryce Harlow Award for public service with integrity
October 20, 2021 - Karessa Weir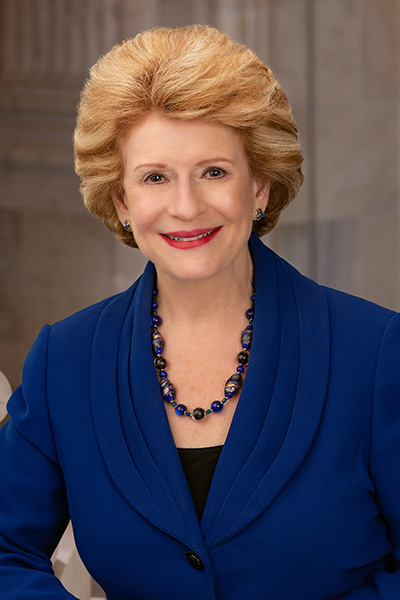 Nearly 50 years ago, a young MSU School of Social Work graduate student was inspired to run for public office after a learning a local nursing home was being closed. Debbie Stabenow was 24 and won her first campaign by a landslide and went on to become Michigan's first woman elected to the U.S. Senate.
This spring, U.S. Sen. Stabenow was recognized for "a career built on championing the principles of integrity, dedication and professionalism" with the Bryce Harlow Award. These characteristics come from being a lifelong Michigander, she said.
"There is one thing you can say about the people of Michigan is that we don't give up. If we get knocked down, we stand up and we try again," Stabenow said in her video acceptance speech of the award. "Vaccines are going into people's arms. There is a light at the end of the tunnel. And it just might the summer sunshine on a beautiful Michigan beach. I still believe there is hope for us to work together as a nation and make change happen.
"This stubborn Michigan optimism has served me well throughout my entire career."
The Virginia-based Bryce Harlow Foundation is named after the late presidential advisor and president of Procter & Gamble. In addition to Sen. Stabenow, the foundation honored another MSU College of Social Science alum this spring. Brenda Larsen Becker received the Bryce Harlow Business-Government Relations Award after serving as an advisor to the Vice President of the United States and senior White House staff. Becker received her bachelor's degree in Political Science in 1981.
Stabenow received her undergraduate degree in 1972 and her MSW from MSU in 1975. She went on to serve 12 years in the Michigan House of Representatives and four years in the Michigan Senate. She has been in the U.S. Senate since 2000, where she authored the 2014 Farm Bill and co-authored the 2018 Farm Bill. She is the senior member of the Senate Finance Committee, the Energy Committee and the Budget Committee.
"She is a leader in helping businesses create jobs, leveling the playing field in international trade, and ensuring that our workers have the skills they need to excel in the international marketplace.  She is also a champion for health care quality and access, and is committed to bringing veterans the care they need close to home," wrote in Bryce Harlow Foundation in presenting the award.