College of Social Science Associate Dean for Research and Graduate Studies honored with career achievement award
November 5, 2021 - Becky Jensen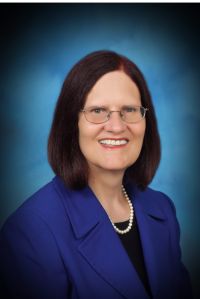 Anna Maria Santiago, Associate Dean for Research and Graduate Studies in the College of Social Science at Michigan State University was awarded the Career Achievement Award by the Association for Community Organization and Social Action (ACOSA).
Dr. Santiago, an internationally known expert on the influence of place on the health and well-being, opportunities and life chances of Latinx and African American families and children, joined the MSU College of Social Science as Professor of Social Work in 2015.  She was appointed as an Associate Dean in the College in January, 2018.
"Dr. Santiago is an exemplary leader whose research and expertise are having an impact each day here in the college, university and beyond. It is truly wonderful to see her in the spotlight for her profoundly important work," said Mary A. Finn, Dean, MSU College of Social Science.
"The School of Social Work at MSU is proud that our colleague, Dr. Santiago, has been recognized by ACOSA. Dr. Santiago's achievements have been impactful and inspirational, and we are so glad her work is being recognized in this way," said Anne K. Hughes, Director of the MSU School of Social Work.
According to ACOSA, this award honors the lifetime contribution of a person in the field who has made major contributions to the conceptual definition of community practice, the empirical knowledge base of the discipline, and significant development of practice methods. Dr. Santiago's scholarship is concerned with conditions in urban communities and the ways in which social policies can impact the opportunities, risks, and social structures within them.
Dr. Santiago was nominated by Dr. Richard J. Smith from Wayne State University and Dr. Lorraine M. Gutiérrez with the University of Michigan.
"Dr. Santiago has been an inspirational mentor, colleague, and collaborator. Her research has demonstrated the importance of safe neighborhoods for child well-being, especially in Latinx communities. I was humbled when she asked me to join her editorial team for the Journal of Community Practice," said Dr. Richard J. Smith, School of Social Work Professor, Wayne State University.
"I was truly surprised to receive the notification from ACOSA about this award. I am grateful to my nominators, the Awards Committee, and ACOSA for recognizing a lifetime of work dedicated to addressing the perduring inequalities and disparities in opportunities experienced by Latinx, African American and other minoritized groups in the United States and beyond.  I especially want to thank the thousands of research participants who have entrusted me and my research teams with the telling of their stories and experiences through our research," said Dr. Santiago
Dr. Santiago is also the Editor-in-Chief of the Journal of Community Practice.