Dean's Research Associate Program renewed to support third cohort of diverse scholars
November 9, 2021 - Liz Schondelmayer
The Michigan State University College of Social Science has renewed its incredibly successful Dean's Research Associate Program (DRAP) for 2022, meaning that three talented new associates will be bringing diverse skill sets, research interests and unique perspectives to MSU's campus next fall. 
The Dean's Research Associate Program was established in 2018 under former Dean Rachel Croson by Dr. Nwando Achebe, the Jack and Margaret Sweet Endowed Professor of History and the Associate Dean of Diversity, Equity and Inclusion in the MSU College of Social Science with the goal of creating a more inclusive scholarly environment. Since its inception, the program has increased the number of African American and Native American faculty members within the College of Social Science by around 30 percent. 
"It is an honor to work with these extremely impressive academics and support their growth throughout their time in this program," noted Dr. Achebe. "Their diverse backgrounds, skillsets and research interests are truly an asset to our college's academic culture."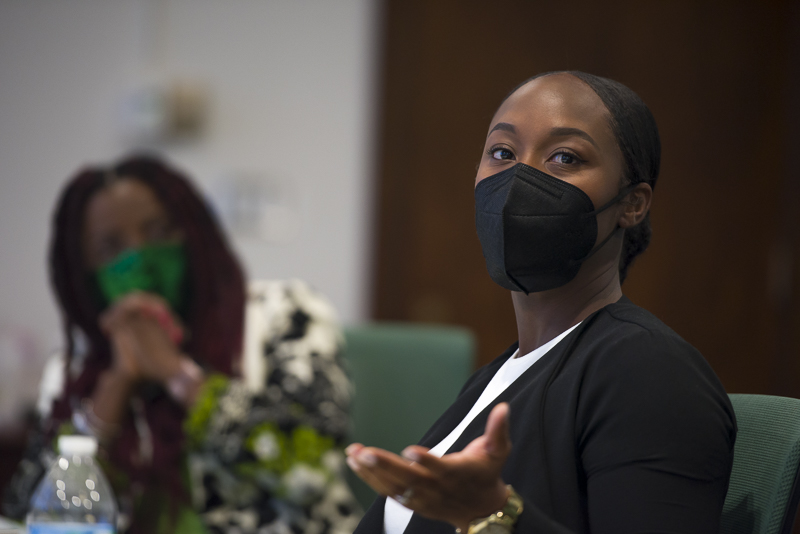 (Image description: Social Work Associate Ashlee Barnes completes a job talk as a part of her training through DRADI. Photography credit: Jacquelin Belden Hawthorne)
Each cohort consists of a handful of diverse, dedicated postdoctoral scholars working in departments across the college, including sociology, political science, anthropology and history. Associates spend two years focusing on their research, have a reduced teaching load to prioritize their scholarship, and are provided significant mentorship and support  through the Dean's Research Associate Development Institute (DRADI). 
As a result of this program, all three associates in the first cohort have transitioned to the tenure-stream, and all four members of the second cohort are on track to follow suit.
"Currently, I am an Assistant Professor in the Department of Anthropology and American Indian and Indigenous Studies at Michigan State University," said Dr. Gabriel Sanchez, who was a part of the first DRAP cohort. "The DRADI Program provided the necessary support, mentoring and professionalization training for me to achieve this position."
For historian Dr. Nakia Parker, who was also in the first cohort, the highlight of her experience was the advice and mentorship she received while in the program. "The sessions on work-life balance and avoiding burnout were highlights. The sage advice and friendship I received from my mentors and others who volunteered their time to participate in the program was invaluable," Dr. Parker explained. 
For those considering applying to this program, sociologist Dr. Monique Kelly offers this encouragement:  "Just apply. The program and those involved are committed to readying you for the transition to a tenure-track position, making this an opportunity worth taking."
The next cohort of associates joining this prestigious program will be announced in Spring 2022.
More information about the Dean's Research Associate Program and how to apply can be found here.