Voice, Youth and Expressiveness: MSU Will Host Panel on Empowering Youth
November 9, 2021 - Katie Nicpon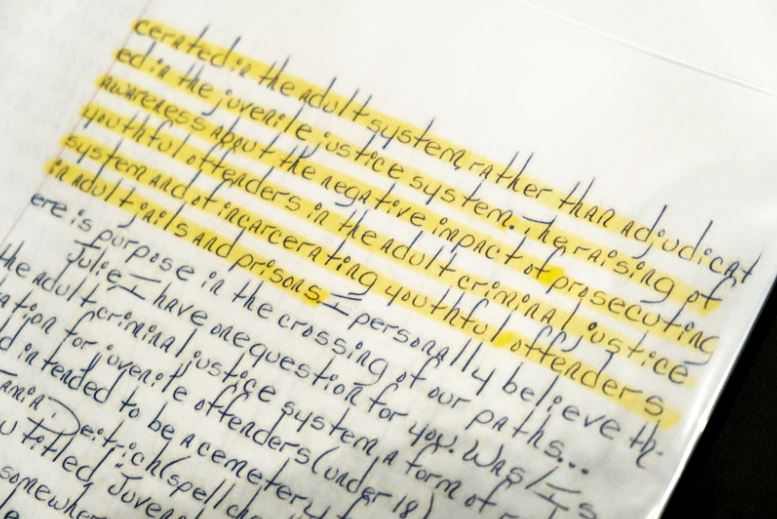 Photo: Youth who are incarcerated wrote letters about their experiences in the justice system and its effect on their lives. This letter is on display at the MSU Broad Art Museum as part of the exhibit focusing on mass incarceration. Photo credit: Jacqueline Hawthorne, MSU College of Social Science.
Michigan State University will host a workshop with a panel of youth and researchers on the importance of youth expression and agency - or their ability to influence their own decisions and their own lives - on Friday November 12 from 3:00-4:30 p.m at the MSU Broad Museum, 547 E Circle Dr, East Lansing. The workshop is free, open to the public. Middle-school- to high-school-aged youth and people who work with youth are especially encouraged to attend and participate. 
"We hope that community members will leave with an understanding that opportunities for youth expression and agency can be mechanisms for preventing or reducing system involvement," said Julie Krupa, Ph.D., MSU School of Criminal Justice professor and panel moderator. 
The discussion will focus on youth needs, including those of justice-involved youth, and opportunities to address needs through youth expressiveness and agency, such as their ability to express their experiences and make their own decisions, and to create change within the systems they are or have been a part of. Amplifying youth voices and raising awareness around their needs is part of the MSU Equity Project, a thematic area of cross-departmental research and outreach in the MSU College of Social Science. 
Several youth will be on the panel and joining through Zoom to share their experiences and perspectives.
"We are organizing this panel in the spirit of a 'youth takeover,' because we need to understand their perspectives and how to empower their voices if we're all going to be able to effectively engage in this important work," said Emilie Smith, Ph.D., HDFS professor and leader of the MSU Youth Equity Project. 
The workshop will also explore ways to empower youth expression across diverse opportunities  featuring leaders of Bright Futures and One Love Symposium programs. The panel hopes to provide youth and people who work with youth actionable items to help create spaces and opportunities for youth expression. 
The panel is presented in partnership with the MSU Youth Equity Project, MSU Broad Museum, MSU Department of Human Development and Family Studies, MSU School of Social Work, MSU School of Criminal Justice, Bright Futures, and One Love Symposium.
To learn more and RSVP for the event, visit:
https://bit.ly/3wbRxi8
.