Diversity Champion: Dr. Heather Howard
November 15, 2021 - Liz Schondelmayer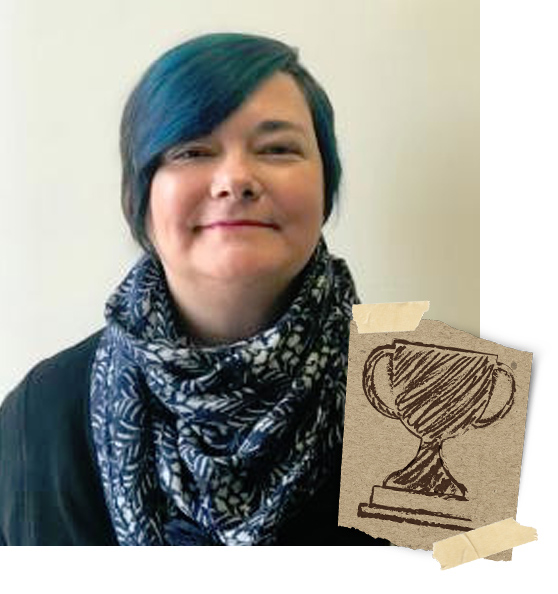 Dr. Heather Howard is an associate professor in the Michigan State University Department of Anthropology. A passionate teacher and researcher, Dr. Howard's work focuses on promoting the physical, mental, emotional and spiritual well-being of Indigenous communities across the country.
Dr. Howard joined MSU's campus as a tenure-stream faculty member in 2013. Since then, she has conducted important research exploring the politics of knowledge production and the representation of Indigenous peoples' heritage, cultures and traditions. 
My research interests have been primarily driven by Native American community priorities, and have mostly revolved around Indigenous well-being primarily within the Great Lakes region. I think of health and well-being in a broad, holistic sense that reflects both the perspectives of Indigenous peoples, as well as my discipline of anthropology. I don't just focus on physical health, but also on social, mental and spiritual well-being, as well as an understanding of human health as inextricable from environmental health.
The most exciting project that I've been working on for the past couple of years is one collaborating with the Little Traverse Bay Bands of Odawa Indians . Together, we're working on creating a web portal that is aimed at supporting community knowledge transmission among Indigenous communities, as well as a public engagement piece that revolves around the art of porcupine quillwork. I was introduced to this project , which focuses on the art of making quill boxes, by renowned Odawa quillwork artist Yvonne Walker Keshick.
This art is culturally important, has political and historical significance, embodies the respectful and reciprocal relationship between humans and the non-human world, and is entwined with oral traditions and Anishinaabe story. This artform also advocates for sustainable environmental stewardship, which necessitates cooperation and a consciousness outside of Indigenous community efforts, and is effective for fostering conversations about protecting biodiversity and negating threats to the environment.
Dr. Howard's passion for this work comes from her experiences in Indigenous-focused anti-racist social movements and her belief in the importance of open-mindedness and justice.
My work is grounded in an understanding of the extraordinary injustices that Indigenous people have suffered and continue to endure due to settler colonialism, and aims to support Indigenous sovereignty and efforts to grow healthy and sustainable communities. As a teenager and young adult, I was heavily involved in anti-racist social movements, and it was through that work that I met my late partner, Rodney Bobiwash, who was an Anishinaabe leader within that movement emphasizing Indigenous rights.
I am working on a project about his legacy and his message to non-Indigenous people which was to see the world with a different set of eyeballs and to be responsible to the land as a living being who sustains us. Today, I think we really need to listen, learn and act in alignment with this message and support the health of Indigenous peoples' lands and the well-being of their communities. In my research, I hope to challenge people's perspectives so that they can learn to act in a different way.
Through her work, Dr. Howard is passionate about dispelling the myths and misconceptions surrounding Indigenous people, especially those which come between Indigenous communities and their health. An example of this is the misunderstandings around Native Americans and "predisposition" to diseases such as diabetes.
As a university educator and researcher in a settler nation, I definitely feel like I've spent most of my life dispelling misconceptions and misunderstandings - and there's still so much work to be done!  Rodney Bobiwash passed away at a very young age from diabetes-related complications and much of my research has involved understanding the social, cultural, and political dimensions of the disease. Although it was almost unheard of prior to the 1950s, Indigenous peoples now have some of the highest rates of diabetes, severe complications and early death from the disease. So how did this happen? A popular misconceived explanation points to Indigenous peoples' own bodies as the culprit through a racialization of genetics, when actually, Indigenous peoples are relationally well-adapted to this land and place, and it is rather the destruction and alienation of settler colonialism that is maladaptive. 
This highlights a need to understand structural violence, the dispossession of land, and the discrimination that has prevented Indigenous peoples' access to basic needs, like land, water and healthy foods to sustain life. The aggressive and genocidal assimilation that both Canada and the United States have forced onto Indigenous peoples manifests in poor health of which diabetes is one of many important indicators.
Finally, Dr. Howard offers ways that each of us can be better allies to Indigenous peoples and communities in our day-to-day lives.
It is important for every person who lives in North America to take some time to try to understand that Indigenous peoples are living communities, and what it means to be living on Indigenous lands. That acknowledgement is extremely important because when discussing Native Americans, the past-tense is usually used without thinking, and this sustains another popular misconception that Indigenous peoples are conquered and vanished.
However, a land acknowledgement is not enough. In the United States and Canada, it has become common for colonial institutions to read or share a land acknowledgement at graduation or other big events, and then pat themselves on the back for doing their part. And while the gesture is a good start, there are many amazing Indigenous scholars who are saying, "Hang on a second - you don't get away with stopping there!" Especially at land-grant universities like MSU, it's important for students to know where this land came from, how we are all actively benefiting from the dispossession of Indigenous communities, and how institutions can do better.
One project I'm working on next semester with students in my Contemporary American Indian Communities course is designed to get students thinking about this question: whose lands are we  on, how did we come to be here, and what does this mean for Americans? Land taken through treaties between Indigenous Nations and the United States mean that every U.S. citizen has the responsibility to understand the terms of these treaties and call upon their government to fulfill those obligations.
These days, we are definitely struggling to get across some basic facts about intercultural and interracial relations in American schools, so that when they come to the university, they have some sort of background to build on. The fact that this has become politicized so heavily is really setting us back, and meanwhile, students in my classes are often shocked and angry that they didn't learn any of this information in high school. This lack of education serves the purpose of sustaining settler colonial inequities but we also have an opportunity to change this.
For anyone looking for further reading surrounding federally-recognized tribes, I would suggest looking into the MSU library's collection of sources about Indigenous peoples.
Learn more about Dr. Howard and her research here.
---
Read more: