Veda Hawkins wins prestigious 2021 MSU Outstanding Advising Administrator Award
November 30, 2021 - Liz Schondelmayer
Veda Hawkins (pictured below), the Assistant Director of Academic and Student Affairs within the Michigan State University College of Social Science, has won the 2021 MSU Outstanding Advising Administrator Award. This university-wide award recognizes advising staff who demonstrate the utmost commitment and exceptionalism towards students and the overall Spartan community.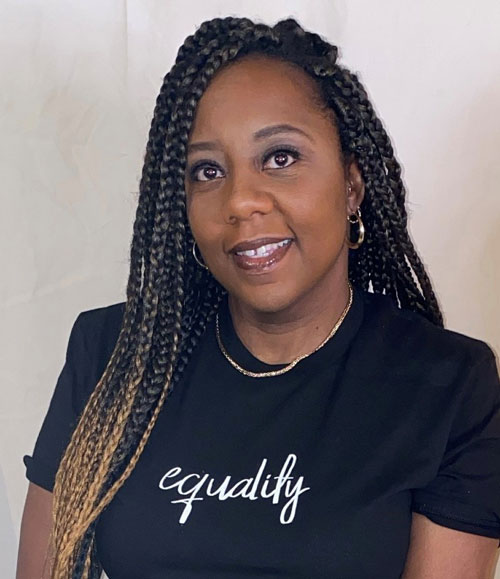 "Veda has been a tremendous asset to the College and MSU. Her drive and focus on student success and DEI are contagious," said Mike Connelly, the Assistant Dean of Academic and Student Affairs. "She is committed to improving advising and student success across the university."
For Hawkins, the best part of her job is helping students overcome a wide array of challenges with compassionate and personalized solutions. 
"What I find most rewarding in my role is that I can support students in their most vulnerable time of need. The Office of Student Affairs is a space where we problem-solve with students' best interest in mind, and provide guidance and support," explained Hawkins. 
"This is not something that I take lightly; as a first-generation student myself I understand the circuitous route to success that many students must navigate to complete their degree."
In addition to Hawkins's role helping students in the College's Office of Student Affairs, she is also a student herself. Currently,  she is pursuing a PhD through the MSU Department of Geography, Environment and Spatial Science, and working on her dissertation entitled "From neighborhood and high school to a four-year degree and beyond: mapping progress at a predominantly white institution for Black students of Metro Detroit."
"I am confident that my research will be beneficial to minoritized students and it connects nicely with the work I do in Student Affairs. I can apply strategies in my work that arise directly from the readings and research I engage with as a graduate student, while simultaneously drawing on my experiences with students and awareness of areas in need of reform to shape my own research agenda," said Hawkins. 
"Additionally, I believe my research will provide a clearer picture of the lived experiences of black students which will equip the university to better serve this student population."
By positioning students in the center of her work, Hawkins exemplifies what it means to be a Spartan advisor, and is more than worthy of university-wide recognition. She will be given her award in person at the Advisor Recognition and Awards Program in early February 2022.
"Winning this award is an indication to me that my peers recognize and appreciate the contributions that I have made throughout my career at MSU. The invisible work that we all often do to support our colleagues and students, particularly as a minoritized administrator, makes this recognition more gratifying," Hawkins reflected.