Diversity Torch: Harnoor Kaur
December 15, 2021 - College of Social Science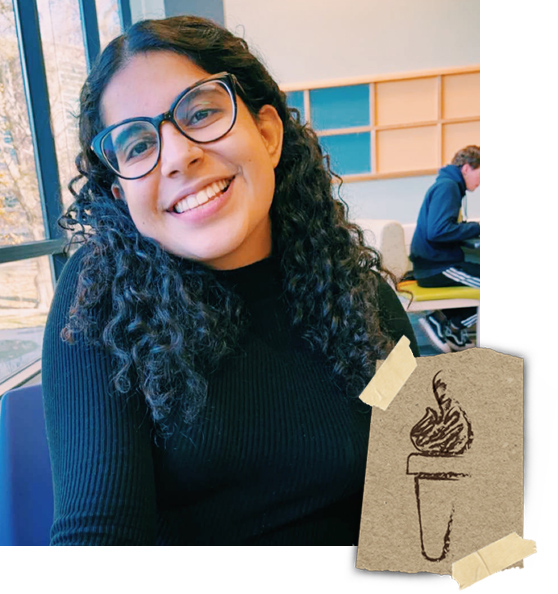 Harnoor Kaur is a third-year MSU College of Social Science student majoring in Criminal Justice and Political Science, with minors in History, Peace and Justice studies, and Law Justice and Public Policy. Originally from India, Harnoor became a Spartan social scientist after discovering her passion for human rights and discovering opportunities to do work in this area at Michigan State University. 
Below, Harnoor shares why she was initially drawn to MSU - and what her favorite memory of her time here has been so far. 
I came to MSU in the fall of 2019 as an international student from India, and one of the biggest motivating factors in me picking MSU was the sheer size of the school and the vastness of opportunity that I saw here. My experiences here have been overwhelmingly positive, but the best and most recent highlight so far was attending the Michigan State University versus University of Michigan football game and being able to witness that win first-hand!
When she's not cheering on the Spartans in the stadium, Harnoor is devoted to learning about current political and social events so that she can pursue a human rights-focused career in law. One of the major human rights crises that caught her attention specifically is the Israeli-Palestine conflict.  
For as long as I can remember, I have been very passionate about issues surrounding geo-politics and human rights, something that I continued to pursue with my majors in Criminal Justice and Political Science. In light of this, the Israeli-Palestinian conflict has been one that I would always find myself going back to and advocating for. I took a class in the spring of 2020 that focused on genocide and transnational justice, and I found that a lot of the concepts that I learnt in that class could be applied to this conflict. Despite how serious the issue is, I always saw little to no political or social attention being paid to it, which in turn motivated me to sustain my work around the issue. The overarching question that I think I'm always looking to answer is why do we fail to recognise the seriousness of a conflict until it is too late, because that is something I see happening even as I write this.
Additionally, Harnoor is also passionate about taking action on a human rights violation that she sees happening right here in the United States - the violence committed against transgender people, especially those of color. 
Another cause that I have been involved in doing research about is the issue of transgender homicide in the United States and how intersectional identities of race and sexuality play a role in the whole conversation. I wish this topic was more talked about, especially given the rise in awareness about Black Lives Matter in the last two years. The conversation of Black Lives Matter can't be complete unless it is expanded to include black trans lives as well.
Finally, Harnoor shares her advice for how each of us can work to advance human rights in our day-to-day life. 
Something that I live by and tell other people as well is that when it comes to issues of human rights and activism, it is not important or possible for us to do everything, but it is so important that we do something. The point is to keep the conversation alive and going for as long as we can, and if we each do a little, it all combines to make sure the voices are loud enough!
Another thing I really like to advocate for when it comes to issues surrounding marginalized groups is to never speak for the group, but to pass the microphone along. Solutions are reached much better and quicker when the problem itself is heard from the people who experience it, and the overall goal is to always amplify voices that the majority has tried to silence!
---
Read more: