Marcos Martinez: Don't Give Up
December 20, 2021 - Liz Schondelmayer
Many undergraduate students come to Michigan State University with the impression that they'll be able to earn their degree in just four years. And while that is definitely the case for most, others may find that the path from orientation to graduation is a little less straightforward.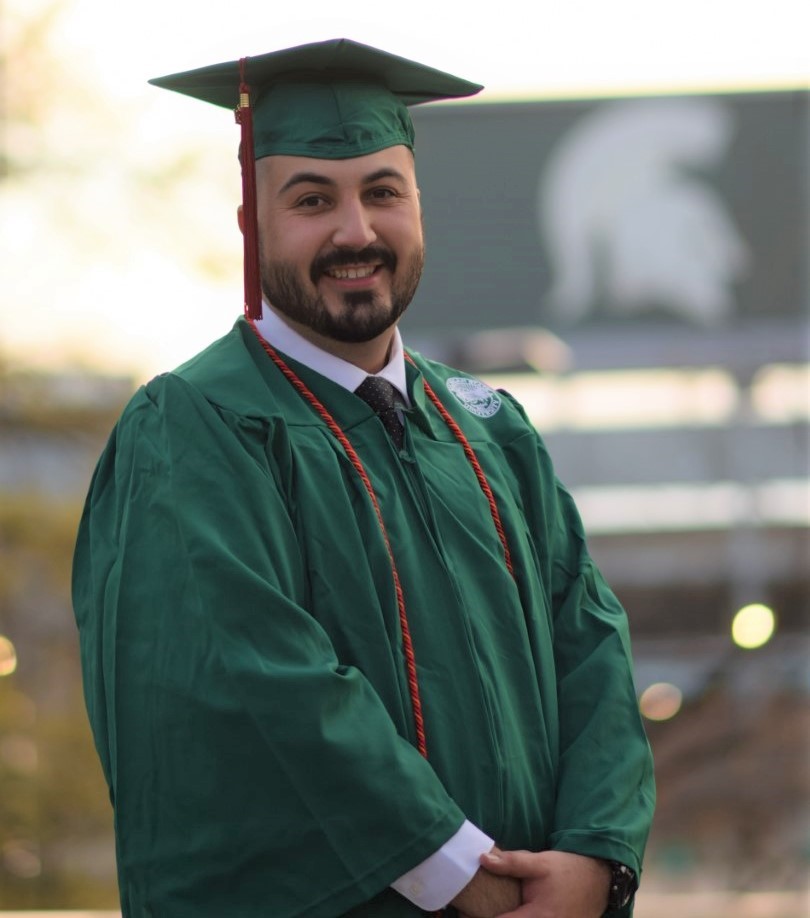 This was the case for recent graduate Marcos Martinez (pictured left). After an 8-year journey that started at Lansing Community College in 2013, Martinez finally graduated in December 2021 with his degree in Economics and a minor in Chicano-Latino Studies. 
Martinez's undergraduate experience at MSU got off to a bit of a rocky start, as it took him a while to find his footing and a major that was meaningful for him. "It was a big goal for me to go to MSU, but when I got here, I realized that I didn't really have a plan or a vision. I was originally interested in a business degree, but unfortunately, that didn't work out for me," explained Martinez.
"After that, I started to skip class, and my academic performance spiraled from there. That's when I started to get recessed."
At MSU, a recess means that a student must take a one-year break from classes due to a struggling GPA. An underlying cause of these academic challenges for Martinez was the tragic loss of his mother in 2014, when he was just 19 years old. However, her legacy and value of higher education motivated Martinez to reconsider his goals and priorities. 
"I knew that my mom would be extremely irritated with me if she learned that I dropped out of school because I was upset that she was dead," Martinez said. "She got both her Bachelor's and Master's degree, and when she died, she was even working on her PhD."
"After she passed, I was skipping class, getting recessed, and working jobs I didn't like just to make money. I really had to ask myself, is this what I want for myself long-term? The answer was no, so I knew I had to make a change."
Through personal growth work in therapy and campus community engagement, Martinez was able to get back on track towards earning the degree he knew his mom would be proud of. 
Following the advice of Danielle Flores Lopez, the Director of Academic Advising & Student Success Initiatives in the College of Natural Science, and Nicole Gekeler, a student advisor for the Department of Economics,  Martinez began to get more involved in campus extracurriculars. He found community in mental health-related campus organizations, as well as the Federal Reserve Challenge through the Department of Economics. 
On the Federal Reserve team, Martinez worked with 10 other MSU students to create a plan for banks to provide relief for communities hardest hit by the COVID-19 pandemic. Overall, the team placed fourth in the nation out of 85 universities and colleges. 
Now that Martinez has graduated, he is able to marry his two passions - business and baseball - through a job with the Lansing Lugnuts, which he plans to start in January. His long-term goals are to own a baseball team and create a program that helps people immigrating to the United States transition to life here without losing their own cultural identity along the way.
Despite the tumultuous start to his educational journey, Martinez triumphed over the obstacles in front of him by tackling his struggles head-on, and moreover, by refusing to give up. "Running from your problems doesn't solve them, and definitely won't make them go away - it just delays the inevitable. Stop running away from whatever you are dealing with, work through it, and don't give up," Martinez advised.
"I know that's easy to say, and that it can sound almost cliche when you're going through a hard time. But I mean it - after being on the other side of a situation in which I truly wanted to give up, and my life would be drastically different if I would have, I now understand why people say to never give up."
For students struggling to stay on top of their coursework or figure out their academic path, Martinez offers a pragmatic suggestion: "Find your advisor, reach out to them, make a plan together, and stay the course. It doesn't have to be fast-paced. You don't have to graduate tomorrow. But you have to start getting a plan in place today."