MGSP starts 10th year with the most diverse cohort yet
January 4, 2022 - Karessa Weir
MSU's Michigan Government Semester Program (MGSP), housed in the Department of Political Science, is about to kick off its tenth year with the most diverse class of students to date.
With an average GPA of 3.66, the new MGSP cohort of 24 students is one of the strongest academically. It is also the most diverse—two-thirds are women, and more than four out of 10 identify as students of color.
"Given the lower rates of women and BIPOC individuals in government, we have focused on recruiting students from marginalized and historically excluded groups to increase their representation in government," said MGSP Director Dr. Marty Jordan.
MGSP connects students passionate about public service with different internships at the state and local levels of government. Each spring, around 20 talented undergraduate MSU students commit to interning 18-20 hours per week for the Governor, state legislators, state agencies, judges, prosecutors, non-profits, lobbying firms, public relations firms, mayors, or other entities connected to politics, policymaking, or the law.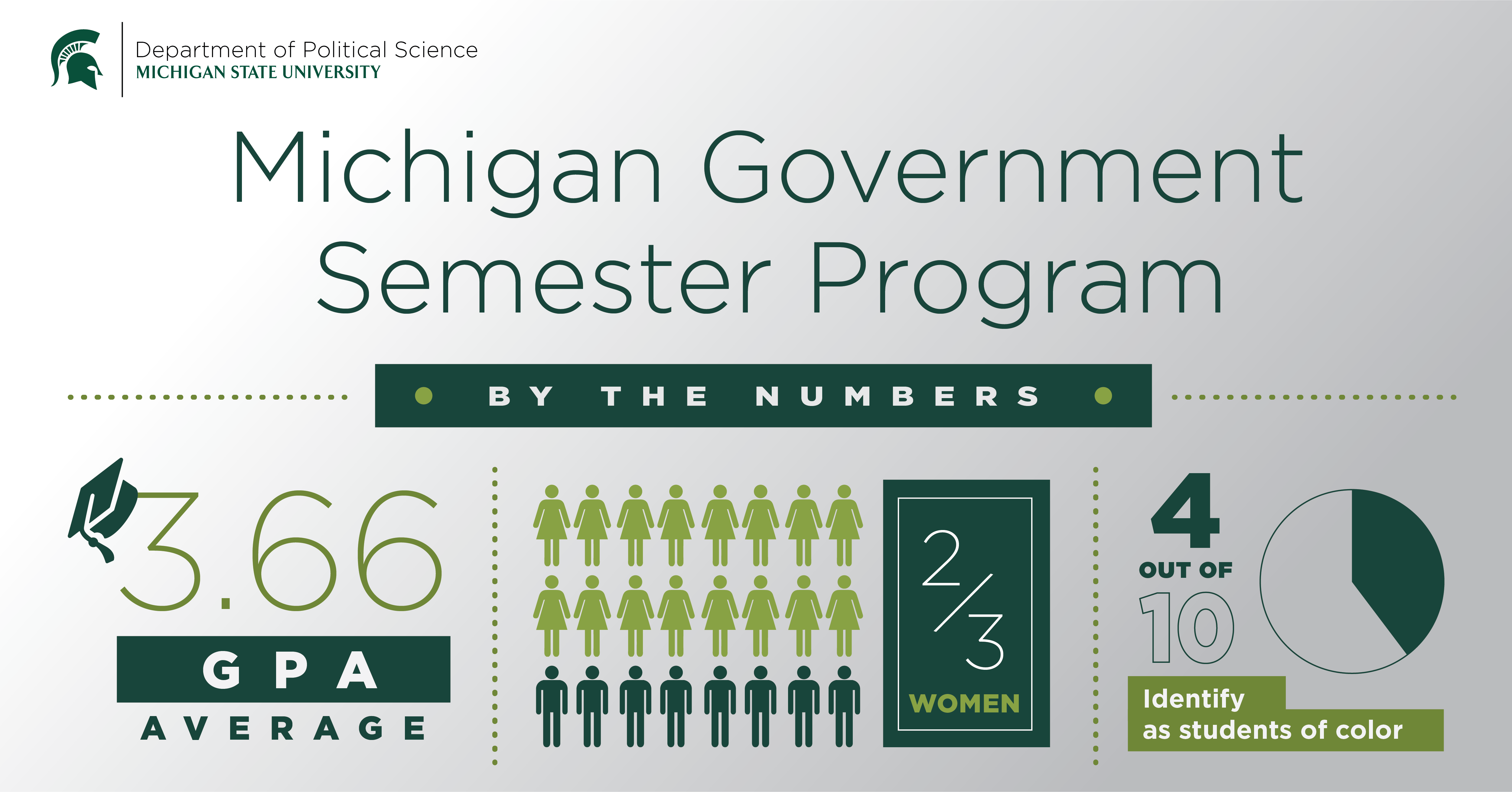 "This Program emphasizes the role that students can play and the careers they can have in or around government," said Dr. Jordan, Assistant Professor of Political Science. "This is especially important because the overwhelming majority of policymaking that affects peoples' lives in real, concrete ways is at the state and local levels."
The new MGSP group of students is a mix of Democrats, Republicans, and independents. In addition, the cohort includes Social Science and Political Science scholars, an ROTC member, an international student, and several students that have completed prior internships. Roughly 30 percent of the MGSP students this spring are interning with state legislators, another 30 percent with judges or law offices, 17 percent with the Governor or executive branch agencies, an additional 17 percent with non-profit organizations working with refugees or survivors of domestic or sexual violence, and 6 percent with lobbying groups. 
Beyond their internships, students take two additional courses with Professor Jordan: one dedicated to enhancing students' understanding of state and local institutions and political behavior and a second course devoted to honing their policy writing skills.
"Throughout MGSP, students also meet with three dozen individuals serving at the highest level of government, politics, or the law. As a result, students learn about these fields, expand their professional networks, and hear about new vocational opportunities," Dr. Jordan said. "Ultimately, students gain substantive knowledge and applied skills, as well as professional guidance and advice."
The Department of Political Science recently created an MGSP Scholarship Program to encourage students to participate in unpaid government internships without suffering undue financial hardships. Several internship partners, including Public Affairs Associates, and donors have supported the Scholarship Program. Two MGSP students are selected to receive $2,700 stipends each. To donate to the scholarship program, please go to: https://givingto.msu.edu/gift/?sid=11548.
MGSP was the brainchild of Professor Emeritus Chuck Matzke in 2013. MGSP now boasts more than 170 alumni currently serving in government at the highest levels, including policy advisors to the Governor, chiefs of staff and aides to state legislators, elected officials, lawyers, policy experts, and many others vocations. Professor Jordan took over coordinating MGSP when Dr. Matzke retired in 2020. The Department of Political Science selected Dr. Jordan to direct the MGSP given his scholarly expertise in state and local policymaking and extensive professional experience in the non-profit and for-profit arenas before earning his doctorate.  
For more information about the program, please visit the website at https://polisci.msu.edu/undergraduate/internships/michigan-gov-semester.html.