Deborah J. Johnson appointed as a MSU Foundation Professor
January 31, 2022 - Becky Jensen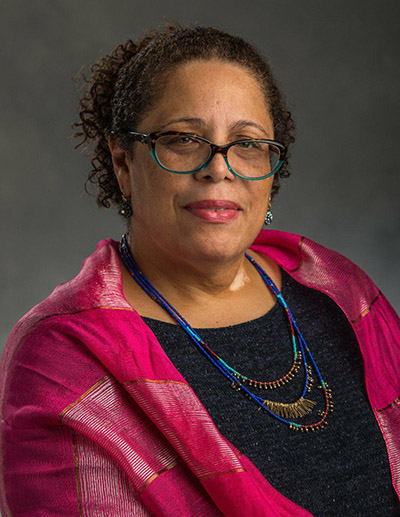 Deborah J. Johnson, Ph.D., a Human Development and Family Studies professor within the College of Social Science has been appointed as an MSU Foundation Professor.
Through the generosity of the MSU Foundation, the university awards the title "MSU Foundation Professor" to faculty who demonstrate exemplary scholarly accomplishment, teaching innovation and excellence.
According to the MSU Provost's office, Johnson received this appointment because of her outstanding record of visionary leadership, excellent record of research and innovative community-engaged scholarship.
"This is without question an important moment in my career, but it is also a moment in which the fruits of scholarly and DEI endeavors were simultaneously recognized to great significance. The MSU Foundation Professorship will allow me to pursue long awaited and dream projects that continue to elevate diverse communities domestically and across the globe. I am grateful for the new opportunities afforded, after all we still need to change the world," said Johnson.
"Dr. Johnson has worked at MSU for the last 23 years and has conducted outstanding research on racial-ethnic development in children and families. She has worked tirelessly as a mentor for students and junior faculty, especially under-represented minorities. She is a widely respected leader as well as nationally and internationally in her field of study. She is most deserving of the title," said Adrian Blow, Ph.D.,MSU HDFS chair.
Part of Johnson's incredible work is with the Diversity Research Network (DRN), a faculty serving entity meant to address scholarly support and facilitate community building and collaboration among scholars of color and researchers interested in diversity populations. Johnson serves as the inaugural and current director. The DRN is within the Office for Institutional Diversity and Inclusion, under current leadership of Dr. Jabbar R. Bennett, MSU's Vice President Chief Diversity Officer. 
Johnson's own research explores racially and culturally related development, parental racial socialization and coping, cultural adjustment from early childhood through emerging adulthood, in both domestic and international children and youth.  
Some of Johnson's newest books include Re/Formation and Identity: The Intersectionality of Development, Culture and Immigration (Dec, 2021) and Children and Prejudice (2019). 
Johnson will hold the title of "MSU Foundation Professor" through the duration of her career with MSU.