MSU Historian Matthew Pauly offers clarity, context to Russia's war against Ukraine
February 28, 2022 - Liz Schondelmayer, Matthew Pauly
When history unfolds itself in real-time, keeping up with current events can be extremely challenging - and the invasion of Ukraine by Russian forces is no exception.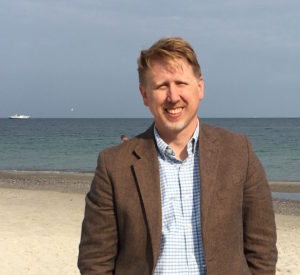 This is why Michigan State University historian Dr. Matthew Pauly (pictured left), an expert on Ukrainian, Russian and Eastern European political and social history, held an impromptu webinar entitled "Teach-In on Russian Aggression against Ukraine" sponsored by the Michigan State University Department of Global Studies in Arts and Humanities within the College of Arts and Letters.
Dr. Pauly, who served as a diplomat in the U.S. Embassy Kyiv before coming to MSU, took time between two scheduled lectures to deliver the talk to an audience of over 400 students, staff, faculty and community members.
He began the lecture by dispelling several myths about Ukraine, including the misconception that it is a region and not a sovereign state. In actuality, as Dr. Pauly clarified, Ukraine is a state with borders as defined as any other in Eastern Europe. The majority of Ukrainians speak Ukrainian - which is similar to Polish and Russian, but by no means interchangeable. However, while Ukrainian is the only state language, national minority communities are afforded a broad range of educational and legal rights within the state, according to Dr. Pauly.
Dr. Pauly also provided a factual historical context to the conflict, going back to the 1760s when much of the territory of contemporary Ukraine was first formally absorbed into the Russian empire - just before the United States began its fight for independence from Britain. Dr. Pauly summarized this history as follows: 
"A Ukrainian national movement in the Russian Empire gathered strength by the middle of the nineteenth century. After the overthrow of Tsar Nicholas II, revolutionary Ukrainians formed a territorial parliament, called the Central Rada, to lobby for Ukrainian autonomy. Its members made the decision to declare independence on January 22, 1918, only after the Bolshevik Party took advantage of radical sentiment in Russia, seized power and planned a takeover of Ukraine. 

Although Soviet Russia and allied local militias defeated the newly created Ukrainian People's Republic, Bolshevik leaders set up a federative, multi-ethnic state in part due to the challenge of Ukrainian independence. Ukraine was a constituent part of the Soviet Union until 1991 when it established independence. It has been a sovereign state for over 30 years."

Additionally, Dr. Pauly addressed the false accusations of Nazism and fascism that Russian president Vladimir Putin has leveraged against Ukraine - and emphasized that despite past presidential authoritarianism and a continuing struggle against corruption, the country's current government system is a democracy run by a centrist, Russian-speaking leader of Jewish descent, Volodymyr Zelensky.
Learn more about Dr. Pauly and his ongoing book project, "City of Children: Juvenile Poverty, Crime, and Salvation in Odessa, 1881–1940" here.